Best Hospitals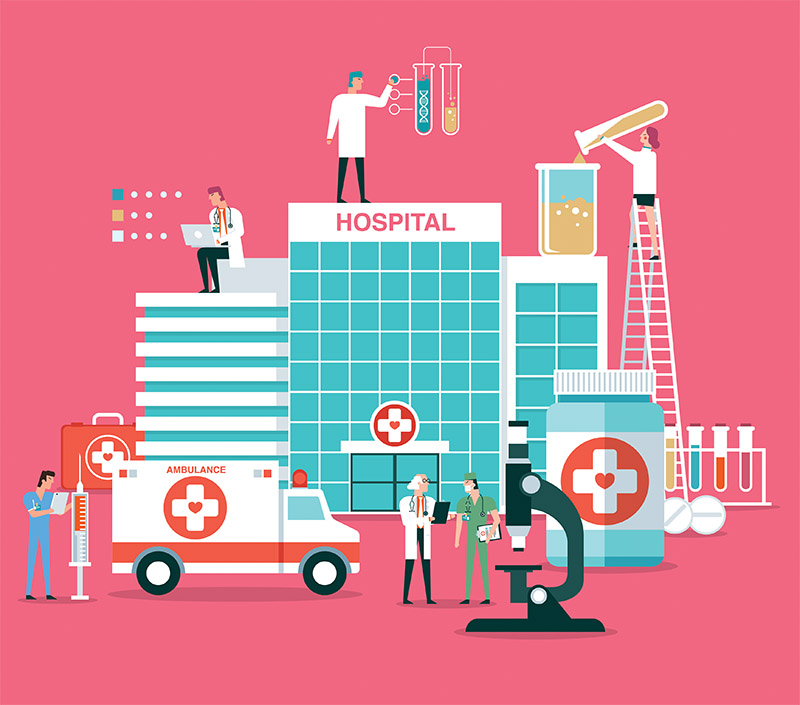 There is one major source that provides credible ongoing analysis of hospitals: Medicare, which, as the federal health insurance program for people 65 and older, as well as certain younger people with disabilities, often provides funding for many of the big bills. As part of its informational services, medicare.gov reports on evaluations of hospitals based on queries of patients.
---
COVID-19
Three New Orleans Hospitals Join Study about Impact of COVID-19 on Healthcare Workers
Ochsner Medical Center, Tulane Health System, and University Medical Center will encourage all local healthcare workers to join the Healthcare Worker Exposure Response & Outcomes (HERO) Registry. The registry will gather personal accounts of workers' clinical and life experiences with the goal of understanding problems faced by those on the front lines of the COVID-19 pandemic. Anyone who works in a healthcare setting, including therapists, physicians, emergency responders, food service workers, nurses, and interpreters, is welcome to participate. Among other issues, the study will track stress and burnout among these professionals. For more information about the HERO Registry, visit heroesresearch.org.
---
HEALTH CONCERNS
Hypertension
Doctor's advice and tips for preventing and managing one of Louisiana's leading illnesses
Dr. Matthew Bumgardner, a family medicine physician with Baton Rouge General Medical Center, has an analogy for high blood pressure — a prominent illness in Louisiana. If you don't protect your pipes during freezing weather, the pipes will get squeezed. Little by little, over time, the pipes will be more susceptible to bursting. That's how high blood pressure works. If the long-term blood pressure against a person's artery walls is high enough, it can cause heart disease.
One of the scary things about high blood pressure, also known as hypertension, is that there are often no symptoms for years. But just because there are no symptoms does not mean there is no damage. Heart attacks and strokes can result.
WHAT CAN YOU DO?
Sometimes, high blood pressure is hereditary. If your parents struggled with it, there's nothing you can do about that. But there are a few things you can control. Dr. Bumgardner said the easiest is to avoid smoking. Following a low-sodium diet is also a good idea, but that can be hard to do for people in food deserts or those who are on limited budgets.
Exercise is also crucial. The standard recommendation is 30 to 45 minutes of moderate exercise (yes, walking counts) on most days of the week. Even if you cannot do the full 30 to 45 minutes, it's still important to exercise.
"Even five minutes is helpful," Dr. Bumgardner said. "Anything is better than nothing."
CHECK-UPS AND MEDICATION
Dr. Bumgardner said the ideal blood pressure numbers are 120/80. However, as people get older, their blood pressure will rise a bit. While there may not be any need for alarm if a person's blood pressure rises to the higher end of the normal range (under 140/90), they should still aim for 120/80.
Pain, stress, anxiety and activity can cause temporary increases in blood pressure levels. So, a doctor should get a sense of a patient's average blood pressure over the course of a day before recommending a treatment program. If a patient cannot control their blood pressure with lifestyle modification or if it's at an extremely high level, then medication will be necessary.
---
MENTAL HEALTH
Mental Health Tips in a Pandemic
In a pandemic, it's not just physical health that's important. Your mental health matters, too. Gina LaRose, LPC, LMFT offers tips on maintaining good mental health in a difficult era.
01.
Be Kind.
Be patient as everyone is stressed now. Do good deeds for others. "Sometimes the best way to get our mind off our own problems is helping someone else," said LaRose.
02.
Maintain Normalcy.
Even if you're unemployed, keep a set routine on most days. "When things feel out of control, we seek to find something we can manage…something that gives us structure," said LaRose.
03.
Do Something!
Hone your chef skills, learn a foreign language, ride a bike, read new books, write your own story, solve jigsaw puzzles. Keep your mind occupied.
---
HEALTHY DOCTOR HABITS
Experts Urge Parents to Keep Children Up-to-Date on Vaccinations and Wellness Visits
The Louisiana Department of Health and the Louisiana Chapter of the American Academy of Pediatrics said parents should continue to vaccinate their children and participate in their routine wellness checks even during the COVID-19 pandemic. Vaccinations protect from many other preventable diseases and prevent other outbreaks from happening. Telemedicine may be available for some visits, but the LDH said that pediatricians are taking extra precautions to ensure the health and safety of their patients (virtual forms and payments, separate entrances for sick and well patients, thorough disinfecting of examination rooms between appointments).
---
COVID-19
Baton Rouge General Tests Show 4.5% Positive Rate for COVID-19 Antibodies
After performing more than 1,500 COVID-19 antibody tests in the months of April and May, Baton Rouge General reported that 4.5% of those tests came back positive. A positive test indicates a person has likely been infected with COVID-19. The results showed that while African-Americans made up only 5% of test takers, 17% of the positive results came from African-Americans. Only one positive test was from a person under 20 years old. Women were more likely to get tested than men, but they tested positive at about the same rate. Half of positive tests came from the 40 to 59 age range.
---
The Louisiana Life editorial staff sifts through the data every year in order to create a one-of-a-kind list that demonstrates the state's hospitals according to locality. To qualify for this list, at least 60 percent of the patients queried had to give the hospital a top overall ranking of 9 or 10. These are the top general service hospitals as seen through the eyes of those who have experienced them firsthand — the patients. Note, however, that several hospitals in the state did not have any information available on Medicare's website and therefore could not qualify to be on the list.
---
ABBEVILLE

Abbeville General Hospital
118 N. Hospital Drive
(337) 893-5466
ALEXANDRIA
Central Louisiana Surgical Hospital
651 N. Bolton Ave.
(318) 449-6400
Christus St. Frances Cabrini Hospital
3330 Masonic Drive
(318) 487-112
Rapides Regional Medical Center
211 4th St.
(318) 769-3000
BATON ROUGE
Baton Rouge General Medical Center
3600 Florida Blvd.,
(225) 387-7767
Ochsner Medical Center – Baton Rouge
17000 Medical Center Drive
(225) 752-2470
Our Lady of the Lake Regional Medical Center
5000 Hennessey Blvd.
(225) 765-6565
Surgical Specialty Center of Baton Rouge
8080 Bluebonnet Blvd.
(225) 408-8080
The Spine Hospital of Louisiana
10105 Park Row Circle, Suite 250
(225) 763-9900
Womans Hospital
100 Woman's Way
(225) 927-1300
BOGALUS

Our Lady of the Angels Hospital
433 Plaza St.
(985) 730-6700
BREAUX BRIDGE
St. Martin Hospital
210 Champagne Blvd.
(337) 332-2178
CHALMETTE
St. Bernard Parish Hospital
8000 W. Judge Perez Drive
(504) 826-9500
COVINGTON
Avala
67252 Industry Lane
(985) 801-3010
St. Tammany Parish Hospital
1202 S. Tyler St.
(985) 898-4000
COLUMBIA

Caldwell Memorial Hospital, Inc.
411 Main St.
(318) 649-6111
Citizens Medical Center
7939 U.S. Hwy. 165 S.
(318) 649-610
CROWLEY
Acadia General Hospital
1305 Crowley Rayne Hwy.
(337) 783-3222
CUT OFF

Lady of the Sea General Hospital
200 W. 134th Place
(985) 632-6401
DELHI

Richland Parish Hospital
407 Cincinnati St.
(318) 878-5171
Deridder
Beauregard Memorial Hospital
600 S. Pine St.
(337) 462-7100
Fort Polk
Bayne-Jones ACH
1585 3rd St. Fort Polk
(337) 531-3118
FARMERVILLE

Union General Hospital
901 James Ave.
(318) 368-9751
FRANKLIN

Franklin Foundation Hospital
1097 Northwest Blvd.
(337) 828-0760
FRANKLINTON

Riverside Medical Center
1900 S. Main St.
(985) 795-4431
HAMMOND

Cypress Pointe Surgical Hospital
42570 S. Airport Road
(985) 510-6200
North Oaks Medical Center, LLC
15790 Paul Vega MD Drive
(985) 345-2700
HOME

Claiborne Memorial Medical Center
620 E. College St.
(318) 927-2024
HOUMA

Leonard J. Chabert Medical Center
1978 Industrial Blvd.
(985) 873-2200
Physicians Medical Center
218 Corporate Drive
(985) 853-1390
Terrebonne General Medical Center
8166 Main St.
(985) 873-4141
INDEPENDENCE

Lallie Kemp Medical Center
52579 Hwy. 51 S.
(985) 878-9421
JEFFERSON

Ochsner Clinic Foundation
1516 Jefferson Hwy.
(504) 842-3000
JENA

LaSalle General Hospital
187 Ninth St. / Hwy. 84 W.
(318) 992-9200
JENNINGS

Jennings American Legion Hospital
1634 Elton Road
(337) 616-7000
JONESBORO

Jackson Parish Hospital
165 Beech Springs Road
(318) 259-4435
KAPLAN

Abrom Kaplan Memorial Hospital
1310 W. Seventh St.
(337) 643-8300
KENNER

Ochsner Medical Center – Kenner
180 W. Esplanade Ave.
(504) 468-4806
KINDER

Allen Parish Hospital
108 6TH Ave.
(337) 738-2527
LAFAYETTE

Heart Hospital of Lafayette
1105 Kaliste Saloom Road
(337) 521-100
Lafayette General Medical Center
1214 Coolidge Ave.
(337) 289-7991
Lafayette Surgical Specialty Hospital
1101 Kaliste Saloom Road
(337) 769-410
Our Lady of Lourdes Regional Medical Center, Inc.
4801 Ambassador Caffery Parkway
(337) 470-2100
Park Place Surgical Hospital
4811 Ambassador Caffery Parkway
(337) 237-8119
University Hospital & Clinics
2390 W. Congress
(337) 261-6000
LAKE CHARLES

Christus Ochsner Lake Area Hospital
4200 Nelson Road
(337) 474-6370
Christus Ochsner St. Patrick Hospital
524 Dr. Michael Debakey St.
(337) 436-2511
Lake Charles Memorial Hospital
1701 Oak Park Blvd.
(337) 494-3000
LAKE PROVIDENCE

East Carroll Parish Hospital
336 N. Hood St.
(318) 559-4023
LULING

St. Charles Parish Hospital
1057 Paul Maillard Road
(985) 785-3644
LUTCHER

St. James Parish Hospital
1645 Lutcher Ave.
(225) 869-5512
MAMOU

Savoy Medical Center
801 Poinciana Ave.
(337) 468-5261
MANSFIELD

Desota Regional Health System
207 Jefferson St.
(318) 872-4610
MANY

Sabine Medical Center
240 Highland Drive
(318) 256-1232
MARKSVILLE

Avoyelles Hospital
4231 Hwy. 1192
(318) 253-8611
MARRERO

West Jefferson Medical Center
1101 Medical Center Blvd.
(504) 347-5511
METAIRIE

East Jefferson General Hospital
4200 Houma Blvd.,
(504) 454-4000
MINDEN

Minden Medical Center
No. 1 Medical Plaza
(318) 377-2321
MONROE

Monroe Surgical Hospital
2408 Broadmoor Blvd.
(318) 410-0002
Ochsner LSU Health Monroe
4864 Jackson St.
(318) 330-7000
St. Francis Medical Center
309 Jackson St.
(318) 966-4000
MORGAN CITY

Ochsner St. Mary
1125 Marguerite St.
(985) 384-2200
NATCHITOCHES

Natchitoches Regional Medical Center
501 Keyser Ave.
(318) 471-2628
NEW IBERIA

Iberia Medical Center
2315 E. Main St.
(337) 364-0441
NEW ORLEANS

New Orleans East Hospital
5620 Read Blvd.
(504) 592-6600
Southeast Louisiana Veterans Health Care System
2400 Canal St.
(800) 935-8387
Touro Infirmary
1401 Foucher St.
(504) 897-8247
Tulane Medical Center
1415 Tulane Ave.
(504) 988-5263
University Medical Center
2000 Canal St.
(504) 903-3000
OAKDALE

Oakdale Community Hospital
130 N. Hospital Drive
(318) 335-3700
Oak Grove
West Carroll Memorial Hospital
706 Ross St.
(318) 428-3237
OLLA

Hardtner Medical Center
1102 N. Pine Road
(318) 495-3131
OPELOUSAS

Opelousas General Health System
539 E. Prudhomme St.
(337) 948-3011
PINEVILLE

Alexandria VA Medical Center
2495 Shreveport Hwy. 71 N.
(318) 473-0010
RACELAND

Ochsner St. Anne General Hospital
4608 Hwy. 1
(985) 537-8377
RAYVILLE

Richardson Medical Center
254 Hwy. 3048
(318) 728-4181
RUSTON

Northern Louisiana Medical Center
401 East Vaughn Ave.
(318) 254-2100
SHREVEPORT

Christus Health Shreveport-Bossier
1453 E. Bert Kouns Industrial Drive
(318) 681-5000
Ochsner LSU Health Shreveport
1541 Kings Hwy.
(318) 675-5000
Overton Brooks VA Medical Center
510 E. Stoner Ave.
(318) 424-6037
Specialists Hospital Shreveport
1500 Line Ave.
(318) 213-3800
Willis Knighton Medical Center, Inc.
2600 Greenwood Road
(318) 212-4000
Willis Knighton Medical Center
2600 Greenwood Road
(318) 212-4000
SLIDELL
Ochsner Medical Center – Northshore LLC
100 Medical Center Drive
(985) 646-5000
Slidell Memorial Hospital
1001 Gause Blvd.,
(985) 643-2200
Southern Surgical Hospital
1700 W. Lindberg Drive
(985) 641-0600
Sterling Surgical Hospital
989 Robert Blvd.
(504) 690-8200
SPRINGHILL

Springhill Medical Center
2001 Doctors Drive
(318) 539-1000
SULPHUR

West Calcasieu Cameron Hospital
701 E. Cypress St.
(337) 527-7034
THIBODAUX

Thibodaux Regional Medical Center
602 N. Acadia Road
(985) 447-5500
VILLE PLATTE

Mercy Regional Medical Center
800 E. Main St.
(337) 363-5684
VIVIAN

North Caddo Medical Center
815 S. Pine St.
(318) 375-3235
WEST MONROE

Glenwood Regional Medical Center
503 McMillan Road
(318) 329-4600
WINNFIELD

Winn Parish Medical Center
301 W. Boundary Ave.
(318) 648-3000
WINNSBORO

Franklin Medical Center
2106 Loop Road
(318) 435-9411
ZACHARY

Lane Regional Medical Center
6300 Main St.
(225) 658-4000
---