Louisianians of The Year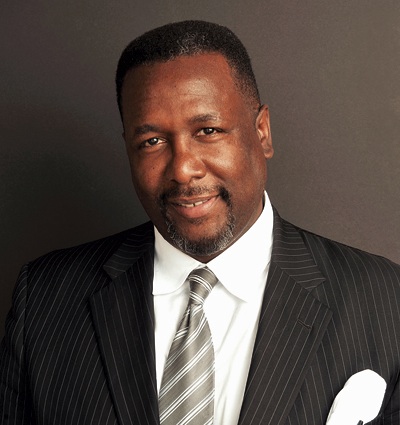 Each year we look for fellow Louisianians who have had great success in their own worlds. As always, the greatest challenge is narrowing millions of possibilities to such a small group. Those honored here, as selected by our editorial staff, represent a small but impressive sample of the best of Louisiana.
NEW ORLEANS
WENDELL PIERCE
ACTOR, ENTREPRENEUR
As an aspiring actor growing up in New Orleans, Wendell Pierce had high hopes for a future career on the stage or screen. But chances are he never expected one of his real-world roles would involve groceries.
It all started with his love of the neighborhood where he grew up, the Pontchartrain Park section of the Gentilly neighborhood. He honed his dramatic instincts during his years at Benjamin Franklin High School and New Orleans Center for Creative Arts and later left to pursue a full-time acting career.
Along with landing dozens of stage and film roles over the years, Pierce plied his talents in a long string of TV shows, including such popular series as "Law and Order." Eventually, he caught the attention of writer David Simon, who would cast him in the groundbreaking HBO series, "The Wire," and later, "Treme."
Pierce delighted in his role as police detective Bunk Moreland in "The Wire," but the opportunity to portray struggling trombonist Antoine Batiste in "Treme," a poignant series about post-Hurricane Katrina New Orleans, particularly touched him.
"This is my hometown, and these are the people I love and respect, so I felt a strong sense of responsibility" about how the series portrayed the city, he says.
The feeling led Pierce into off-camera efforts to encourage the rebuilding of homes in flood-ravaged Pontchartrain Park. Later, he acted on another recovery idea: the development of grocery stores in areas lacking easy access to fresh food.
Partnering with two friends, Pierce launched a company called Sterling Fresh Foods LLC that last year opened a Sterling Farms grocery store in Marrero, with another expected to follow soon in Gentilly. The partners also opened three Sterling Express convenience stores.
"It's exactly what I hoped it would be – an opportunity to do well while doing something good for the community," Pierce says of the enterprise.
The grocery business gives him yet another reason to make frequent stops in New Orleans as he bounces between New York and Los Angeles for work that includes recurring roles in the popular TV series "Suits" and "The Michael J. Fox Show."
Pierce says he's thrilled that he's in demand for such wide-ranging roles but adds that the recently concluded "Treme" will always claim a special place in his heart.
"It was more than a television show for me," he says, noting that appearing in the series allowed him to be close to his family while his mother was in failing health. "They were the last few years I got to spend with my mother before she passed," he says. "I will always cherish those years because I was able to be home with her."
---

SHREVEPORT
WILLIAM JOYCE
AUTHOR, ILLUSTRATOR
Most individuals who are known for mischief-making in their youth can be expected to shed their prankster ways as they mature and become serious about a career. Every once in a while, though, the mischief hangs around and actually becomes a career.
Enter Shreveport native William Joyce, an eccentric genius who is proud to say he was once "a fighting Yellow Jacket" at C.E. Byrd High School and who in 2012 won an Academy Award for his animated short film, The Fantastic Flying Books of Mr. Morris Lessmore.
Joyce is the founder and creative partner at Moonbot Studios, which has gained widespread fame as a purveyor of entertainment in the form of books, films, games, apps and an array of memorable characters. Foremost among his imaginative personae is Morris Lessmore, a charming lover of books who becomes the custodian of a library of flying tomes.
The endearing Lessmore not only won Joyce an Oscar, but became the basis for a best-selling picture book and an interactive storybook accessible via Moonbot's IMAG•N•O•TRON app.
All of that came before Joyce introduced the world to The Mischievians, a book featuring a host of creatures who seem to inhabit people's homes and wreak havoc by engaging in aggravating behavior.
"One day my kids and I were sitting around discussing things that happen in the house that no one wants to take blame for – the missing TV remote, the one sock with no mate or who ate the last piece of pizza," Joyce explains. "I had in my head that little tribes of ancient people live in your house and are responsible for all these things."
Though The Mischievians and Joyce's other work, including "The Guardians of Childhood" book series, hold obvious
appeal for kids, he resists
the genre label.
"I don't think of them as children's stories; I think of them as taking place in the realm of children," he says.
Joyce's characters have delighted audiences of all ages in feature films and an Emmy Award-winning television series, and his projects have been produced by major film studios including Disney, Twentieth Century Fox and DreamWorks Animation.
Through it all Joyce has remained and kept his studio in Louisiana, a place he says imbues his imagination.
"There's a sort of gallant silliness, or a heroic goofball quality to my work that I don't think I would have gotten growing up in any other place," he says.
Reflecting on many years of indulging in the celebration of Mardi Gras, he adds: "Once you've seen your elementary school principal dressed as a gorilla, wearing neon blinking nipples and a tutu, your sense
of the absurd is acute."
---

NEW ORLEANS
PRES KABACOFF
DEVELOPER
Several years ago, developer Pres Kabacoff had a conversation with then-Lt. Gov. Mitch Landrieu about Kabacoff's dream of revitalizing a large portion of downtown New Orleans. After Kabacoff spoke of the potential for such areas as the Iberville public housing project, Charity Hospital and upper Canal Street, Landrieu commented: "Pres, you're thinking too small."
Kabacoff recalls being startled. "People rarely say that to me," he says.
Indeed, if there is any individual in the city who has become synonymous with big thinking, it is Kabacoff. The New Orleans native and LSU law school graduate has spent much of his adult life reshaping pieces of the city through redevelopment or the adaptive reuse of historic properties.
Through Historic Restoration Inc., the company he co-founded with Edward B. Boettner in 1982, Kabacoff sparked the rehabilitation of dozens of dilapidated warehouses when he converted the former Federal Fibre Mills plant into apartments and condominiums. The Warehouse District today is not only one of the city's most desirable residential areas, but with a host of art galleries, restaurants and other entertainment, it has become what city planners praise as a 24-hour neighborhood.
Kabacoff also stepped into the public housing arena and a hotbed of controversy by proposing a remake of the high-density St. Thomas public housing project into a collection of mixed-income houses, duplexes and apartments known as River Garden Apartments. While the project drew a slew of critics, it became a model for revamps of other public housing in the city and in other states.
More recently, HRI was tapped to participate in the revitalization of the Iberville public housing project under a federal program known as Choice Neighborhoods, which Kabacoff says opens the door for the very type of sweeping revitalization he has long envisioned. "If you could fix the center of the city and connect a healthy riverfront with the healthy lakefront, it would be like an Afro-Caribbean Paris," he says.
Noting that construction is under way at Iberville, a redevelopment of Charity Hospital appears likely, and plans are on the table for the Lafitte Corridor, a streetcar line extension and other area improvements, Kabacoff says his vision is within reach: "It's not a pipe dream."
Meanwhile, HRI has stretched throughout the state, with projects in Baton Rouge, Lafayette, Houma, New Iberia, Shreveport and Hammond. It has also made its mark in other states from Texas, Missouri and Nebraska to Mississippi, North Carolina and Virginia. In the process HRI has grown to employ 1,600 people.
"We're well on our way to our third billion dollars worth of work," Kabacoff says. "What's good is, we have stayed with our mission, which is to revitalize cities by creating diverse, vibrant and sustainable communities."

---

WEST MONROE
THE ROBERTSONS
ENTREPRENEURS
There was a time in Louisiana, not long ago, when a close-knit family running a business built on one of the state's most popular outdoor sports would not have been the stuff of television. In fact, in north Louisiana, where camouflage-wearing, Jeep-driving outdoorsmen and tight families abound, the Robertson clan of West Monroe might easily be seen as just the folks who live down the road.
But in the age of reality TV, the Robertsons have become much more. They are the stars of A&E's insanely popular "Duck Dynasty," which recently wrapped up its fourth season and is headed for No. 5.
Outstripping even the wild popularity of its older south Louisiana counterpart, "Swamp People," the opening episode of DD's latest season drew almost 12 million viewers, becoming the most-watched nonfiction series telecast in cable history, according to A&E.
All this despite the fact that the Robertsons, self-described as "redneck millionaires," nurture their image as plain-talking country people living simple lifestyles.
"We drink a lot of strong coffee, we eat a lot of beef jerky and we use a lot of toilet paper," Jase Robertson quips during one episode as he, his brother Jep and their Uncle Silas hang out in the warehouse-office of the family business, called Duck Commander.
In their "real" lives, the Robertsons, who call themselves "duckmen," have accumulated considerable wealth through the company, a maker of duck calls, hunting gear and outdoor apparel. They live in fine homes, drive an array of trucks and off-road vehicles and work in the family business.
Company founder Phil Robertson – a former Louisiana Tech University Bulldogs starting quarterback – is kept in line by his wife, the sweet and tolerant Miss Kay. Their son Willie is CEO of the business and the gentle boss of his brothers and assorted other employees. The men all sport long hair and full beards, and project God-fearing, patriotic values, down to the red, white and blue headbands that rein in their locks.
Each episode of "Duck Dynasty" features harebrained projects the men concoct and funny reactions to conflicts that arise among family members. But no matter what silliness they get up to during the episodes, when the jovial pranksters gather around the dinner table at the end of the day and bow their heads in prayer, their endearing qualities surface.
"Father, we thank you for your goodness, and for all the kids and grandkids you gave us," says Phil, seated at the head of the table.
As the camera pans around all the happy Robertson faces, the audience hears Willie's voice-over.
"It just goes to show you that life isn't always about living up to your expectations," he says. "It's the pleasant surprises that keep us coming back for more."
---

NEW ORLEANS
JOHN GEORGES
ENTREPRENEUR
A line of thought popular in some business circles suggests that if an entrepreneur has a sharp enough business mind, he or she can run just about any kind of company successfully. John Georges seems to have spent much of his life testing that theory.
The grandson of a Greek immigrant and entrepreneur, Georges grew up in a New Orleans household that was rich in ambition and business savvy. After graduating from Tulane University, he joined the family's wholesale grocery company and in time transformed it from a $20 million operation into a billion-dollar enterprise.
Imperial Trading Co. today is a national food distribution company that employs more than 700 people in 12 states and serves thousands of convenience stores around the country.
While growing that business, Georges took a step in another direction by launching a company that distributes video gaming equipment. He also veered into the marine business, buying a small tugboat company and building a fleet of powerful vessels that specialized in moving oilrigs.
Along the way, he strayed into the political limelight, mounting a campaign for governor in 2007 and a run for mayor of New Orleans three years later. But even then, he couldn't seem to stop buying businesses. In 2009 he acquired a majority stake in one of New Orleans' most famous eateries, Galatoire's Restaurant, and later opened Galatoire's Bistro in Baton Rouge.
Last year, Georges made a move that seemed his biggest business detour yet: He bought the daily newspaper of Baton Rouge and vowed not only to expand it, but to also build its fledgling New Orleans edition into a daily that would fill the void left when The Times-Picayune cut its print distribution to three days per week.
If it seemed an odd move to some, Georges saw it as a natural fit. "Once the paper is written, it's a distribution and marketing business," he says.
Georges built on the success of the paper's previous owners by hiring dozens of experienced journalists, including many let go by The Times-Picayune, to redesign The Advocate and beef up coverage from New Orleans to Lafayette.
He inked a marketing partnership with the New Orleans Saints and had copies of The New Orleans Advocate placed on every seat in the Superdome for the team's first home game of the 2013 season. He partnered with Channel 4/WWL-TV to begin a joint investigative reporting operation, and he funded a multimedia advertising campaign, persuading locally famous people to appear in commercials for the paper.
Georges says that when he first began negotiating to buy The Advocate, he didn't dream of how much his purchase might eventually mean to residents of New Orleans.
"I was thinking I was just buying another Louisiana company," he says. "But it turned out that this might be the most impactful thing I'll ever do for my community."
---

BATON ROUGE
AVA LEAVELL HAYMON
POET LAUREATE
It's hard to say exactly when Ava Leavell Haymon decided to lift the veil from painful truths about her relationship with her abusive father, a Baptist minister. Followers of her poetry may assume that she made the decision at the time she first published poems about him, beginning many years ago.
But the way Haymon sees it, even though the poems had appeared in print one at a time over the years, it wasn't until she compiled them into a collection that she felt she was truly revealing herself to the world.
"When you put it in a book, that's when it's over – that's when you don't have any control over it anymore, you've just put it out there for everybody to read," says Haymon, who recently was crowned Louisiana's Poet Laureate for 2013-2015.
A longtime resident of Baton Rouge, Haymon was born in Greenville, Miss., and lived in Missouri and Texas before marrying and starting graduate school at LSU. Today she writes and teaches poetry in the capital city and conducts an annual poetry retreat in New Mexico. Her works include the poetry collections, Why the House is Made of Gingerbread, Kitchen Heat and The Strict Economy of Fire.

Haymon had not planned a book about her father, but says that one day as she sorted through all the poems she had written about him she began wondering about their potential as a collection. "I wrote them over 35 years," she says. "I never thought of how they might go together."
She spent "a grueling year" trying to organize the poems. She had a breakthrough when she realized many of the works fell into place when she separated those about her father, the minister, from those that were purely about her father, without a religious context.
"Being abused by the minister – of course he was my father – but the minister is your spiritual leader," she says, noting that his behavior reflected a patriarchal belief "that men own women and can do whatever they want to them."
The book that evolved over that year is Eldest Daughter, published in August by LSU Press. The collection is divided into sections that speak of pain, anger, love and forgiveness, and ring with Haymon's appreciation of both the sensory and spiritual aspects of the physical world.
Haymon says she once worried that the anger in some of her religion-tinged poems would fall flat with audiences, but in doing readings of the works she realized: "Most of these are hysterically funny."
She believes that the emotional explorations and discovery in Eldest Daughter could make the book a useful tool for counselors, such as art therapists, to use in working with troubled individuals. "I think," she says, "the book has the promise to do a lot of good for a lot of people."
---

BATON ROUGE
SANDRA BROWN
NURSE, EDUCATOR
As Sandra Chaisson Brown followed a dual career path to become both a nurse and an educator, she knew she was building on her inherent talents. But it probably never crossed her mind that she would one day oversee one of the most important nursing programs in Louisiana.
Brown is the coordinator of the nurse practitioner program at Southern University, a curriculum that is becoming increasingly crucial as U.S. health care evolves toward a new era.
While the ranks of nurse practitioners have grown during the more than four decades of the profession's existence, the nation's new health care law will give millions more people access to medical care. The resulting pressure on primary care doctors could sharply increase demand for professionals such as nurse practitioners who can extend physicians' reach.
In a way, Brown has spent much of her life preparing for this development. Her journey began in Lafayette, where she grew up, earned a nursing degree from what is now University of Louisiana at Lafayette and worked at Our Lady of Lourdes Hospital.
In the mid-1980s she added a master's degree from LSU Health Sciences Center in New Orleans, then worked at Charity Hospital while pursuing a doctor of nursing science degree. "I always had an aspiration to teach," she says.
Brown's next stop was Southern University in Baton Rouge, where the nursing school was about to launch a master's program. "It felt like a place where I could make a difference," she says.
Nineteen years later she can add: "It was probably one of the best decisions I ever made."
Brown found a wealth of opportunity at Southern. In one of two post-doctoral fellowships she landed, she became certified as a nurse practitioner through a program at the University of Tennessee. That positioned her to return to Southern and launch a nurse practitioner program in 1996.
Over time she not only expanded that program but also started a Ph.D. nursing program and in launched a doctor of nursing practice curriculum.
Last spring, Brown was named Nursing Educator of the Year by the Louisiana State Nurses Association and Louisiana Nurses Foundation. The honor recognized her dedication to quality in nursing education, and the nurse practitioner program she started documents her progress.
The program now graduates 40 students a year, turning out the largest number of minority nurse practitioners of any program in the country. Its students have an average success rate of 95 percent on the national certification exam.
Brown credits her parents for instilling in her the belief that "knowledge is power," and says their values helped her become not only the first member of her family to earn a college degree, but in 1994, the first black to earn a doctorate in nursing from LSU.
---

BREAUX BRIDGE/NASHVILLE
HUNTER HAYES
Singer, Songwriter
Most parents have high hopes for their children, but few can accurately predict future career choices when the kids are barely out of diapers. In the case of singer-songwriter Hunter Hayes, though, his mom and dad surely must have seen it coming.
Long before he entered kindergarten, the kid from Breaux Bridge picked up an accordion and began belting out recognizable tunes. He was only four when he stepped onto a stage in front of 200,000 people to join Hank Williams Jr. in a rendition of "Jambalaya."
That was years – though not many – before Hunter Hayes became one of the fastest-growing names in country music.
Now 22, Hayes has sold 7 million singles and racked up a string of other jaw-dropping benchmarks: three consecutive No. 1 country radio singles; a platinum-selling debut album; two of last year's 10 top-selling country singles.
The composer and performer of mega-hits "I Want Crazy" and "Wanted" achieved all of that while garnering three Grammy nominations, snagging the Country Music Association's New Artist of the Year award and performing more than 500 live shows, including tour dates with Carrie Underwood, Taylor Swift and Rascal Flatts.
Hayes exudes humility about his extraordinary success, but he is barely able to contain his enthusiasm for his work. "I love, love, love writing, producing and putting together the shows," he says.
His early life in Louisiana imbues his art, but Hayes thinks the state's most powerful impact arose from its wealth of musical talent.
"I fell in love with making music because I was around people who just love it," he says. "They had no agenda with it, they just wanted to make music, and I think that lives in me."
Hayes points to a string of musical influences including Garth Brooks and Bryan White. But one who holds a special place in his mind is his idol since early childhood, Cajun music artist Wayne Toups.
"I loved the way he entertained – his band was so tight, and he had awesome live shows," Hayes says. "A lot of the high-energy, up-tempo stuff that I do is inspired by that music."
Hayes' expressive voice, showmanship and mastery of multiple instruments have captured millions of fans, but he feels his behind-the-scenes work is also crucial in the success of his shows. "I'm very hands-on with the details because the staging, the lighting – all of those things – help translate the songs," he says.
Between tour dates Hayes resides in Nashville, but he returns often to south Louisiana to check in with relatives, "have a couple of awesome meals" and catch some music.
"Louisiana has a really cool, hip music scene, and I'm really stoked that I grew up around it," he says.
---