Lt. Gov. Billy Nungesser to Receive the Trumpet Award for Cultural Leadership at the Cutting Edge CE 2023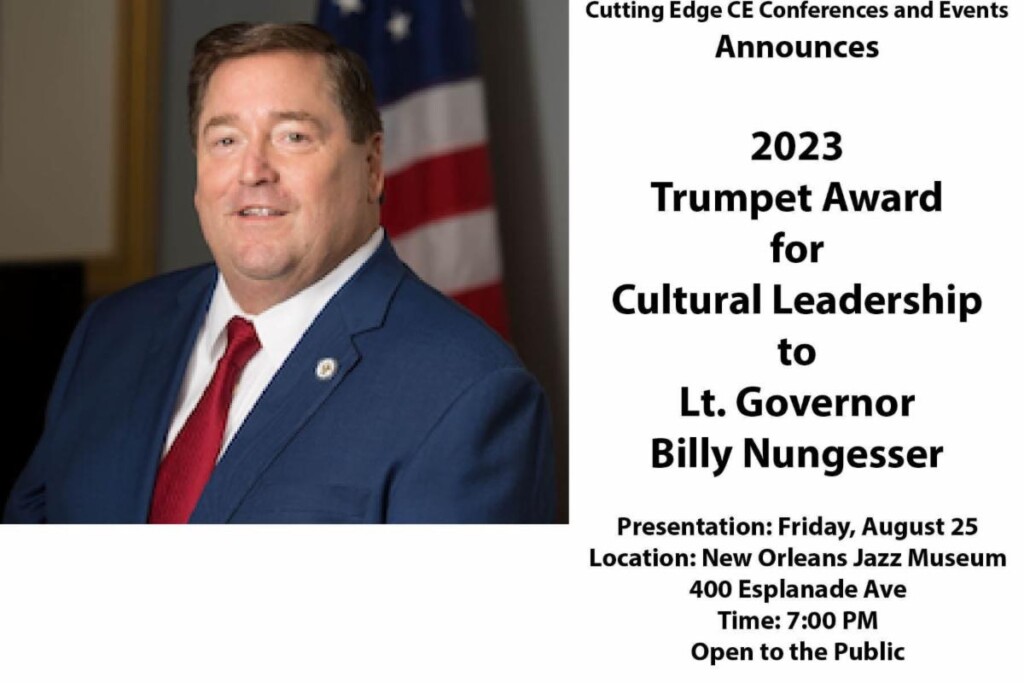 NEW ORLEANS (press release) – Cutting Edge CE (formerly Music Business Conference) has announced that Lt. Governor Billy Nungesser has been selected to receive Cutting Edge's "Trumpet Award for Cultural Leadership" in honor of his role as Louisiana's Cultural Ambassador. The presentation is free and open to the public and will take place on Friday, Aug. 25, at 7 p.m. at the New Orleans Jazz Museum, 400 Esplanade Ave., during the organization's 31st Annual Conference.
Billy Nungesser is the 54th Lieutenant Governor of the state of Louisiana. He took office in January 2016. From July 2019 to July 2020, Nungesser served as Chairman of the National Lieutenant Governors Association, a professional association that charts issues and work to be pursued by the second-highest-ranking officials in all 50 states and U.S. territories.
Under his administration, the state of Louisiana celebrated a fourth consecutive year of record-breaking visitation as Louisiana welcomed more than 53.2 million visitors, bringing in more than $18.9 billion to the state.
After a successful career as a businessman, Nungesser began his political career following Hurricane Katrina out of his frustration over the slow response by the government. He was elected Plaquemines Parish President in 2006 and re-elected in 2010.
During the Deepwater Horizon oil spill, the New York Times named him the "hardest working man in Louisiana," and ABC named him Person of the Week during the same period. He continues to be the "hardest working man in Louisiana."
Today Nungesser is second-in-command in the executive branch and Louisiana's ambassador as Commissioner of the Department of Culture, Recreation, and Tourism. From natural disasters to promoting our great state… Billy Nungesser is a man for all of Louisiana.
Among his many accomplishments are his vision to promote a Louisiana that values and embraces Louisiana cultural assets as essential in shaping a vibrant future for our communities and citizens. The state's nine museums offer visitors the opportunity to experience everything from the birth of jazz to the Battle of New Orleans.
Some of his signature programs include the #LouisianaFeedYourSoul initiative, which supports more than 400 Louisiana festivals and events, the Louisiana Culinary Trails Map highlighting eight regions throughout the state celebrating Louisiana's unique cuisine; the Louisiana African American Heritage Trail with 38 sites spanning from New Orleans along the Mississippi River to Baton Rouge and Shreveport, providing citizens the opportunity to learn about our state's diverse history and culture; while the New Orleans Jazz Museum celebrates the origin of jazz through dynamic interactive exhibits, multigenerational educational programming, research facilities, and engaging musical performances.
Finally, we especially honor Lt. Governor Nungesser for being a friend of music. Each year, Louisiana is home to countless musicians nominated and awarded Grammys, often having the most nominees per capita of any other state. His support for the music industry has been immeasurable!
Lieutenant Governor William (Billy) Nungesser is fully deserving of Cutting Edge CE's 2023 "Trumpet Award for Cultural Leadership."
During the award ceremony, the organization will also honor Saxophonist James Rivers with its "Lifetime Achievement Award', while Snug Harbor Jason Patterson will receive the "Music Influencer Award."