Making a splash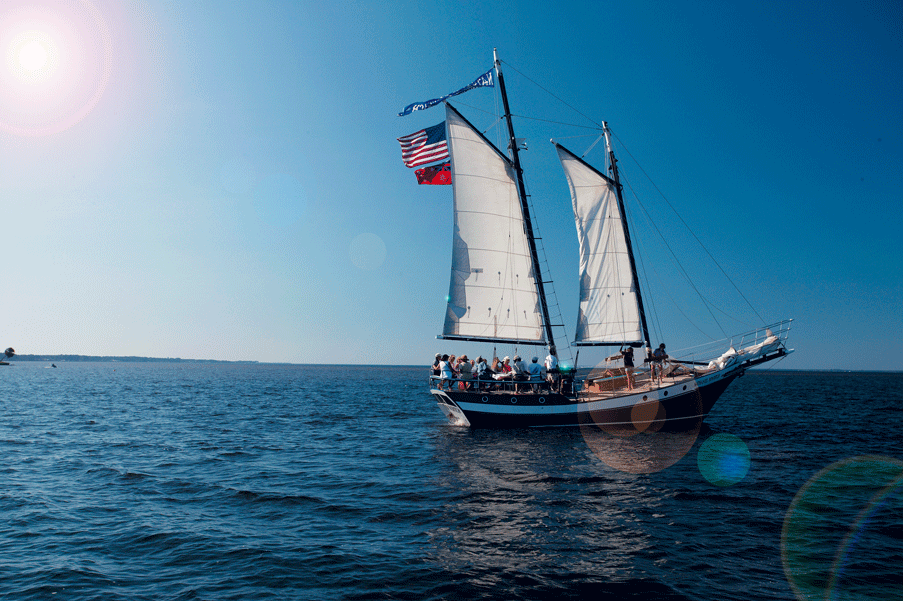 Depending on where you live in Louisiana, you have four sections of the Gulf Coast to choose from. If you live on the western end of the state, you're within an easy ride across the Texas border to Galveston or Padre Island, or you can head south to Holly Beach in Cameron Parish. If you live more toward the eastern side, a drive to Grand Isle will put you on the beach. But no matter where you live, what defines the Gulf Coast for many Louisianians is the eastern part, the stretch that includes the coastal communities of Mississippi, Alabama and the Florida panhandle.
Begin by heading toward Bay St. Louis, Miss., on U.S. Highway 90.
MISSISSIPPI
Right before you get to the Bay Bridge, turn right onto Beach Drive to reach the historic old town area of Bay St. Louis. The town, concentrated along the western crescent of the Bay of St. Louis, was home to a number of large hotels and summer homes for New Orleanians during the 1800s and 1900s. The hotels were destroyed by fire or hurricanes long ago; Katrina dealt another wallop in 2005. Much of what once was isn't anymore, though much of what isn't is being restored or replaced. At best, there is still that old-town-beach feel. When a town's first name is "bay," that assures it is vulnerable to the weather. Yet that very word also assures that the town has a quaintness and beauty that are worth saving.
Heading east on 90, you'll cross the bridge over the bay, where you'll probably notice locals fishing over the side. The six barrier islands off the Mississippi coast collect most of the shell life; the proximity to the mouth of the Mississippi River keeps the water the color of cloudy iced tea. Nevertheless, the islands serve as an incubator for marine life. Before gambling, the seafood industry was the mainstay on this stretch of coast, especially in Biloxi. Understandably, seafood restaurants abound.
Sitting on the east side of the bay, Pass Christian (pronounced "Christienne," with the accent on the last syllable) also has a rich heritage as a summer retreat for New Orleanians, a tradition that continues to this day. Scenic Drive, an offshoot of Highway 90, once afforded, before Katrina, a close-up look at graceful old homes. The next town you'll encounter along Highway 90 is Long Beach, a bedroom community not big on ambiance or tourist attractions, though it is the home of the University of Southern Mississippi's Gulf Park Campus.
Driving the highway at night, the pink and blue glow from the Grand Casino Gulfport once, pre-Katrina, let travelers know that they were entering the realm of casinos. Before the storm, the Mississippi coast had 12; gradually the casinos have been returning, though some have new owners, names and looks.
Biloxi is the best-known city on the Mississippi coast. It is ground zero for casino activity, but it would be a mistake to focus entirely on casinos in Biloxi. The city, which celebrated its tricentennial in 1999, retains its personality.
The Ohr-O'Keefe Museum of Art, located just off the beach, houses pottery by the famed "Mad Potter of Biloxi," as well as work by local artists.
Historical landmarks on 90 include Beauvoir, the raised cottage-style mansion where Confederate President Jefferson Davis spent the last 12 years of his life.
At U.S. 90 and Porter Avenue, you can't miss the Biloxi Lighthouse, built in 1848. It was here that Union forces mistook two cannons and a pile of logs painted black for a formidable arsenal of cannons. From Fort Massachusetts, Union forces blockaded the Mississippi Sound during the Civil War, demanding that Biloxi either surrender or starve. Biloxi leaders reportedly told the Yankees that they'd have to "blockade the mullet" before they gave in. Since then, mullet has been known as "Biloxi bacon," and the coast holds a Mullet Festival each October.
Cross the bridge over Biloxi's Back Bay to reach Ocean Springs, where Pierre Le Moyne d'Iberville stepped ashore 300 years ago to establish for France the first permanent settlement in central North America. Like Bay St. Louis on the other end of the coast, Ocean Springs has lovely beachfront homes on a stretch of natural beach and a community of artists, cafés and gift shops. Turn off Highway 90 onto Washington Avenue to reach downtown.
Ocean Springs' favorite son is Walter Anderson. Fans of the fascinating artist will want to visit the Walter Anderson Museum of Art on Washington Avenue, which houses more than 300 works of art. For Mississippi tourism information, call (800) 927- 6378.
ALABAMA
On Interstate 10 en route to Alabama, be sure to stop at the Alabama Welcome Center, which sits atop a small hill and is beautifully landscaped with live oaks, magnolias and azaleas.
About 40 miles from Mobile is Dauphin Island, reportedly called Massacre Island by the first French settlers because of the mountains of human bones found there. It was later renamed Isle Dauphine after an heir of Louis XIV. This mostly residential island is home to the Estuarium at the Dauphin Island Sea Lab, a hands-on educational facility featuring large aquariums with local marine life.
Also on Dauphin is Fort Gaines Historic Site, where you can explore the original tunnels, bastions, bakery and kitchens once graced by Adm. Daniel "Damn the Torpedoes!" Farragut during the Confederacy.
While Dauphin Island is rich in history, its water and beach don't exactly make for an appealing place to plop your raft and lawn chair. The water is the same Mississippi brown, and the sand is rather grainy. It's hard to believe crystal-clear blue-green waters are only a few miles away on the Alabama coast.
Vacationers would be making a mistake to dismiss Alabama beaches. These beaches, including Gulf Shores, Orange Beach and the beach along Fort Morgan Road, are clean and –– at some points –– rather deserted. The stretch along Fort Morgan Road, for example, is almost all residential, and many of the cottages and homes can be rented.
The Gulf waters undergo a metamorphosis once the barrier islands are no longer there to hold in debris. The water is remarkably cleaner, and the surf pounds night and day. It's a great place to get back in touch with nature.
Just 6 miles west of Gulf Shores is Bon Secour National Wildlife Refuge, which spans 6,200 acres and is home to animals including bobcats, opossum and armadillos. Guests can hike through the grounds or go fishing on 40-acre freshwater Gator Lake. From August to October, monarch butterflies make their migration.
For Alabama tourism information, call (800) 252-2262.
FLORIDA
Whether the occasion is spring break, a honeymoon or a yearly family pilgrimage, the Florida coast is a popular vacation spot. Many of its beach towns claim the title "world's most beautiful beaches," and, really, it's easy to see that they all deserve it.
If you're traveling to Florida via I-10, you'll notice a change in foliage as the tall pines get mixed with more oak trees and what seems to be the state's signature plant, the fan palmetto. The Florida Visitors Information Center offers loads of information about what the panhandle has to offer, plus complimentary cups of orange and grapefruit juices.
Taking the Highway 90 exit off the interstate, you'll first hit Pensacola, which takes its name from the Pensacola Indians who met the first Spanish explorers in 1559. The city has several historical attractions, though it is perhaps best-known for its beaches, the first of Florida's beautiful beaches.
Past Gulf Breeze, you'll see the big, gaudy neon swordfish sign welcoming you to Pensacola Beach. At this point you can take either Highway 98 or Scenic Highway, a narrow road that traverses Santa Rosa Island. It is here on the island, the area known as Pensacola Beach, that you'll find miles of white sand, blue-green water, beachfront hotels, beach cottages and restaurants.
To the west of Santa Rosa is another narrow barrier island called Perdido Key, which also has a mix of lodging, restaurants, shops and golf courses. On this stretch of beach is the Flora-Bama Lounge and Package store at the Alabama-Florida state line. Popular with college students, the large wooden building has a honky-tonk feel and offers a deck and pier where you can enjoy steamed crab, poor boys and beer.
Back on Highway 98, before you hit the town of Mary Ester, you'll see a brown sign for the Gulf Islands National Seashore Visitor Center. This is a pleasant place to stop off and take a stroll on the center's massive wooden observation deck. This site also offers a nature trail that leads to the beach at the edge of the woods.
Just down the road from Fort Walton Beach is Destin, which offers water sports such as snorkeling and sport fishing, fine dining, shopping and golf.
It might be hard to rip yourself away from Destin's beaches, which are downright breathtaking, with their dunes overgrown with sea oats and the wonderful bonsai-like scrub pines and oak trees. The pièce de résistance is the water, though, here more deeper and dramatic shades of blue and green than perhaps anywhere else in Florida.
About 20 to 30 minutes east of Destin (on State Highway 30-A) are the communities of Grayton Beach and Seaside, which are as different as Mayberry and Beverly Hills. While Grayton Beach is rather rustic, with simple, humble cottages scattered among the brand-new ones, the planned community of Seaside, with its perfectly landscaped, tin-roofed cottages, brick streets and white picket fences, seems like a nice place to visit. With more than 50 shops, galleries and restaurants, Seaside is a popular honeymoon and vacation spot. Around 250 cottages are available for rental. Nearby are three newer beach communities, Water Color, with its creative architecture; Rosemary Beach, with its closer proximity to the beach; and Carillon Beach on the edge of Panama City, an elegant planned community.
Dwarfing Grayton and Seaside is Panama City Beach, a favorite spring break destination for years. Heavily populated with towering condos, the area offers plenty of family-friendly tourist attractions.
After Panama City, the eastward stretch of the coast ends. From there, Louisianians can turn and start heading back. But take your time: There are lots of attractions on the trip home, too.
For Florida tourism information, call (888) 735-2872.