Traveling Around Louisiana
Summer road trips are one of the best ways to create lasting memories with loved ones, and Louisiana offers a wealth of opportunities for engaging with local communities, unique culture, fascinating history and art-filled meccas.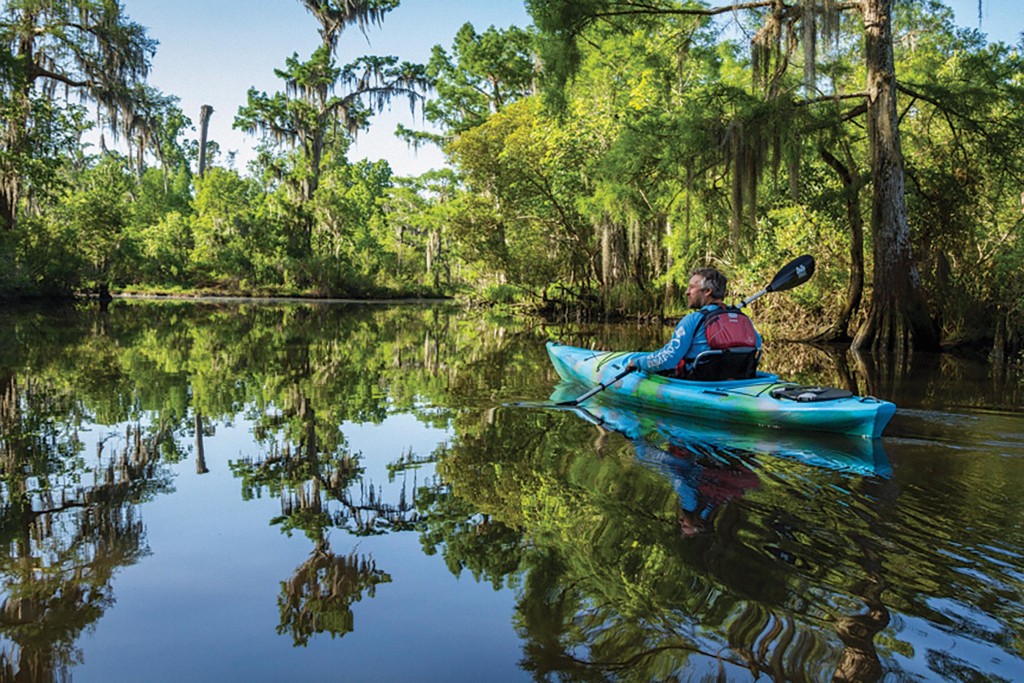 North, south, east or west—spinning the compass in any direction is sure to deliver an unforgettable adventure to a one-of-a-kind destination. Outdoors enthusiasts will love the diverse landscapes of the state, each with its own celebrated attractions and corresponding festivals and events. From the peaches of North Louisiana to the Gulf Seafood in abundance down south, summer brings a copious amount of satisfying flavors to adventuresome travelers and hospitable locals. Plan your summer road trip today and get to know Louisiana like never before.
Louisiana Cities & Communities
It's peach season in Ruston and Lincoln Parish—mark your calendars for the 72nd Annual Louisiana Peach Festival happening June 4 in downtown Ruston. The one-day festival will be filled with 10+ hours of live entertainment, free activities for the kids, a local arts market, food vendors, and of course, savory and sweet peach treats. Come early for free admission from 9 a.m. – 5 p.m.
Returning this year is Peach Restaurant Week happening May 30 – June 4. Visit local restaurants for delectable peach dishes only available the week of the Louisiana Peach Festival. Items include coffees and teas, appetizers, sandwiches, pizzas, cocktails, specialty desserts, and so more much.
Don't forget to add a trip to Mitcham Farms Peach Orchard to your itinerary. Ice cream made from Louisiana's sweetest peaches is only available during the summer. For more information about Ruston or to plan your trip to the Louisiana Peach Festival, visit ExperienceRuston.com.
Explore St. Tammany Parish's pristine waterways and great outdoors with a paddle along the bayou, boat tour of Honey Island Swamp, fishing charter, bike ride along the 31-mile Tammany Trace, or tubing trip down the Bogue Chitto. Satisfy your taste buds with the deep and delicious Tammany Taste culinary scene. Abundant fine dining and mom and pop eateries combine all the flavors Louisiana is known for in exquisite dishes featuring Gulf seafood and local produce with hospitality that cannot be beaten. Wind down with the family at your choice of comfortable and affordable accommodations, luxurious B&Bs, or updated camping sites at either Fontainebleau or Fairview-Riverside State Parks.
Eat, play, and stay during August 1- September 15, 2022, for huge savings at local accommodations, discounted prix fixe menus at restaurants locals love, and deals at unique outdoor attractions. Discover what it truly means to feed your soul on the Louisiana Northshore. Sign-up for your Tammany Taste of Summer Savings Pass today at TammanyTaste.com, and be the first to learn about the hot deals happening this summer.
Your next outdoor adventure is closer than you think—in Alexandria/Pineville, a robust sportsman's culture is nurtured by outdoor opportunities in the area including two beautiful and challenging golf courses and scenic Lake Buhlow in Pineville.
Explore the forested piney hills and hardwood bottoms of Kisatchie National Forest, one of the largest pieces of natural landscape in Louisiana and the only national forest in the state, filled with vital longleaf pine and flatwoods vegetation supporting rare plant and animal species. Located within Kisatchie National Forest are scenic areas ideal for bird watching, photography, backpacking, canoeing, all-terrain vehicle trails, boating, camping, cycling, fishing, picnicking and swimming. The forest has more than 40 developed recreation sites such as Kincaid Lake Campground, a modern, forested paradise, complete with a fishing pier, swimming area, and boat launch.
Plan your outdoor adventure today at alexandriapinevillela.com.
Art & History
The Helis Foundation
From vibrant murals to public sculptures to free museum admission, revel in the arts across New Orleans courtesy of The Helis Foundation with its Art for All program. The Helis Foundation provides access to the city's rich visual arts scene for visitors and locals to New Orleans whether they're strolling along Poydras Street to view Poydras Corridor Sculpture Exhibition, a collection of 16 sculptures by renowned local and international artists, or enjoying Unframed, Downtown's first multi-mural exhibition of large-scale artwork.
Louisiana residents may enjoy free admission to some of New Orleans' most beloved institutions on select days year-round, including Ogden Museum of Southern Art, New Orleans Museum of Art, New Orleans Botanical Garden, Contemporary Arts Center, and Louisiana Children's Museum. To learn more, visit TheHelisFoundation.org. #ArtforAllNOLA
The National WWII Museum
Based in New Orleans, the manufacturing home of the famed Higgins landing crafts that delivered American soldiers to their D-Day landings, The National WWII Museum tells the story of the American Experience in "the war that changed the world"—why it was fought, how it was won, and what it means today—so that all generations will understand the price of freedom and be inspired by what they learn.
The multi-pavilion, congressionally designated Museum offers an impactful blend of sweeping narrative and poignant personal detail, featuring exhibits, state-of-the-art multimedia experiences, and an expansive collection of artifacts and first-person oral histories to take visitors inside the story of the war. Currently featuring two limited-time special exhibits—Infamy: Pearl Harbor Remembered and The Real Image of War: Steichen and Ford in the Pacific—the Museum continues to offer patrons of all ages new ways to connect to history.
For more information, visit nationalww2museum.org.