Traveling Around Louisiana
Admit it—it's time for a little fun. Summer vacation is here, and it's way too hot for chores or toiling over work. Take some time off in the summer months and experience Louisiana with an adventure to a nearby city.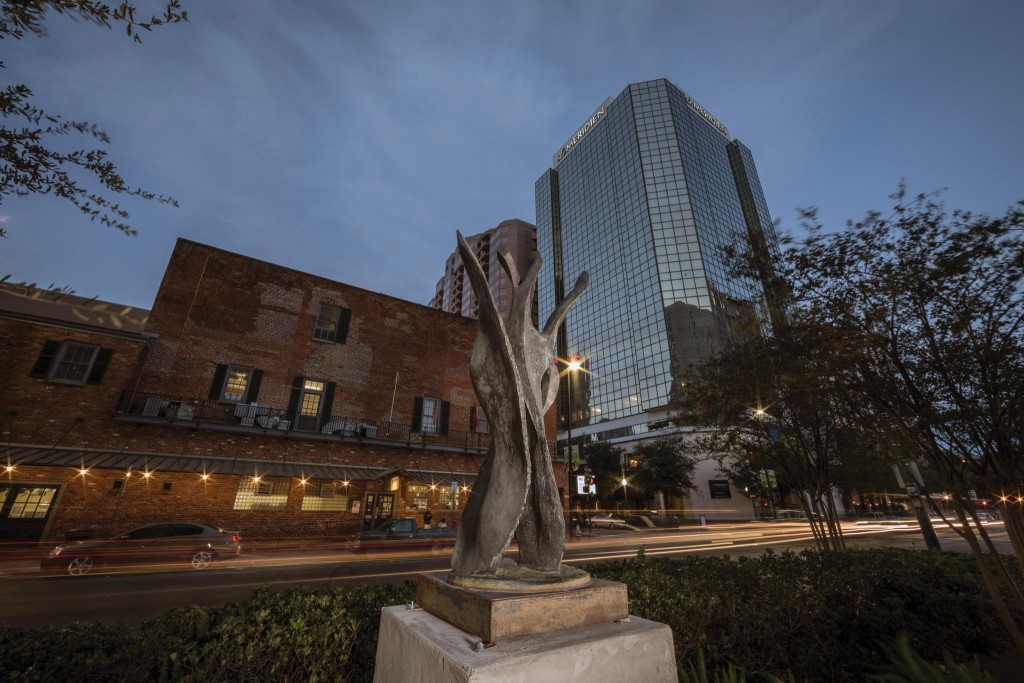 Photos courtesy Helis Foundation; Eatlafayette; Alexandria Zoo
Revel in the cool A/C of a hopping restaurant while sampling regional flavors or satisfy a craving for creativity by viewing art installations across the state. Park the RV at one of Louisiana's beautiful campgrounds and cool off with a dip or a boat ride in a recreational waterway or hit one of the state's many family friendly attractions. While relatively small for, Louisiana packs a punch with diverse offerings and multicultural experiences that you can't find anywhere else. And, its size makes it easy to take a short road trip that feels like it takes you a world away.
From vibrant murals to public sculptures to free museum admission, revel in the arts across New Orleans courtesy of The Helis Foundation with its Art for All program. The Helis Foundation provides access to the city's rich visual arts scene for visitors and locals to New Orleans, whether they're strolling along Poydras Street to view Poydras Corridor Sculpture Exhibition, a collection of 16 sculptures by renowned local and international artists, or enjoying Unframed, Downtown's first multi-mural exhibition of large-scale artwork.
Louisiana residents may enjoy free admission to some of New Orleans' most beloved institutions on select days year-round, including Ogden Museum of Southern Art, New Orleans Museum of Art, New Orleans Botanical Garden, Contemporary Arts Center, and Louisiana Children's Museum. To learn more, visit TheHelisFoundation.org. #ArtforAllNOLA
When the question is where you want to eat, the answer is EatLafayette. EatLafayette is your complete guide to the very best locally owned and operated restaurants in the heart of Louisiana's Cajun & Creole Country. It's all part of the summer-long celebration of Lafayette's love affair with food, the always evolving and energetic food scene the city call's EatLafayette.
With over 100 participating restaurants, the question of where you want to eat has an answer that's just a mouse click and a short drive away. Greek, Italian, French, Asian, Cajun, Creole, Caribbean, African—you get the idea. Almost every kind of cuisine from around the world is being prepared by an EatLafayette restaurant, and this is your summer to take a culinary cruise around the globe with one amazing dining experience after another.
Come on, you know you're hungry—breakfast, lunch, dinner, snacks and late-night—it's all there, and it's all at EatLafayette.com. The answer to the question, "Where you wanna eat!?"
Discover the charm of Natchitoches (pronounced "Nack-a-tish"), Louisiana, where history lives and memories are made. This family-friendly historic town was established in 1714, making it the oldest city in Louisiana.
Explore the history and culture at Fort St. Jean Baptiste State Historic Site or the Cane River Creole National Historical Park. Discover natural fun at Gator Country Alligator Park or Lost Treasure Mining Company. Tour the town by foot, car, horse and carriage, or boat to learn about the past, the present, and a little folklore along the way.
With a multitude of family-friendly accommodations, you can have a quiet lake-side getaway or splash at a hotel pool. And food options are abundant, ranging from fast casual to fine dining. Whether you prefer indoor comfort or sunset views over the lake, there is a restaurant calling your name in Natchitoches.
Order your visitor's guide at Natchitoches.com or by calling 800-259-1714.
Summer fun is just around the corner in Alexandria/Pineville. Go wild at the Alexandria Zoo and visit the new Aussie Aviary. Guests can get up close with the colorful and chatty cockatiels, parrots, and parakeets on Fridays, Saturdays, and Sundays from 10 a.m. – 4:30 p.m. Then, cool off at Four Seasons Bowling, where kids ages 2-15 years can bowl two free games all summer long.
Wayback's Arcade in Pineville is like the one you loved "way back," but with a big difference—you won't pay quarters, tokens, or even swipe a card to play a game. Wayback has over 80 modern and vintage arcade games, a dozen pinball tables, novelty/sport games, competitive PC and retro console gaming. With free play, onsite food options, and multiple party rooms, this is one summer activity the entire family will love.
For more family-friendly summer attractions, visit alexandriapinevillela.com.