Traveling Around Louisiana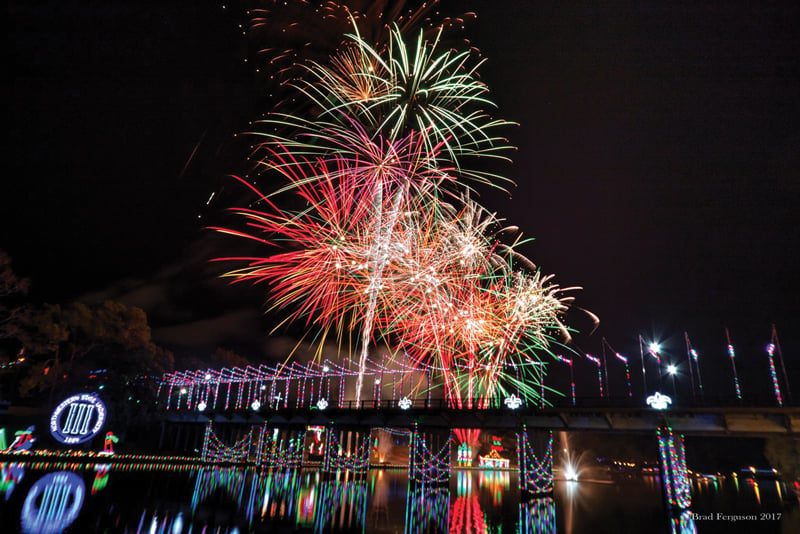 Louisiana becomes a wonderland of lights throughout the holiday season as Main Streets all over the state welcome the festive time of year with twinkling lights and decorations. Events are sure to accompany the décor, and from buy-local shopping days and arts markets to winter festivals and music celebrations, this lively time of year brings joy and warmth to Louisiana's various communities. Explore the seasonal offerings of North, Central, and South Louisiana, and make memories with loved ones that may inspire yearly traditions. Each city and parish offers its own unique take on the winter season, while numerous points of interest welcome locals and visitors to explore, shop, and experience Louisiana in special ways. From car shows to concerts, art exhibits to musicals, and fine dining to barbecue, you're bound to find new and exciting things to do among the following offerings from the state's travel destinations and nearby neighbors.
City and Parish Events and Attractions
Experience the holidays in Ruston & Lincoln Parish with events for the family all season long. Festivities kick off November 30. Experience holiday fun with ice skating, drive-through Christmas lights, a Christmas parade, chili cook-off, and so much more. Don't miss the lighting ceremony that sets downtown Ruston aglow and the live entertainment in Railroad Park that boosts the holiday spirit. The beautiful lights twinkle throughout downtown all holiday season.
Be sure your holiday shopping includes locally crafted items. A Holiday Arts Market takes place Friday, December 6, in downtown Ruston. Find everything from original paintings and prints to woodworks, jewelry, clothing and more, all created by local makers.
There's never been a better time to enjoy this joyful season in Ruston, Louisiana. For more information and upcoming events in Ruston and Lincoln Parish, visit experienceruston.com.
Natchitoches, Louisiana, established in 1714 and the oldest city in the Louisiana Purchase, is a premiere holiday destination for families and friends. Beginning November 23, 2019, Natchitoches will light up the downtown historic district with thousands of twinkling lights, more than 100 lighted displays along Cane River Lake, and fireworks every Saturday. The lights will remain lit through January 6, 2020.
During the more than six weeks of the Christmas Festival season, visitors will find home tours, live entertainment, theatrical performances, and more. On Saturday, December 7, Natchitoches will celebrate its 93rd Annual Christmas Festival with the Festival of Lights Parade, music on the Riverbank Stage, and, of course, fireworks over Cane River Lake. New to this season's calendar is the Light the Way 5K and the return of the Lighted Boat Parade, both the weekend of December 13-14, 2019.
For more information, call 1-800-259-1714 or visit natchitoches.com.
Escape to Alexandria and Pineville in Central Louisiana this holiday season for shopping, fun, and relaxation. Just a short drive from anywhere in Louisiana, you can enjoy small-town charm with big-city fun.
The season's exciting events kick off with Kansas City Southern's Holiday Express in Pineville. Guests to the festive event can visit with Santa Claus and walk through three train cars filled with holiday displays. Next, shop for one-of-a-kind gifts at the River Oaks Square Arts Center's Porch Sale on December 7. Other dazzling community events include Lightwire: A Very Electric Christmas, Alex Winter Fête, and the Alexandria and Pineville Christmas Parades. Join the family-friendly activities at Kent House's Old Fashioned Christmas and the Alexandria Zoo's annual Holiday Light Safari. Or just get away from it all in Kisatchie National Forest or at a relaxing hotel and spa in the area.
Learn more about upcoming events and holiday options in Central Louisiana at AlexandriaPinevilleLa.com.
Fall is in the air in Avoyelles as the parish awaits Thanksgiving and the Christmas Season. November brings a cornucopia of events. Paragon Casino Resort brings Montgomery Gentry on November 1 and Ludacris on November 9. Call 800-745-3000 for ticket information. On November 23, enjoy a full day of shopping, BBQ, and a Car Show at Paragon Casino Resort. Additional events include the annual Christmas Extravaganza hosted by the Marksville Chamber of Commerce, and TBIPAC will have their Fall BBQ Throwdown and Southern Cruisers Car Show. Call 318-253-8599 or visit tbipac.com/news-and-events.
December brings the Commodores to Paragon Casino's Mari Center on December 6 and Papa Noel and Ensi Klos Story Time on December 14. Call 318-240-6421 for information. Don't miss Christmas on the Bayou in Cottonport on December 7-8. Fireworks will light the sky at 6 p.m. on Saturday, and parade rolls at 1 p.m. on Sunday. Call Cottonport Town Hall for additional information at 318-876-3485.
Unique Points of Interest
Located in Alexandria's historic downtown, River Oaks Square Arts Center is one of the South's most unique arts centers and features over 20 exhibitions and nearly 200 visual artists annually. The center offers premiere educational components with featured guest artists and houses studio space for over 40 working artists.
This season, River Oaks hosts two exciting annual events. First, the 4th Annual 5x5x5 Show (#Triple5) invites local, regional, and national artists to enter and display miniature works of art, ranging from paintings and sculpture to ceramics and mixed media, all within a 5-inch by 5-inch by 5-inch measurement. Juried by New Orleans artist, gallery owner and author, Alex Beard, the show runs from November 15, 2019, through February 15, 2020, with an opening reception November 15, 5 – 7 p.m.
On December 7, River Oaks hosts its Annual Christmas Porch Sale from 9 a.m. – 3 p.m. For over 25 years, the sale features original, contemporary works from over 100 artists in addition to artist demonstrations. Remaining inventory is sold through December 19.
For more information, visit RiverOaksArtsCenter.com, call 318-473-2670, and follow on social media.
Featuring a growing collection of Modern and Contemporary Louisiana and Southern art, the Alexandria Museum of Art (AMoA) strives to address issues within the Central Louisiana community and the nation through art. In addition to the museum's permanent exhibition, Connected Visions, Louisiana's Artistic Lineage, AMoA presents multiple temporary exhibitions each year on varying themes.
The museum is proud to host The Pelican State Goes to War: Louisiana in World War II exhibition from November 2019 through February 2020. Produced by the National WWII Museum and presented by the Alta and John Franks Foundation, The Pelican State Goes to War celebrates the numerous ways that residents of the state of Louisiana impacted the war efforts. The museum will hold a number of events during the exhibition, including a panel discussion, two concerts, a lunch-and-learn, and a community sharing day.
For more information, visit themuseum.org.
Nearby, Out-of-State Destinations
On the scenic Natchez Trace Parkway just north of Jackson, Mississippi, Ridgeland proves that good taste has quite the adventurous side. Explore where fine dining, fine art, and upscale boutiques meet bike trails and boating, and make treasured memories with the ones you love. With plenty of space to be in nature and all of the comforts and conveniences of a city, Ridgeland is a true urban oasis.
Ridgeland is bursting with flavor and is home to over 150 eateries, many of which are family-owned and pride themselves on serving fresh, locally and regionally sourced ingredients. Enjoy lakeside dining along the shores of the 33,000-acre Barnett Reservoir (locally known as the "Rez") or feast on a juicy steak at one of six locally-owned steakhouses. With some of the finest shopping in Mississippi, Ridgeland hosts a wealth of independently owned boutiques, galleries and stores. Stylish shopping is at its best on Ridgeland's Retail Trail. Arts, culture, and creativity abound at the Bill Waller Craft Center, where over 400 artisans display their creations.
For more to see and do, check out VisitRidgeland.com.