Traveling Around Louisiana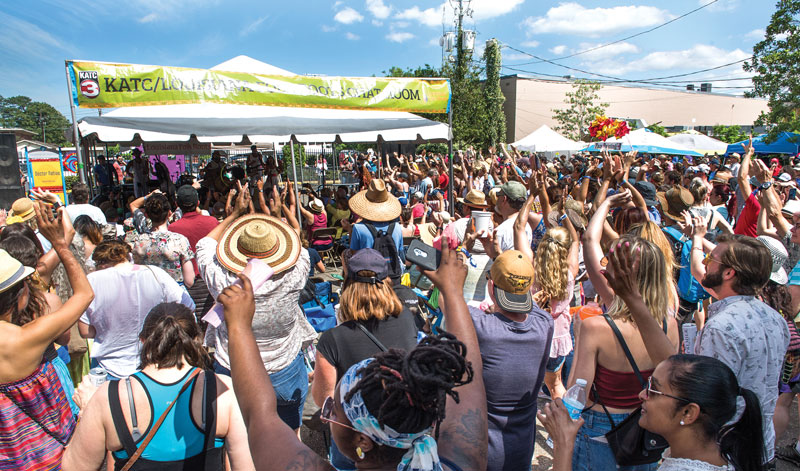 Louisiana offers much to do in the busy spring season—from "egg knocking" in Avoyelles, to music festivals in Lafayette, art exhibitions in Alexandria, and bass fishing on Toledo Bend. Natchitoches and Baton Rouge are also in on the fun, offering their own reasons to visit, relax, and pass a good time. March and April bring beautiful weather to Louisiana, so now's the time to head out and enjoy all the state offers with a windows-down road trip to new and old destinations. Art enthusiasts will want to peruse the season's exhibitions at art museums and centers across the state, while thrill-seeking families will want to hit up the many seasonal festivals that highlight the unique music and cultures of the region. Check out the following destinations for spring fun and plan your getaway while the flowers are blooming and the cool breezes abound.
Louisiana Art Museums & Centers
The LSU Museum of Art holds one of the most comprehensive permanent collections of Louisiana art, making it a central hub for experiencing insightful and inspiring local works. In addition to its permanent display, the LSU Museum of Art is proud to host a variety of exhibitions throughout the year. In March and April, the Museum is proud to open two notable exhibitions: Living with Art: Selections from Baton Rouge Collections and Conspicuous: Satirical Works by Caroline Durieux.
Through the loan of extraordinary works from private collections, LSU Museum of Art celebrates the creative spirit that binds artists to collectors and collections to institutions with Living with Art: Selections from Baton Rouge Collections, which runs March 5 – June 14. From historic German Expressionism to Southern self-taught artists, from historic French and international artists to Louisiana artists, this exhibition shares a wide variety of artworks.
Running March 19 – August 30, Conspicuous: Satirical Works by Caroline Durieux depicts the quirky, conspicuous behaviors of upper class consumption and leisure that Durieux observed in bourgeois circles. The exhibit focuses on the Newcomb College graduate's 1930s and 1940s lithographs.
For more details, visit lsumoa.org.
River Oaks Square Arts Center is located in the heart of Alexandria's historic downtown and is one of the South's most unique arts centers. River Oaks hosts over 20 exhibitions annually, featuring over 200 contemporary visual artists. The center offers premier education components with featured presenters and houses studio space for 35+ working artists.
River Oaks will host its 6th Annual Dirty South Cup Call & Competition from April 3 through May 23, featuring over 100 unique beverage vessels from over 65 master ceramicists—an exceptional show for collectors. Mugs, cups, yunomis, and whiskey bowls created by regionally and nationally renowned potters will be on display during the event. Seattle-based master potter, Deb Schwartzkopf (Guest Juror 2020) will conduct a two-day workshop April 2-3 entitled Exploration of Form. An opening reception will be held April 3, 5 – 8 p.m. The event is sponsored by the Greater Alexandria Economic Development Authority, LA Division of the Arts and the National Endowment for the Arts.
For more information, visit riveroaksartscenter.com and find the center on Facebook, Twitter, and Instagram. For class enrollment, call 318-473-2670.
Featuring a growing collection of Modern and Contemporary Louisiana and Southern art, the Alexandria Museum of Art (AMoA) strives to address issues within the Central Louisiana community and the nation through art. In addition to the museum's permanent exhibition, Connected Visions, Louisiana's Artistic Lineage, AMoA presents multiple temporary exhibitions each year on varying themes.
This spring, the museum is excited to highlight art within literature in the exhibit Childhood Classics: 100 Years of Children's Book Illustration from the Art Kandy Collection from March through June 2020. The exhibition was curated and organized by Lee Cohen and Lois Sarkisian in association with Landau Traveling Exhibitions, Exhibition Tour Management by Landau Traveling Exhibitions. The museum is partnering with the Rapides Parish Library to hold a number of events during the exhibition, including a panel discussion, concert, a lunch and learn, monthly story hours, and a book club.
For more information, visit themuseum.org.
Parishes & Cities
Lafayette remains entrenched in its French heritage 250 years after the Acadians arrived from Canada. Every April, Lafayette's French heritage is celebrated in a big way at Festival International de Louisiane, the country's biggest international music and arts festival. Artists from more than 20 French-speaking countries will take over downtown Lafayette on five stages, attracting some 300,000 festival-goers.
"The festival exposes visitors to different cultures, both internationally as well as to Lafayette's unique culture," says Carly Viator, Festival International marketing coordinator. "With top-quality local performers, GRAMMY winners and up-and-coming international acts along with food and art, it's really the perfect gateway into experiencing everything our city is all about."
Around the main stages, on-site food vendors help festival-goers refuel. Two dozen of the area's most popular restaurants provide specialty items while numerous downtown restaurants offer special menus and serving stations. In Marché des Arts, festival-goers shop paintings, pottery, mixed-media sculptures, artisan jewelry, and other handcrafted items from all over the world.
For more information, visit LafayetteTravel.com/FestivalInternational.
There's lots to do this spring in Sabine Parish, Toledo Bend Lake Country. Fish are beginning to spawn, and the lake level is rising—conditions are perfect for catching your personal best. This 186,000-acre lake is a world-class bass fishery and hosts an abundance of other freshwater fish. Locate public fishing piers, boat launches, boat rentals, and professional guides at ToledoBendLakeCountry.com.
The area is a mecca for hiking, golfing, ATV riding, camping, and birding. Stay in a cozy cabin on the lakeside at Wildwood Resort or plan a family golfing trip at Cypress Bend Resort. Experience the area's frontier history with a drive along the 300-year-old El Camino Real del los Tejas National Historic Trail, where Davy Crockett and Stephen F. Austin once traveled. Sabine Parish was once part of a lawless region known as "No Man's Land." Find related events at VisitNoMansLand.com.
Save the date now for the Battle of Pleasant Hill Re-enactment (April 3-5), the Choctaw-Apache Powwow (April 24-25), El Camino Real Sale on the Trail (May 1-2), and the Zwolle Loggers and Forestry Festival (May 8-9).
For more info, visit ToledoBendLakeCountry.com.
Discover the charm and history of Louisiana's oldest city with a tour by foot, carriage or boat. Natchitoches is full of opportunities to sight-see and relax.
Step back in time as a Cane River National Heritage Area ranger leads you on a complimentary walking tour through the historic district detailing the early history and culture of the area. Take a ride through the historic district and listen to the facts, folk lore, and jokes from a guide in a horse-drawn carriage. Or, relax and sit back as the Cane River Queen paddles you up and down the Cane River Lake while the Captain and his first mate entertain guests along the way. After your tour by foot, carriage or boat, make your way to one of the many restaurants in the historic district to find a selection of food fare that is sure to fulfill your hunger.
Visit Natchitoches.com to plan your stay in Natchitoches or call 800-259-1714 to request materials by mail.
Allons aux Avoyelles, to pass a good time! Avoyelles Parish, the "Easter Egg Knocking Capitol of Louisiana," invites you to pacque on Easter Weekend. These competitions feature different age groups knocking their own chicken or guinea eggs.
Cottonport hosts Knockin' on the Bayou complete with competitions and shopping opportunities, and Effie welcomes you to Easter on the Red River, which hosts a variety of contests, including egg decorating, egg hunting, and more. Family-friendly events, both Knockin' on the Bayou and Easter on the Red River are scheduled for Easter Saturday, April 11.
On Easter Sunday morning, Marksville celebrates its longtime tradition of egg knocking competition at the Avoyelles Parish Courthouse Atrium with registration beginning at 9 a.m.
Come for the joie de vivre! Ici on est fier de parler Français!