Traveling Around Louisiana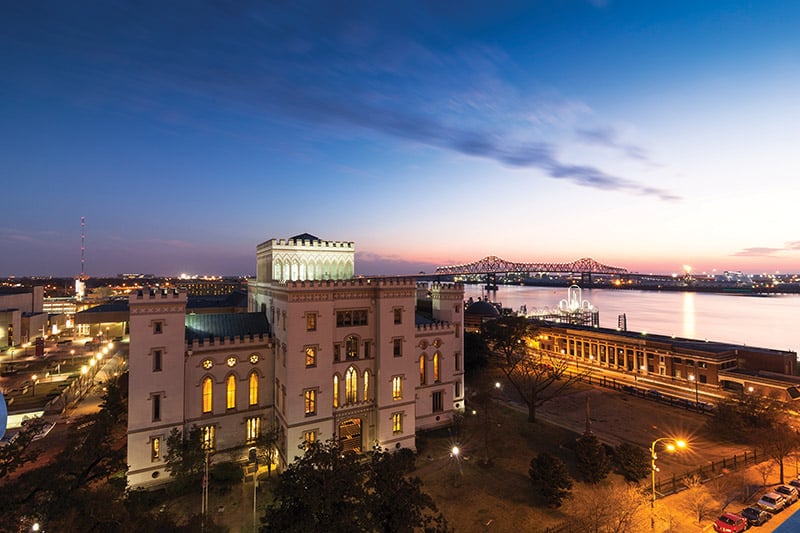 Everyone's headed outdoors this year, and the fall weather will provide a welcome respite from the high temperatures of summer. Louisiana offers a number of diverse landscapes for enjoying the great outdoors. In North Louisiana, hills bring excitement to bikers and hikers, while large lakes provide top-notch fishing and recreational boating. South Louisiana has its own fair share of urban cycling paths and beautiful scenery for taking a stroll, exploring the swamps, or even dining outdoors. Camping, birdwatching, and golfing are other activities popular across the state during the fall months, as the seasonal shift brings a change of scenery and color. As you explore your options for weekend fun and family friendly adventures, consider the following destinations for a breath of fresh air and an escape from the confines of the home.
Visit Baton Rouge
Louisiana's Capital City is home to unbeatable southern hospitality, incredible eats, good music and more, and while it slowly returns to normal, the priority is keeping travelers and community members safe.
Unleash your adventurous side at BREC's swamp and nature trails, extreme sports park, or with a bike ride along the Mississippi River Levee Bike Path, the Downtown Greenway, or the Comite River Park Mountain Bike Trail. Under the shade of 100-year-old oaks, you can stroll along the LSU lakes or take in the scenery by paddle boarding and kayaking.
Around Baton Rouge, you'll find everything from bed and breakfasts, shops, and lunch spots to must-see attractions, galleries and more. If you're not quite ready to travel, take a virtual tour of the Red Stick and share your favorite things using the hashtag #ExploreBatonRouge.
While Baton Rouge works to ensure the city is safe for you, remember to wear your mask and socially distance when you visit. For travel ideas, virtual tours, and more, go to VisitBatonRouge.com.
Cypress Bend Resort
Moments of splendor define every visit to Cypress Bend Resort, from sunrises over the shimmering lake to birdies on its lush championship golf course or family stories around a glowing fire. Located on Toledo Bend Lake just 70 miles south of Shreveport, Cypress Bend Resort promises unforgettable memories for friends and families seeking a beautiful and tranquil respite. Cypress Bend offers the perfect locale for vacations, meetings, conventions, or weddings with its 95 guest rooms (including 14 two-bedroom golf suites). The resort also boasts a Spa at Cypress Bend, 600 acres of gardens and forests, 11,000 square feet of state-of-the-art conference facilities, a nationally recognized 18-hole golf course, and the top bass fishing lake in the country according to BassMasters.
Crisp, country air, serene views, and southern hospitality all combine to transform and elevate your experience—whether a meeting or golf game—into a communion with nature. The resort is conveniently located for residents of both Louisiana and East Texas.
Discover the magic of Cypress Bend Resort with your loved ones. For reservations and information, visit CypressBend.com or call 318-590-1500.
Ruston & Lincoln Parish
This fall, experience the best of North Louisiana's great outdoors with an adventure to Ruston and Lincoln Parish. Enjoy the cooler breezes and changing leaves in the area's many parks and waterways, and you'll likely find yourself returning year after year.
Mountain bikers from across the country flock to Lincoln Parish Park, where its top-rated mountain bike trail offers 10-miles of excitement for both advanced riders and beginners. A walking path winds around the park's serene lake, which welcomes fishing, canoeing, and kayaking. Meanwhile, free park Wi-Fi keeps you connected when you want to be.
Another outdoor paradise is James Lake Birding Trail, one of Louisiana's best places to spy a variety of birds. The lake area also features pavilions, restrooms, an RV park, playground, and amphitheater.
Ruston's Rock Island Greenway is another gem that offers a shared-use walking, running, and cycling path throughout the area.
Visit October 24th and add the Louisiana Peach Festival to your adventure. This outdoor festival brings music, food, and art to Downtown Ruston. For more information on these attractions, visit experienceruston.com.