12 Teams 12 Histories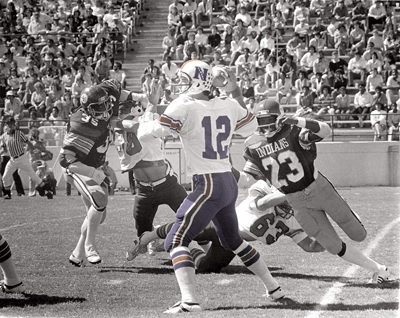 If there is one thing Louisiana football fans enjoy more than the anticipation of the season and tailgating on campus before taking their seats among the throngs of spectators, it's a good Saturday night battle.
Whether it be inside the massive Tiger Stadium or one of the other 11 playing fields that dot the state, homegrown college football fans converge on the fields, dressed in their favorite schools' colors and ready to lend their verbal support in full volume.
Each college has its unique gridiron history. Competition dates back to the mid-1890s when a primitive form of the game was introduced to Louisiana. Over the next 11 decades, outstanding players and coaches made their individual legends.
Fans take great pride in recalling one exciting play or a signature game that seems to rekindle the spirit of the sport. And every Louisiana college has enjoyed such a triumphant event.
Rivalries have been forged. Some have faded into memories while others have withstood the test of time to become the social events of the fall. And in the eyes of a college's most ardent supporters, the outcome of a single game may be the difference between a successful and failed campaign.
This is college football in Louisiana. And, as the 2009 season transpires for the 12 schools, new memories will be forever etched in the minds and hearts of its fans.
Louisiana State University Tigers
Head Coach: Les Miles, fifth year (42-11)
Stadium: Tiger Stadium, Baton Rouge (capacity 92,400)
Best season(s) ever: Winning its first national championship with a perfect 11-0 season in 1958 was the spark that turned LSU's program into the darling of Louisiana football fans. Prior to that magical year under coach Paul Dietzel, LSU had been recognized as an unofficial national champion by a few polling organizations in 1908, 1935 and 1936.
Team legends: The university's hall of honors is filled with plaques commemorating the many greats who wore the colors over the decades. Six, including 1959 Heisman Trophy winner Billy Cannon, are members of the College Football Hall of Fame. They are quarterback Doc Fenton (1909), back Abe Mickal (1935), ends Gaynell "Gus" Tinsley (1936) and Ken Kavanaugh (1939) and back Tommy Casanova (1971), along with five coaches. However, the names Jimmy Taylor, Y.A. Tittle, Steve Van Buren, Bert Jones and 1962 Heisman runner-up Jerry Stovall are at the top of the long list.
Biggest rivalry: The long in-state rivalry with Tulane waned in 1950 when the Tulane administration began to de-emphasize the sport. By 1958, LSU's main rival became Ole Miss and then later Alabama during the Paul "Bear" Bryant era. Over the years, the Tigers had a few opponents they wanted to beat more than others. It was usually the adversary that was a threat to win the Southeastern Conference, primarily Auburn or Florida. But the rivalry with Alabama was re-ignited in 2007 when former head coach Nick Saban, who left LSU for big money in the National Football League, became Alabama's head man. Today, that spark has become a firestorm in the hearts of Tiger faithful.
Hallowed memory: It was just a nine-second moment in time, but its memory has been perpetuated through five decades. It was on Halloween night in 1959 that senior left halfback Billy Cannon secured the Heisman Trophy with a single flash of his brilliant speed and power. Late in the game, the No. 1-ranked Tigers trailed No. 3 Ole Miss, 3-0, when Cannon returned a punt 89 yards for the game-winning touchdown, breaking seven tackles along the way. The Rebels' last drive, with time running out, ended at the LSU 1-yard line.
Tulane Green Wave
Head Coach: Bob Toledo, third year (6-18)
Stadium: Louisiana Superdome, New Orleans (capacity 69,703)
Best season(s) ever: The backfield duo of Claude "Monk" Simons and Barney Mintz led the 1934 Green Wave to a 10-1 record and a share of the SEC championship. On Jan. 1, 1935, Tulane's season culminated in the inaugural Sugar Bowl, which the Greenies both hosted and won, 20-14, on a deflected pass from Mintz to Dick Hardy in the fourth period. Over the next 62 years, Tulane experienced just 19 winning seasons –– until 1998 when the Green Wave went 12-0, won the Conference USA title and gained the No. 7 national ranking.
Team legends: Fullback Eddie Price, star of the school's last SEC championship team in 1949, went on to set an NFL career rushing record and has been inducted into the College Football Hall of Fame. Halfback Tommy Mason became the first-ever No. 1 draft choice of the Minnesota Vikings in 1961, following an All-American career on two losing Tulane teams (1959, 1960). Several former Greenies are enshrined in various halls of fame, including backs Bill Banker, Max McGee, Steve Foley, Richie Petitbon, Don Zimmerman and Simons; guard Tony Sardisco; end Jerry Dalrymple; and coaches Bernie Bierman and Clark Shaughnessy, who is called the "father of the T-formation."
Biggest rivalry: There was a time when the Tulane-LSU battle for the legendary "rag" was one of the hottest in the nation, but interest from both sides slowly declined when Tulane dropped out of the SEC and de-emphasized athletics. Although the two schools resumed their yearly game in 2006, the two are hardly "rivals" in the spirit of the word. Today, as a member of Conference USA, Tulane has no true archrival, though Southern Mississippi is its nearest antagonist.
Hallowed memory: The headline on Page 1 of the Dec. 2, 1973, New Orleans morning newspaper read, "Tulane spans generation gap, beats LSU, 14-0." The Green Wave's first win in 25 years over LSU before the largest crowd (86,598) at that time to watch a game in the South handed the Orange Bowl-bound Tigers their second straight defeat. The winning touchdown was provided by quarterback Terry Looney's 30-yard pass to tight end Darwin Willie in the first half. Three interceptions, two by David Griener, stopped Tiger drives, and Lyndon Lassiter put the game on ice on a short plunge later in the game. Both teams finished 9-2.
Louisiana Tech Bulldogs
Head Coach: Derek Dooley, third year (13-12)
Stadium: Joe Aillet Stadium, Ruston
(capacity 30,600)
Best season(s) ever: In 1973, the Bulldogs were not only Southern Conference champions but also claimed the Division II national championship when they posted a 12-1 record, capped by a thrilling 38-34 win over Boise State in the Division II playoffs semifinals.
Team legends: Fifty-three alumni went on to careers in the NFL, but few had more productive careers than quarterback Terry Bradshaw, star of the 1968-69 teams, who was part of five Pittsburgh Steelers Super Bowl titles, and linebacker Leo Sanford (1947-50), who was an All-Pro player for the Chicago Cardinals. Roger Carr (1970-73) spent 11 years in the NFL, mostly with the Colts, and Pat Tilley (1972-75) spent 11 with the Cardinals. The heart of that 1973 defensive line, tackle Fred Dean, had an All-Pro career in San Diego, and offensive guard Willie Roaf (1989-92), a former New Orleans Saint, was inducted into the Louisiana Sports Hall of Fame this year. Coach Joe Aillet (1940-66), for whom the stadium is named, won nine conference titles during his 26-year tenure. He posted a career record of 151-86-6. And Maxie Lambright coached Tech to five national small-school titles and seven conference championships in compiling a 95-36-2 record from 1967-78.
Biggest rivalry: Tech has adopted Western Athletic Conference giant Boise State as its main rival, though the Bulldogs have not beaten the defending WAC champion since 2001 and trail the series 7-4.
Hallowed memory: After losing the first game of the 1973 season at Eastern Kentucky, 21-19, the Bulldogs reeled off 12 straight wins to claim their first outright Division II national title. The defining moment in that run came in the semifinal round of the playoffs when, in a high-scoring game against Boise State, quarterback Denny Duron connected with Carr on a 21-yard touchdown pass with 21 seconds left in the game pull off a 38-34 victory. The finals proved to be just a formality as the Dogs beat Akron in a 34-0 rout.
Louisiana-Monroe Warhawks
(Known as Northeast Louisiana until 1986 and nicknamed "Indians" until 2006)
Head Coach: Charlie Weatherbie, seventh year (25-45)
Stadium: Malone Stadium, Monroe (capacity 30,427)
Best season(s) ever: In 1987, coach Pat Collins guided the Indians to a 13-2 record and the Division I-AA national championship. The team suffered midseason setbacks to Lamar (48-28) and Louisiana-Lafayette (17-7) and then, led by quarterback Stan Humphries' 2,622 passing yards and 18 touchdowns, went on to win the next eight games and the Southland Conference title. To do so, Monroe narrowly defeated playoff opponents Eastern Kentucky, 33-32; Northern Iowa, 44-41, in overtime; and Marshall, 43-42, in the championship game.
Team legends: Running back Joe Profit (1967-70) became the Gulf State Conference's all-time leading rusher with 2,818 yards before becoming the Atlanta Falcons' first-round draft choice in 1971. Humphries (1986-87) quarterbacked the Indians to the 1987 I-AA national championship and a 13-2 record. He passed for 4,395 yards and 29 touchdowns in his career. From 1934-53, James Malone coached the Indians to a 94-64-12 record and a national junior college title in 1935.
Biggest rivalry: Since 1951, when UL-Monroe was known as Northeast Louisiana and UL-Lafayette as Southwestern Louisiana, the two have had a keen rivalry that has lasted through their competition in two conferences –– first the Gulf States and today the Sun Belt. And the series could hardly be closer. In a wild shootout in Monroe last season, the Ragin' Cajuns downed the Warhawks, 44-35, to move within a game of a series tie. To date, Monroe leads by a 22-21 count.
Hallowed memory: Although Alabama was struggling through Saban's first season as head coach, the Crimson Tide was still a 24.5-point favorite when the 5-6 Warhawks rolled into Tuscaloosa for an interconference game on Nov. 17, 2007. In one of the school's most inspired performances, Monroe rallied from behind twice to spring a 21-14 upset. Chad Dawson rushed for 91 of his team's 121 yards, but the defense was the hero that day, forcing four 'Bama turnovers and blocking a field goal attempt. The win was Monroe's first over an SEC team since 1994 and its third in 33 tries.
Louisiana-Lafayette
Ragin' Cajuns
Head Coach: Rickey Bustle, eighth year (32-50)
Stadium: Cajun Field (aka The Swamp), Lafayette (capacity 31,000)
Best season(s) ever: The 1970 team won the final Gulf States Conference title before joining the Southland Conference by sweeping its five GSC opponents. After losing the season opener to Southern Mississippi, 16-14, the Cajuns reeled off seven straight wins. Finishing with a 9-2 record, coach Russ Faulkenberry's Cajuns won an invite to the Grantland Rice Bowl where they lost an exciting but heartbreaking game to Tennessee State, 26-24.
Team legends: Louisiana Sports Hall of Famer Chris Cagle (1923-24) set an all-time record for scoring that lasted 64 years until do-everything back Brian Mitchell broke it in 1989. Mitchell, who became one of the NFL's premier kick returners from 1990-2003, is the only quarterback in school history to run and pass for more than 200 yards in the same game. Jake Delhomme (1993-96) is the school's all-time passing leader in yards and touchdowns. Brandon Stokley (1995-98) was the first wide receiver to average 100 yards per game over his career.
Biggest rivalry: Even before Louisiana-Lafayette and Louisiana-Monroe joined the Sun Belt Conference in 2001, the two were antagonists, and through 58 years of battles, their series has been extremely tight, with Monroe holding a 22-21 edge.
Hallowed memory: Until the night of Sept. 14, 1996, the Cajuns had never beaten a nationally ranked opponent, but that drought ended in front of an overflow Cajun Field crowd when No. 25 Texas A&M came to town. Led by senior quarterback Delhomme and a defense that forced eight Aggie turnovers (four pass interceptions and four forced fumbles), the Cajuns scored a major upset, 29-22. The jubilant student body carried the remains of the goal posts through downtown Lafayette in celebration.
McNeese State Cowboys
Head Coach: Matt Viator, fourth year (24-7)
Stadium: Cowboy Stadium, Lake Charles (17,410)
Best season(s) ever: By his seventh year as head coach, Bobby Keasler had built the McNeese program into a Division I-AA national power. And he did it coming off a season in which the Cowboys won just three of 11 games. The Pokes lost just one regular season game in 1997, to Stephen F. Austin, 13-7, on the road, and then ran off a string of seven consecutive wins to gain the Southland Conference championship and the nation's No. 1 small-school ranking. Keasler guided the Cowboys into the national championship game where they lost to Youngstown State, 10-7, to finish second in I-AA with a 13-2 record.
Team legends: McNeese retired the jersey numbers of Hall of Famers Charles Kuehn (1950-52) and David Poche (1965-66), but more than 30 alumni have played professionally over the years, the most notable of whom are quarterback Kerry Joseph, who led the 1997 team to a No. 2 ranking; B.J. Sams, one of the NFL's top kick returners for the Baltimore Ravens in 2006; Darrell Lester, star back of the undefeated conference champion 1963 team; and Keasler, the school's most successful coach today with a 78-34-2 record and four SLC titles in nine years.
Biggest rivalry: Although the Cowboys hold a winning edge over every Louisiana college in their division but Louisiana Tech, the school they most enjoy beating is conference mate Northwestern State. And the Pokes have been quite successful at it, holding a 37-20-1 advantage.
Hallowed memory: The year 1976 was a magical time for Cowboy fans. Not only did McNeese win 10 games for the first time in its history, but it did so on a miraculous comeback against USL (Louisiana-Lafayette), 20-19, before a Cowboy Stadium record crowd of 27,500. That late-rally victory gave McNeese a berth in the inaugural Independence Bowl. In that game, Oliver Hadnot burst through the defense to score on a 25-yard run with 45 seconds left to play, giving the Cowboys a 20-16 upset win over Tulsa.
Northwestern State Demons
Head Coach: Bradley Dale Peveto, first year
Stadium: Turpin Stadium, Natchitoches (capacity 15,971)
Best season(s) ever: The Demons had two memorable seasons, first in 1939 when they rolled through all 11 games unbeaten as an independent while outscoring their opponents, 195-18, and again in 1966, with another unbeaten run (9-0) and the No. 1 national small-schools ranking, capped by a comeback 27-24 win over then-archrival Southeastern Louisiana.
Team legends: Joe Delaney held the National College Athletics Association, state and school rushing record of 3,047 yards from 1977-80. He was the NFL Rookie of the Year in 1981 with the Kansas City Chiefs. His brilliant career ended when he drowned in a Monroe pond after saving the lives of two young boys and trying to save a third. Quarterback Bobby Hebert set single-game, season and career passing records from 1979-82 and then went on to a productive 14-year pro career in the U.S. Football League and in the NFL with the New Orleans Saints and Atlanta Falcons. Charlie Hennigan transferred from LSU in 1955, and the wide receiver helped NSU win the Gulf States Conference title in 1957 before launching an All-Star and Hall of Fame career with the Houston Oilers. Jackie Smith led the Demons in receiving from 1960-61 and punting (1962) in a GSC title year. He was inducted into the Pro Football Hall of Fame following 16 seasons as a tight end with the Cardinals and Cowboys. Fullback Charlie Tolar stood just 5-foot-6, but his record of 29 career touchdowns stood for nearly 50 years. He also had a long career with the Oilers.
Biggest rivalry: Since 1987, its first year as a member of the Southland Conference, McNeese State became Northwestern's chief Louisiana rival, replacing Southeastern when it disbanded its football program. The new rivalry was a natural because of the proximity of the two universities and their common recruiting turf. McNeese leads the series 37-20-1. The Demons have not beaten the Cowboys since 2004.
Hallowed memories: On the night of Oct. 28, 1978, Delaney rushed for 253 second-half yards against Nicholls State. The sophomore sensation set school, state and national Division I-AA single-game rushing records with 299 yards on 28 carries, leading to a 28-18 victory. More recently, Northwestern's game against bowl-bound Texas Christian in 2001 was supposed to be just a fundraising trip to Fort Worth. It was anything but. The Demons came home not only with a large check but also with a 27-24 overtime win over the hosting Horned Frogs.

Nicholls State Colonels
Head Coach: Jay Thomas, sixth year (24-27)
Stadium: John L. Guidry Stadium, Thibodaux (capacity 14,125)
Best season(s) ever: In 1975, just its fourth season of football competition, Nicholls State won its first of two Gulf State Conference titles. Coach Billy Clements forged a solid team that won eight of 10 games and clinched the GSC championship by beating Delta State, 24-21.
Team legends: Although Gary Barbaro played just one year of high school football, he blossomed as a defensive back for the Colonels (1973-75). His 6-foot-5-inch, 220-pound frame was intimidating for a defensive back, and his speed caught the eye of the Kansas City Chiefs, who made him their third-round choice. He went on to an All-Pro career. Wide-out Mark Carrier (1983-86) set a career record for pass receptions (147 for 2,709 yards) and a record 24 touchdowns. He, too, enjoyed a pro career in Tampa Bay. Running back Oscar Smith's 35 touchdowns (1981, 1983 and 1985) are also a school record. His 2,482 yards ranks second. And linebacker Rusty Rebowe's 655 career tackles (1974-77) earned him All-American status.
Biggest rivalry: Nicholls State may trail the series with McNeese State, 22-11, but the Colonels consider their Southland Conference rival from Lake Charles their archrival. That was evident last season when Ross Schexnayder's 37-yard field goal with 2:23 left to play gave Nicholls State a 38-35 win at McNeese after losing its first four games.
Hallowed memory: The date Sept. 7, 1991, will live long in the memories of Colonels who were there that night in Monroe, whether they were players from that team, alumni or supporters. Northeast Louisiana, the No. 2-ranked team among the nation's small colleges, was Nicholls State's opponent in its initial game as a member of the Southland Conference. It was supposed to be a brushoff by the Indians at home, but it turned out to be anything but as backs Jarvis Lilly and Craig Robinson each rushed for more than 100 yards, leading the Colonels to an upset 15-10 win.
Southeastern Louisiana Lions
Head Coach: Mike Lucas, third year (8-18)
Stadium: Strawberry Stadium, Hammond (capacity 7,408)
Best season(s) ever: The Lions shut out five opponents and allowed just one, Louisiana Tech, to score in double figures en route to a 9-0 season in 1954. They opened the season with shutout victories over Northeast Louisiana, USL and Louisiana College before defeating Southern Miss, 13-7. The squad held the season total offense record of 3,972 yards until the football program was revived in 2003, and the record was eventually broken. Southeastern also rushed for 2,985 yards, which still ranks as the best in school history.
Team legends: Stan Galloway, head coach from 1951-64, still ranks as the all-time leader in career wins (84) while leading the Lions to six of their seven conference championships; quarterback Ray Porta (1953-54) is a two-time All-Gulf States Conference selection who led Southeastern to back-to-back GSC crowns and an unbeaten season in 1954. He ranks fourth in school history in touchdown passes (24) and is ninth in passing yards (1,559). Running back Horace Belton (1973-76) finished his career as the all-time rusher in the state of Louisiana (3,222 yards). His 32 rushing scores in his career is a school record.
Biggest rivalry: Northwestern State is the most common opponent for Southeastern, with the teams having met 52 times; Northwestern State leads the series, 27-25. The Lions also consider Nicholls State as an archrival based on proximity of both schools (just 94 miles apart). Nicholls State leads the series, 10-8. The two play for the River Bell Trophy. That matchup was played in the Louisiana Superdome in 1975, 1976 and 1978.
Hallowed memories: On Oct. 24, 1981, the Lions trailed Northwestern State, 31-7, late in the third quarter and 40-21 with 11:34 remaining in the game before roaring back behind the arm of Robbie Mahfouz. Southeastern scored 29 points in the fourth quarter as Mahfouz threw three touchdown passes and Mack Boatner scored the game-winning touchdown on a 1-yard plunge with 1:32 left for a 50-47 win. In another memorable performance, Southeastern's first-ever game at the Division I-AA (now Football Championship Subdivision) level produced a 17-13 victory over Boise State, the Broncos' only loss en route to the 1980 I-AA national championship.
Grambling State Tigers
Head Coach: Rod Broadway, third year (19-6)
Stadium: Eddie Robinson Stadium, Grambling (capacity 19,600)
Best season(s) ever: In 1955, Grambling gained the National Black College Championship by going 10-0 (the best record in school history) and outscored its opponents by a 356-61 margin. Former Super Bowl MVP Doug Williams, who replaced legendary head coach Eddie Robinson in 1999, led the 2001 Tigers to an 11-0 season. Grambling's first football season in 1942 yielded its first perfect record, 9-0. While scoring just 93 points that year, Robinson's Tigers did not yield a point. That record is not recognized, however, because the college was not accredited until 1949.
Team legends: Legends abound at Grambling, but there is none greater than its longtime Hall of Fame coach Eddie Robinson, the winningest coach in college football history through 2007, with 408 victories and 17 Southwest Athletic Conference titles through 56 years on the sidelines. He sent more than 200 players (11 first-round draft picks) to the NFL and AFL. Among those who inscribed their own names in various football halls of fame are former pro stars Willie Brown, Buck Buchanan, Willie Davis, James Harris, James Hunter, Gary "Big Hands" Johnson, Charlie Joiner, Ernie Ladd, Albert Lewis, Roosevelt Taylor, Everson Walls, Sammy White, Doug Williams and Paul "Tank" Younger, all coached by Robinson.
Biggest rivalry: The annual Ohio State-Michigan game may be considered the most ardent college football rivalry in the U.S., but the Bayou Classic that matches Grambling and Southern arguably ranks a close second. When these two meet in New Orleans, it's not just a football game; it's a gathering, a great reunion of two Louisiana communities. The nationally televised game, played in the Louisiana Superdome between one college from Baton Rouge and another from Lincoln Parish near Ruston, is not only a perpetual sellout but also attracts more than 200,000 fans from throughout the state. And the series, which dates back to 1936, has been well-contested, with Southern holding a 29-27 edge (18-17 in the Classic).
Hallowed memory: During his career, Robinson attended several clinics to hear one of his coaching idols, Bear Bryant, speak of his philosophy in winning a record 324 games. On Oct. 5, 1985, Robinson passed Bryant in career wins when his Tigers defeated Prairie View A&M, 27-7, in a nationally televised game at Dallas' Cotton Bowl Stadium.
Southern University Jaguars
Head Coach: Pete Richardson, 16th year (111-43)
Stadium: A.W. Mumford Stadium, Baton Rouge (capacity 24,600)
Best season(s) ever: Exploding on the scene in 1993, Richardson had an impact that was immediately felt around the SWAC as he led Southern to an 11-1 season (only the second 10-plus-win season in the school's history), its first conference title in 18 years (a shared title in 1975) and the school's first outright crown in 34 seasons (1959).
Team legends: Southern produced seven NFL greats: Mel Blount, Harold Carmichael, Ken Ellis, Rich "Tombstone" Jackson, Frank Pitts, Isiah Robertson and Aeneas Williams. Lesser-known outside of Baton Rouge and New Orleans is coach A.W. Mumford, who won or shared 11 conference titles and won the National Black College Championship four times, and his quarterback, Warren "Jug" Braden, who starred on the 1948 and 1949 title teams. During Braden's four seasons, the Jaguars posted a record of 40-4-2. He also averaged 44 yards punting as a senior.
Biggest rivalry: Southern and Grambling began their Bayou Classic series at Tulane Stadium in 1974 with Grambling winning the first five games convincingly. The Tigers held a 12-6 edge until 1993 when Southern reeled off a dynastic eight straight victories. And despite winning the game 29-14 last year, Grambling has been unable to regain its early dominance over the Jaguars. To fans of either school, a SWAC championship doesn't matter. The season comes down to one game, and a defeat in the Bayou Classic is considered a season lost.
Hallowed memory: In one of the most exciting Bayou Classic games ever staged, Southern scored 22 points in the fourth period to defeat Grambling, 44-41, on Nov. 29, 2003, before 70,151 near-frenzied fans. That victory, followed by a 20-9 triumph over Alabama State the next week, solidified a 12-1 season, coach Richardson's best to date.
Louisiana College Wildcats
Head Coach: Dennis Dunn, fourth year (16-13)
Stadium: Wildcat Field, Pineville (capacity 7,000)
Best season(s) ever: The Wildcats capped a 9-2 season in 1958 with a Rice Bowl victory over Arkansas State, 39-12, in Stuttgart, Ark. That game marks LC's only participation in a bowl game in its football history.
Team legends: This little Baptist school is the only college in Louisiana that can boast of two legendary players who have become Hall of Fame high school coaches. Linemen J.T. Curtis (1968) has logged more than 400 victories at John Curtis Christian School, and Red Franklin (1955-58) won 366 games as head coach at Haynesville. Halfback Joe Stewart was a Little All-American in 1958.
Biggest rivalry: Mississippi College in Clinton
Hallowed memory: The 39-7 victory over Howard Payne on Oct. 25, 2008, that capped a 7-3 season was LC's first victory at home and first winning season in 40 years. (After being dormant since 1969, the program was revived in 2000.)