Around the State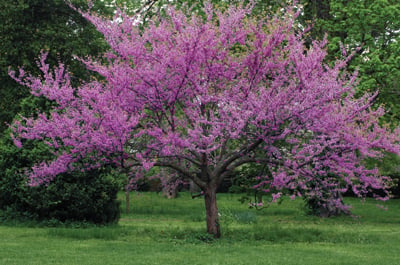 NORTH
Redbuds in Vivian
By Jeanne Frois
There's no tree that symbolizes the renewal of spring other than the redbud – sprays of countless magenta flowers springing forth straight from the dun-colored leafless tree bark like a sign of redemption. Louisiana, in spring, is ablaze with this exquisite sight. For over half a century now, the town of Vivian has celebrated these trees at the Louisiana Redbud Festival. The town was named for the daughter of an official of the Kansas City, Pittsburgh and Gulf Railroad. This train route, in the 1890s, ran from Kansas City, Missouri and traveled an almost vertical downward line that sometimes straddled Oklahoma and Arkansas before swerving over into Louisiana. With station stops at Shreveport and Lake Charles, the line finally ended at Port Arthur, Texas near the Sabine Pass on the Gulf of Mexico. Due to bankruptcy in the early 1900s, the railroad was absorbed and became known as the Kansas City Southern.
Although some of its events are held the second-to-last day of February, such as the Little Miss Redbud Pageant and the Miss Louisiana Redbug Scholarship Pageant, the heart of the festival carries over several days in March. Events include the Miss Wilted Redbud competition; the Mayor Mike VanSchoick Clean-Up Day complete with a poster contest and a bicycle prize, the Redbud Kids and Pet Parade, Ruby Collins Memorial Treasure Hunt (clues are posted on the festival website), photo and coloring contests, a run / walk to promote healthy living, car show, food and music. And like any true Louisiana festival worth its salt, the Redbud Festival culminates with an old fashioned fais do-do dance.
bossier city
EASTER CANDY
It has been medically proven that eating chocolate releases tryptophan, an essential amino acid that in turn produces serotonin, the "happy chemical" that bombards us with a release of euphoria-inducing endorphins. And now that we've laid the medical rationalizations that give us an excuse for eating chocolate, let's cut to the chase. If you want to take Easter baskets to a new high, do your bon-bon shopping at The Chocolate Crocodile for innovative takes on cacao treats. The Monster Croc Pecan Apple, for example, combines the firm tartness of a juicy green Granny Smith apple dipped in homemade caramel sauce, rolled in crispy pecans and inundated with milk chocolate with a final drizzle of white chocolate into a glorious rendition of flavor. The sweet fusion of chocolates, pecans and caramel ends with a delicious tart bite of the apple all exploding perfectly together.
No Louisianian would turn down eating a Crocodile Nest. These delectable clusters combine butterscotch, peanut butter and noodles drowned in milk chocolate into a delicious patty.
One of my personal favorite candy bars, the immortal Snickers, is featured in the Monster Snicker Apple: again, the apple of choice, Granny Smith, receives the familiar dunking into caramel sauce, then cooled, submerged in milk chocolate and covered in smashed Snickers. But it isn't finished until the final step of drizzling white chocolate over the entire creation.
If you want smaller filler items for your baskets, try the chocolate-dipped pretzels – a salty, curly-cue pretzel wears a deep dark chocolate coat with the frippery of a white chocolate drizzle. The Colossal Dipped Maraschino Cherries are a cluster of three fruits covered in creamy milk chocolate and whipped with the lacework of white chocolate.
Redbud Celebration
(318) 286-8093, P. O. Box 1, Vivian, laredbud.com
The Chocolate Crocodile
460 Boardwalk Blvd., Bossier City, (318) 742-3316
thechocolatecrocodile.com
---
Central
Causes to celebrate in Bordelonville
By Jeanne Frois | photo by Mike Moreau
Avoyelles Parish may have more small towns than large, but it is a region in Louisiana that's imprinted with a strong sense of history. From the settling of Napoleonic soldiers, who named Mansura after the Egyptian plane they fought upon, to the fierce Civil War battles, to the ravaging floods of 1927, it is a part of Louisiana filled with resilient spirit.
In the second decade of the 20th century, the confluence of floodwaters from the Atchafalaya, Mississippi and Red rivers frequently deluged parts of Avoyelles, engorging Bayou des Glaises, especially around the Big Bend Area. In 1915, the Avoyelles Parish Police Jury gave the green light to construct a permanent raised bridge at Sarto Lane to span the bayou and aid in evacuation of people. Completed in May 1916, it was a steel truss swing bridge that served both boat and vehicle traffic. It survives today in its original spot as a precious landmark, the first bridge in Louisiana to be listed on the National Register of Historic Places.
This spring, the bridge turns 100 and the good people of nearby Bordelonville are ready to celebrate this momentous occasion with a gigantic celebration. Bordelonville has also combined to the festivities a celebration of the Grand Opening of the Bordelonville Fire Training/Community Center (housed in the town's former school). This extends a welcome to all graduates, former students, faculty and staff that either educated, were educated at, or worked at the old Bordelonville Elementary and High School. Thrown into the celebration mix for good measure: the First Annual Homemade Cake Festival (homemade cake-baking in this community rises to an art form).
Scheduled events include a historical discourse at the Sarto Iron Bridge complete with bridge and Ponthieu Museum tour. Over at the Fire Training/Community Center where the cake festival will be in full swing, attendees can enjoy the incomparable fare prepared in the community: homemade cakes of any variety, jambalaya, crawfish pistolettes, white beans and fried catfish poor boys. Cake walks, cake-making demonstrations, games, a 5K run/ and walk and a dance will help everyone make merry. On Sunday night, members of the Bordelonville Volunteer Fire Department will serve a sumptuous dinner of barbecued pork steaks and rice dressing. All proceeds will be used to repair and upgrade the Fire Training/Community Center.
Community members have applied for various state grants to help fund the major repairs needed for the Center and other projects but were refused because the grant did not relate to improving the health of the community.
According to James Armand, one of the organizers, most of the funding for the Center comes from donations of graduates. Citing the state's refusal to help, they remain undaunted.
"We are an unincorporated community, and the Fire Department and Water District are the major governmental entities in the area," says Armand. "We've decided that we will have to roll up our sleeves and get to work for ourselves."

Moreauville
PONTHIEU MUSEUM
Just across the way from the Sarto Iron Bridge, a visit to the Ponthieu Grocery Store and Museum is a must. Directly across Highway 451, it allows you to step back in time with memorabilia, folk-life presentations and hands on crafts. It is also a Post Office Museum. From the American flag waving in its front yard to the large Red Coca Cola above the front porch, its almost Rockwellian, Louisiana style.

Centennial of Sarto Iron Bridge, 1St Annual Homemade Cake Celebration, and Grand Opening of the Bordelonville Fire Training/Community Center
April 16-17; contact jharmand@gmail.com
Ponthieu Grocery Store 8554 LA 451, Moreauville, (318) 997-2465
---
Cajun Country
Indigo Bunting; Painted Bunting; Scarlet Tanagers
Flight Zone in Grand Isle
By Jeanne Frois
April in Louisiana is one of our best months, with fresh air perfumed with the scent of flowers. During April, coastal Louisiana, lying smack-dab in the Mississippi Flyway, that great avian migratory pathway, becomes filled with the jeweled colors and tender songs of countless birds returning to their summer homes after wintering in Mexico. Millions of these tiny stalwart creatures embark on the 18-hour flight across the turquoise waters of Gulf of Mexico and head straight for the coastal forests and beaches of Grand Isle, their first sight of land. It is a 600-mile journey and results in the tender scene of hungry, thirsty little birds sipping water and taking sustenance.
Grand Isle residents awaken to April days filled with throaty warbles, tweets and the cries of seagulls, as backyard feeders attract the likes of indigo buntings, scarlet tanagers, golden swamp canaries and the five vivid colors of the Painted Buntings that looks like a tiny rainbow come to life accompanied by song. The gloom of oak-hackberry forests are alight with color as birds seek rejuvenation from their long journey amid the trees and their little claws leave marks like Runic symbols in the sand. Raptors swoop overhead and waders get their feet wet.
Held annually, The Grand Isle Migratory Bird Celebration, created to support purchase and management of the Grand Isle Sanctuary that safeguards undeveloped chenier habitats, offers an open invitation to celebrate these tiny winged descendants of dinosaurs. Events such as bird-watching, banding, boat tours, native plant identification, island history tours and kayaking take place along the Grand Isle Birding Trail. Habitats include live oak and hackberry forests; salt marshes and tidal ponds where you just might bump into a moorhen or a merganser along the way. Sponsored by The Sanctuary Group, the celebration also offers bird art, games, prizes and fun for children and adults.

Broussard
ZOOSIANA
When I was 3, I had a parakeet named Petey. I loved whenever he perched on my head when released from his cage. One morning his cage was empty, and my mother told me to be "very happy for Petey because some birds had come for him and they all flew off together in freedom." She was a smart mother.
At Zoosiana, the Zoo of Acadiana in Broussard, children of all ages can indulge in their love of parakeets by feeding the colorful little birds from a feed stick out of their own hands.
When it comes to feeding stations, this establishment doesn't forget giraffes. who bend their necks to eat right out of your hand. Goats, llamas, chickens, horses, donkey, deer, pigs and more are fed in the Petting Zoo as squeals, clucks, brays and neighs of delight accompany the sound of laughing children.
The huge zoo savanna can be easily explored by riding the Safari Train as you hear the thunder of zebra, deer and oryx hooves dancing across the tundra. The Keeper Talks demonstrate animal enrichment projects at various exhibits—past enrichment recipients have been cuddly koalas. The expression on the faces of these denizens of the zoo, in addition to their body language, reminds me of well-loved and perhaps spoiled pets – content, trusting, laid-back and amused.
The ZooLive Animal Show features critters who take to the stage and show off their abilities.The Play Area features slides, rock walls, hideouts, bridges and crawl tubes.

The Grand Isle Migratory Bird Celebration
April 15-17, (800) 259-0869. grandisle.btnep.org
Zoosiana, Zoo of Acadiana
5601 US Highway 90 E. Broussard
---
Plantation Country

The Pulitzer Connection in Baton Rouge
By Jeanne Frois
Robert Penn Warren won the Pulitzer Prize for fiction in 1947 for his immortal work, All the King's Men, the saga of politician Willie Stark, a not-so-veiled masterpiece based on the political life of Huey Long. He also won a Pulitzer Prize twice more for poetry and remains the only writer to have ever won for both prose and poetry. Warren served as the United States Poet Laureate from 1944-45.
This Kentucky native entered Vanderbilt University at the age of 16, where he mingled with a group of writers and wrote poems in a university magazine named The Fugitive. Warren would then be educated at UC Berkeley, Yale University and finally, Oxford as a Rhodes Scholar, receiving his literature degree in 1930. Four years later, he came to LSU to teach, recruited, fittingly, through the auspices of a program spearheaded by Huey Long to draw scholars of national acclaim to the school to bring enrichment of reputation and greater growth. He would remain there for the next seven years. While at LSU, Warren founded a literary quarterly, The Southern Review, that remains in print to this day, and published the works of Eudora Welty, Katharine Anne Porter, Wallace Stevens and T.S. Eliot. It was lauded by Time as a journal "superior to any other in the English language."
Warren's writing time at LSU was prolific, publishing a series of textbooks that gave birth to the New Criticism movement, and volumes of poetry. While Warren was still at LSU, Huey Long was assassinated in 1935. Later, reflecting on All the King's Men, Warren said the novel would never had been written if he had not moved to Louisiana. A 1949 film adaptation won three Academy Awards. Today, the Robert Penn Warren Room in the LSU English Department is a fascinating enclave of related material and photographs where visits can be made by appointment.

Laplace
GOOD FRIDAY AT FRENIER LANDING
Frenier Landing Restaurant and Oyster Bar, built on stilts, offers a beautiful view of Lake Pontchartrain at the edge of a swamp. Covered with a tin roof and having a varied and delightful menu of seafood item makes it the perfect venue for a Good Friday meal. Start off with the delicious crab cake topped with a spicy cream Louie sauce, or the Crabtini: lump crabmeat tossed in remoulade and served in a chilled martini glass sprinkled with capers. The Whole Stuffed Flounder, christened with crabmeat and crawfish cream sauce recalls the glory days of Bruning's Restaurant on the Lakefront of the West End of New Orleans. The Eggplant Napoleon is a rich concoction of fried aubergines, resting upon linguini and crowned with shrimp and crabmeat, over which crawfish cream sauce has been swirled.
Non-observers of Lent can enjoy the Ponchatoula Pork Chop and Strawberry Jalapeno Glaze entree: Imagine the sweetness of strawberry preserves and the hot kick of jalapeno pepper blended together and augmented by the succulence of tender pork.

Robert Penn Warren Room
LSU Department of English, 260 Allen Hall, Baton Rouge, (225) 578-4086
Frenier Landing
113 Dottie Lane, LaPlace, (985) 224-2178
---
Greater New Orleans

Jane Austen Festival in Mandeville
By Jeanne Frois
I once wrote a book chapter in the middle of the night. My writing tools were a portable electric typewriter that sounded like a machine gun perched atop the stove in a tiny kitchen – an insular location that, with doors closed, ensured I would not awaken my sleeping family. Other writing locations in my career included the bathroom vanity, my knees and a card table. Therefore I was one day vastly amused to read a magazine ad for a very elaborate writing table with the caption, "This desk makes me feel like Jane Austen even when I'm writing the electric bill." Not personally claiming any iota of Miss Austen's talent, it was my marked opinion that such a true writer would not care what she wrote upon as long as whatever she wrote upon it was good. I later discovered the highly acclaimed Jane Austen penned her work upon a wooden portable writing desk, almost like a laptop, that she could take anywhere. I was not surprised.
Each year in Mandeville, the lady who gave us work that absolutely sparkles – Pride and Prejudice, Sense and Sensibility, Persuasion, Northanger Abbey and Mansfield Park is celebrated under the auspices of the Jane Austen Literary Festival. Sponsored by the Jane Austen Foundation of Louisiana, this volunteer group exalts and lives up to the high-quality standards that made Jane Austen an enduring and beloved writer. Events include "The Perfect Love Letter" competition, wherein contestants write epistles describing love of a person, place, or thing – whether real or imaginary.
The English Regency period comes alive in the Looking for Mr. Darcy reading contest. Combined with the "No Plain Janes" costume competition, attendees are encouraged to spend the entire weekend costumed in high collars for the gentlemen and empire waistlines for the ladies. Past venues have included opportunities to get your hair styled; use a quill pen for letter writing; watch Regency dancing demonstrations and take lessons. This unique celebration adds a literary shine to the diversity of Louisiana festivals.

new orleans
HISTORICAL ENCLAVE
The Confederate Memorial Hall Museum opened on the 76th anniversary of the Battle of New Orleans with the express mission to preserve and commemorate the military history and heritage of the South. This collaborative effort between wealthy philanthropist Frank Howard and a Board of Governors consisting of local Confederate Veterans Associations and members of the Directors of the Howard Memorial Library ultimately formed the Louisiana Historical Association. Collecting Confederate artifacts, relics and Civil War records, these treasures were soon housed in its present location, a beautiful red building in the Richardson Romanesque style on Camp Street.
Resting upon and around gleaming hardwood floors are display cases filled with personal items of soldiers who fought and died in the conflict; regiment flags; weapons, uniforms. With its own mission statement that specifically promotes no ideology or rhetoric, the museum is the oldest in New Orleans that only seeks to provide to the general public knowledge and understanding of the men and the tribulations they endured fighting in this great conflict – as part of enshrining American history and paying tribute to those who were willing to die out of their own sense of patriotism.

Jane Austen Literary Festival
March 19-20, 2016, contact: info@janeaustenfestival.org
Confederate Memorial Hall Museum
929 Camp St., New Orleans. 504-523-4522.
confederatemuseum.com
---