19th Annual Highland Jazz and Blues Festival Sept. 16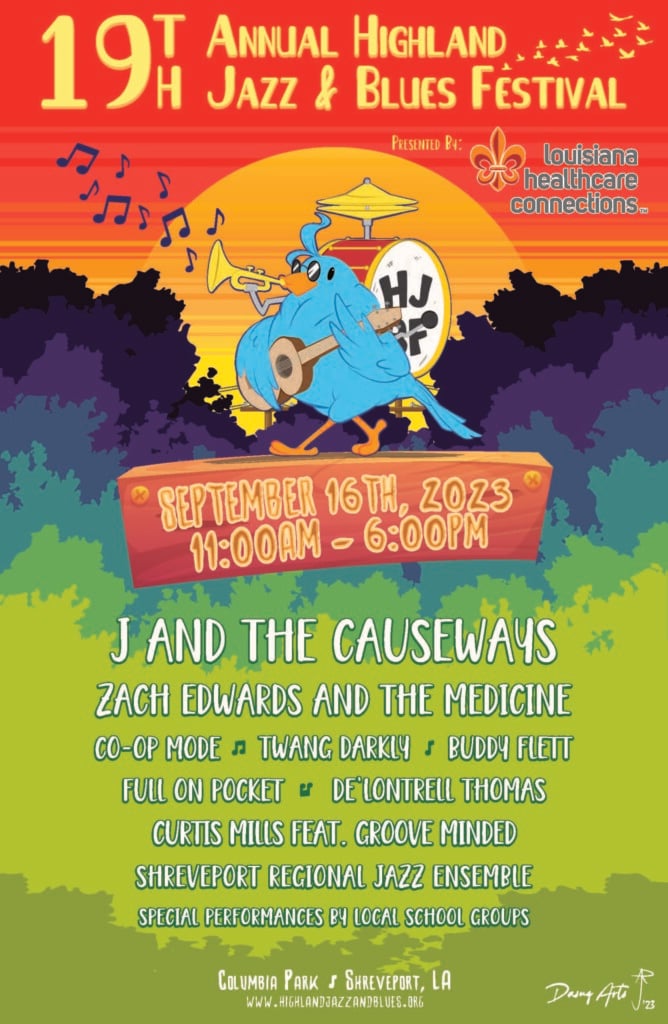 SHREVEPORT, La (press release) – The 19th annual Highland Jazz & Blues Festival Presented by Louisiana Healthcare Connections will be held Sat., Sept. 16, in Shreveport's Historic Highland neighborhood at Columbia Park. With music and fun for everyone, the festival will include nine bands playing on two stages from 11 a.m. until 6 p.m.. This FREE music festival is a gift to the community from the Highland Area Partnership.
This year's music lineup features musicians from the community and beyond. A local favorite, Grammy-nominated vocalist/guitarist, Buddy Flett will kick off the festival on the Pavilion Stage. More performances throughout the day on two stages will include Shreveport Regional Jazz Ensemble, De'Lontrell Thomas, Twang Darkly, Co-op Mode, Full on Pocket, Curtis Mills feat. Groove Minded, and Zach Edwards and The Medicine. Rounding out the day is headline act, J and The Causeways, a juggernaut ensemble that formed at the legendary Maple Leaf Bar in New Orleans with an endless energy of soul/R&B music. In addition to the stellar lineup, local school music groups, including the Creswell Elementary Blazin' Beatz Bucket Drum Team, will perform between sets.
Pavilion Stage
11:00 a.m. – Buddy Flett
12:15 p.m. – Shreveport Regional Jazz Ensemble
1:30 p.m. – Curtis Mills feat. Groove Minded
3:00 p.m. – Zach Edwards and The Medicine
4:30 p.m. – J and The Causeways
BOM Gazebo Stage
11:30 a.m. – De'Lontrell Thomas
1:00 p.m. – Twang Darkly
2:30 p.m. – Co-op Mode
4:00 p.m. – Full on Pocket
In addition to music, there will be more than 70 food and art vendors onsite and a Children's Area sponsored by Blue Cross and Blue Shield of Louisiana with multiple activities planned throughout the afternoon. A designated Pet Area will also be sponsored by Heavenly Acres for Pets for furry friends. A FREE shuttle will run to Columbia Park approximately every 30 minutes from Mall St. Vincent in the north corner near Dillard's.
More information is coming soon about festival weekend activities at www.highlandjazzandblues.org.