2021 Team Louisiana Awards Honor Sports Tourism Leaders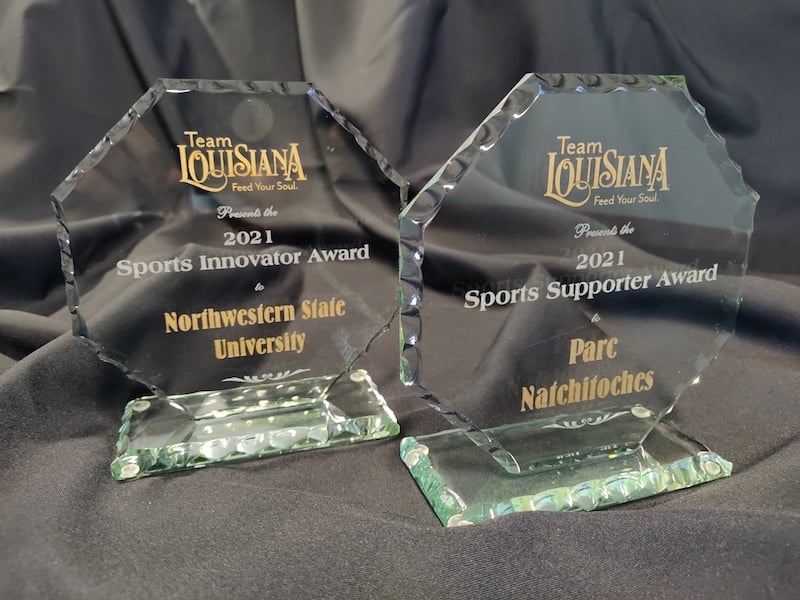 BATON ROUGE, La (press release) – The Louisiana Office of Tourism (LOT) and Louisiana Travel Association (LTA) recognized Louisiana sports stakeholders and tourism leaders with their 2021 Team Louisiana Awards this month. The Team Louisiana Awards recognize and showcase people and businesses that propel the tourism industry through sporting events. Team Louisiana is a sports-tourism coalition that includes 20 member communities statewide in partnership with LOT and LTA.
Team Louisiana Award recipients include officials with Parc Natchitoches, Northwestern State University Athletic Department, and the Mandeville Soccer Club.
"Sports events of all disciplines and competitive levels from youth and amateur to collegiate and professional have been essential in the charge of travel recovery within in Louisiana communities and regions, garnering impacts both economically and to our overall quality of life," said Lieutenant Governor Billy Nungesser. "Our communities hold a proven record of success for hosting prime sports events to give athletes and families memorable experiences only found here in Louisiana. "
Parc Natchitoches was presented with the Team Louisiana Sports Supporter Award honoring a facility and its staff that has enhanced the local community by driving sports tourism, creating economic impact, and bringing a positive influence. According to data provided by the Natchitoches Convention and Visitors Bureau, in 2020, Parc Natchitoches hosted multiple tournaments with an estimated attendance of 17,250 across their events, yielding an estimated economic impact of $5.1 million.
Northwestern State University Athletic Department won the Team Louisiana Sports Innovator Award, which champions an organization or individual that has created and developed a successful new sports event in 2020. With only a 19-day preparation notice, organizers and community stakeholders executed a plan to deliver a first-class experience for youth athletes, coaches, administrators, and supporting family and friends. According to Eddie Bonine, Executive Director of the LHSAA, the impact the LHSAA Prep Classic had on the local business community and the downtown historic district provided a crucial and much needed economical boost, which measured up to $8.2 million for the community.
The Mandeville Soccer Club secured the Team Louisiana Sports Investor Award, which recognizes an organization or individual that has successfully hosted and invested in sports events for five or more years in the state of Louisiana. For 26 straight years, this organization has produced The Midnight Madness Soccer Tournament, Halloween-themed soccer event in Mandeville that attracts hundreds of teams for a 3-4 day competition. In 2020, the fun, family-oriented tournament hosted 201 youth teams from four states including Louisiana, Florida, Alabama, and Mississippi. The event brought in an estimated 10,000 spectators yielding 800 room nights over three nights with an estimated economic impact of almost $800,000.
For more information on Team Louisiana click here. A recording of the virtual presentation can be found on the Team Louisiana Facebook page.