A Blush And Bashful Steel Magnolias Weekend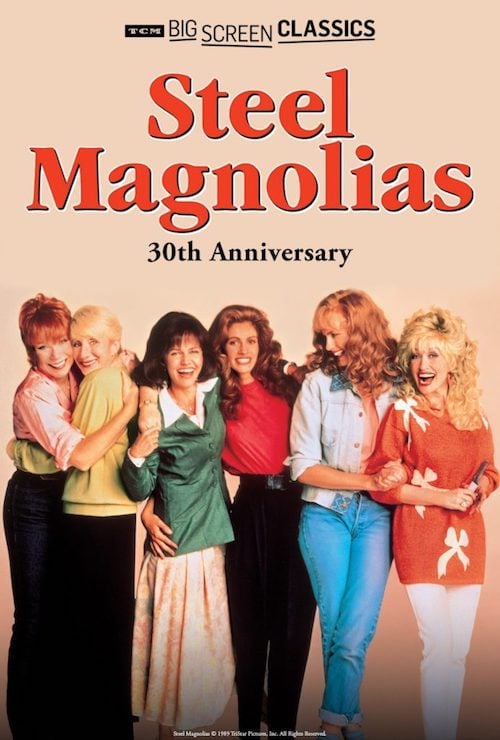 It's been 30 years since "Steel Magnolias" hit the Silver Screen and I dare almost everyone reading this blog to admit to never watching the film. Or even admit to watching it only one time.
It's one of those films that routinely pops up on Network TV. As much as I've seen this movie way too many times and do not need to watch it again, I'm drawn back in, if nothing else than to listen to Ouiser Boudreaux's funny lines or cry over Sally Fields' award-winning monologue at film's end.
"Steel Magnolias" was filmed in 1988 in Natchitoches, based on the play by native son Robert Harling. The play, which debuted in New York, revolves around Shelby, a young woman suffering with diabetes who's about to get married in the fictional town of Chinquapin, Louisiana, modeled after Natchitoches. The story's based on Harling's real-life sister, Susan, and her tragic fight with the disease, although it's choke full of comedic moments.
The film version starred Julia Roberts as Shelby, and Sally Fields as Shelby's mother. Rounding out the colorful characters in the town's beauty parlor are Dolly Parton, Shirley MacLaine, Daryl Hannah and Olympia Dukakis. Herbert Ross directed the award-winning ensemble in Natchitoches.
"Not a week goes by at the Natchitoches Convention & Visitors Bureau's Welcome Center that visitors come in asking about the 'Steel Magnolias' movie and wanting to learn more about the movie being filmed here," said Arlene Gould, Natchitoches Convention and Visitors Bureau executive director. "Some are surprised to learn it is based on a true story about one of our beloved Natchitoches families, the Harlings. When Susan's (Shelby in the film) brother Bobby wrote 'Steel Magnolias,' he wanted to keep the memory of his sister alive. It gives me great pleasure when I speak to visitors in our office of my memories of Mrs. Margaret and Mr. Robert Harling, who have now both passed and were portrayed in the movie by Sally Fields and Tom Skerritt. I did not know Susan, but I was blessed to know her parents."
In honor of the 30th anniversary of the film's debut, Natchitoches is hosting a Blush & Bashful Weekend Nov. 7-10, which will include movie screenings, an Easter egg hunt (like in the movie), character look-alike contests, receptions and more.
The weekend celebration begins Thursday, Nov. 7, with an armadillo cake contest hosted by Northwestern State University's Hospitality Management & Tourism Department. Then on Friday, Nov. 8, there will be a Red Carpet Movie Premiere at the Parkway Cinema with a reception before the showing where attendees are encouraged to dress in their best blush and bashful attire. The movie will be available for viewing Nov. 8-14 but the Friday evening shows on Nov. 8 will offer a one-time special $5 movie ticket.
On Saturday, Nov. 9, the Natchitoches Convention & Visitors Bureau will unveil the Natchitoches Film Trail highlighting the points of interest in Natchitoches Parish associated with movie filming sites. Other movies filmed in Natchitoches include "Man in the Moon" and "The Horse Soldiers."
Saturday activities on the riverbank in downtown Natchitoches includes a children's Easter egg hunt for ages 2-10 in Beau Jardin and a character look-alike on the riverbank stage, followed by a panel discussion at the Louisiana Sports Hall of Fame and Northwest Louisiana History Museum. A Dolly Parton look-alike contest will take place at Cane River Brewing Company that evening.
Throughout the day on Saturday, the Association for the Preservation of Historic Natchitoches will present a special tour of homes and sites used in the filming of "Steel Magnolias." Special events will be held at selected locations along the tour, as well as a ticketed speaker series and exhibit at the Lemee House titled "Behind the Scenes of Steel Magnolias."
The Steel Magnolia Bed and Breakfast will host an evening with zydeco music, dancing and a bleeding armadillo cake, and a Sunday brunch catered by Lasyone's Meat Pie Kitchen will be offered at the historic Prud'homme-Rouqier House, among other events.
For detailed information about "Steel Magnolias" and the Blush & Bashful Weekend events, visit www.natchitoches.com/steelmagnolias.