A compendium of what's hot and what's not in Louisiana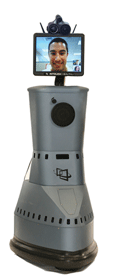 Fanta-sy Come True
Fanta soft drink fans chose Brittany Hampton of Baton Rouge as the "Fourth Fantana," Businesswire.com announced. Contestants submitted one-minute videos showcasing their talents, and semifinalists were named. Fanta fans then voted online, sending the top three to Atlanta, where Hampton was named winner of a $7,000 cash prize, plus online and television appearances. "I really thought I had what it took to be a Fantana, but I still can't believe that I'm the one who was selected," Hampton said.
Stroke Robot
Neurologists at Our Lady of Lourdes Regional Medical Center in Lafayette can now observe and treat stroke patients long-distance using a robotic communication device. The new Louisiana Stroke Network means that patients in the Opelousas General Health System and the Iberia Medical Center can immediately be seen –– through the robot and camera –– by a specialist. Other hospitals may also join. "Louisiana has one of the highest mortality rates in the nation attributable to stroke," Michelle Crain, Lourdes'
chief nurse officer, told the Lafayette Advertiser.
Top Ag School
Ponchatoula High School was recognized for having the most outstanding agricultural education department in the nation for the third straight year, announced the Hammond Daily Star. The department, which consists of approximately 210 students, ranked No. 1 out of 7,487 in all 50 states, plus Puerto Rico and the Virgin Islands. They have received a $2,500 grant toward service projects.
Screen Saver
As reported on EuniceToday.com, Garrett LaSalle, 11, of Kaplan was eating nachos in the school cafeteria when a chip lodged in his throat. Victor Persilver, 12, noticed him choking and remembered seeing the Heimlich maneuver on TV. He went behind LaSalle, clasped his hands and thrust them into his friend's torso under his diaphragm.
LaSalle recovered quickly. Persilver learned the life-saving technique on one of the few television channels he could watch in his room. "I guess not having Dish TV in my room paid off," he said.
All-Right Angler!
Greg Hackney of Gonzales has earned the opportunity to compete for the 2011 Bassmaster Classic title in February, reported the Louisiana Sportsman. Hackney, the only Louisianian in the event, earned his berth through the Bassmaster Elite Series Angler of the Year race, ending the 2010 season in eight place. The 41st Classic will be held Feb. 18-20 on the Louisiana Delta out of New Orleans, with launches out of Bayou Segnette State Park in Westwego.
Shuttle Science
When the space shuttle Endeavour roars off from the Kennedy Space Center in February, it will carry a scientific experiment developed in a Zachary classroom, reported the Baton Rouge Advocate. The Zachary Community School District is one of 15 districts participating in the Student Spaceflight Experiment Program. Student groups in grades 5 to 12 have submitted written proposals to a panel of LSU and Southern University professors who will select three finalists for a final choice by a Student Spaceflight Experiment Program review team. The experiment also must pass a NASA safety review. The proposals all involve the effects of weightlessness and must fit in a space equivalent to that made by a 1/8-inch drill bit in a 1-inch block of wood.
Sing Like Jake!
Bush native Waylon Mills, 30, was named one of 10 finalists in LongHorn Steakhouse's "Sing it Like Jake" competition, according to the St. Tammany News. In order to secure his Top 10 spot, Mills had to create a 30-second video of himself singing a Jake Owen song. That video was placed on the restaurant chain's Facebook page, and online voting narrowed the field down to 10 contestants.
Tips on Trash
The Louisiana Department of Wildlife and Fisheries is asking the public to call the "Litterbug Hotline" whenever they witness somebody littering or observe an illegal dumping site. Tipsters can call (888) LITRBUG, or (888) 548-7284, to report violations, according to the Abbeville Meridional. The hotline is manned 24 hours a day, said Col. Winton Vidrine, head of the Enforcement Division. "Each tip will be investigated by our agents and other litter law enforcement agency partners."