A Gift of Laughter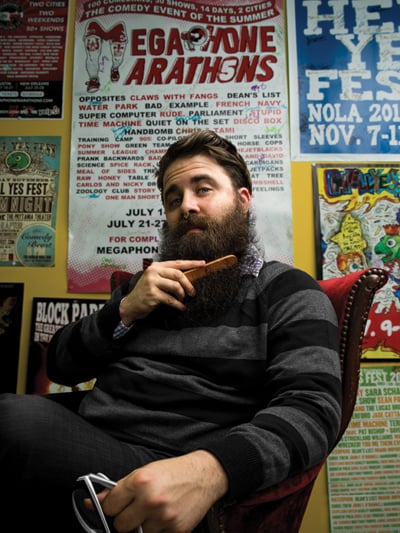 New Orleanian Chris Trew is a man of many offbeat talents. He's a touring comedian and producer of Hell Yes Fest, the biggest comedy festival in the Gulf South. He's an improv teacher, a professional wrestling manager, a sports columnist, a podcast producer and a rapper. Trew got his start in comedy, his main gig, when he was a student at LSU in Baton Rouge from 1999 to 2003. "I was just kind of dabbling with improv and stand-up, and it eventually got to the point where it was like, 'This is all I want to do,'" he says.
Trew's interest in comedy began in high school – before the Internet took hold. He figured he would have to move to Los Angeles, become an actor and work the open mics to get discovered. By the time he was ready to launch a career, resources like social media and YouTube were established – but not overrun.
"I think when the Internet started to become a big deal it was like, 'Oh, you can be funny on this thing, and you can make your own website.'" With those tools, "it kind of snowballed from there."
At LSU, Trew says he made poor grades because he was dedicating so much time to writing daily comedy for his website.
"I remember one day just not going to class because I wanted to finish an article. I failed that class," he says. "My parents were like, 'Why are you even bothering to do that? Why don't you just go all the way in on this comedy stuff?'"
With their blessing, he turned his attention to full-time comedy. He moved to Austin, Texas after Hurricane Katrina and began performing regularly. "I pretty much spent every spare minute and penny taking workshops, traveling and learning as much as I could at every comedy festival I could afford to go to and that would have me," he says.
In 2009, Trew and fellow comedian Tami Nelson opened The New Movement comedy theater in Austin, which also hosts classes. In 2012, Trew moved back to New Orleans and opened a New Movement outpost; today it's the only full-time comedy theater in the city.
"We're like the nerve center of the New Orleans comedy scene, and we're just very big on people being involved in our program, learning how to produce their own shows, learning how to write for other comedy shows, learning how to come up with ideas for shows," he says. "Then, we're going to give opportunities to put up the shows at our theater, and not have to worry about anything other than doing comedy."
Through it all, Trew's always had the support of his parents. "I think it was strange, because they didn't know how to give any other advice, other than the standard stuff that would apply for anything," he says. "But those things did become pillars of my life. My dad could never tell me how to host a comedy show or work a tour, but he did tell me, 'Treat people the way you want to be treated.' And things like that are at the core of what I do."
BEHIND THE BENCH
A huge sports fan, Trew stumbled upon an opportunity to contribute to DimeMag, a sports offering of Uproxx.com. He writes "Behind the Bench," a column inspired by his interactions with opposing teams' players and coaches as he sits behind their bench at New Orleans Smoothie King Center. (He often heckles them.) He also posts humorous updates from the Twitter account @Trew2TheGame
---