A Guide to the Towns on LSU's SEC Road Schedule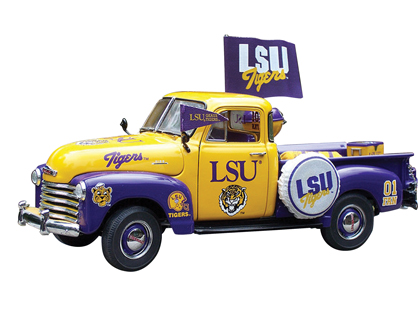 ATHENS, GA.
Athens, Ga., is one of America's great college towns. Whether or not the Tigers are in town, it is still worth a visit for its Victorian architecture, eclectic shopping, inventive Southern dining and legendary live music scene. Athens served as a launch pad for bands like R.E.M., the B-52s, Widespread Panic and the Indigo Girls, and music is an inextricable part of the city's identity.
To survey the performances in town during your stay, pick up a copy of Flagpole, the free alternative newsweekly that chronicles all things musical and cultural. The Georgia Theatre is the crown jewel of Athens performance halls. Destroyed by a fire in 2009, it reopened in 2011 with a state-of-the-art sound system, improved acoustics and two balconies. The theater now features a spectacular rooftop bar with patio seating and food service from a neighboring restaurant, The Branded Butcher. The 40 Watt Club is another iconic venue, having served as an incubator for the punk rock and New Wave movements. The list of artists who have played there reads like a who's who of American music. Now in its fifth location on West Washington Street, the 40 Watt Club continues to attract indie acts from Athens and around the nation.
To experience a classic Athens bar, head to The Globe at the corner of Clayton and Lumpkin Streets, just a block away from the University of Georgia's North Campus. Known for its distinctive brass bar, it's likely to slake your thirst no matter your taste, with more than 80 beers, 50 single malt scotches and 35 varieties of wine.
For food on a college student's budget, visit The Grill for the fries with feta dressing, Cali N Tito's for fish tacos or Weaver D's Delicious Fine Food for soul food (though still open, at press time, the restaurant was up for sale). R.E.M. adopted Weaver's "Automatic for the People" motto for its 1992 album. Five Star Day Café is another local favorite, serving up Southern comfort food in a chic modern setting.
Athens has 16 historic districts and 35 other sites on the National Register of Historic Places – you can take a guided tour of many of these historic sites, offered daily by Classic City Tours, or wander around yourself. If quiet contemplation in a serene setting suits your pregame routine, check out the State Botanical Garden of Georgia, a gorgeous 313-acre preserve operated by the University of Georgia. It offers nature trails through the forest and Middle Oconee River.
If you have a few minutes to spare before kickoff, check out a memorial to one of college sports' great mascots inside Sanford Stadium. To date, nine English Bulldogs have carried the name "Uga," derived from an abbreviation for the University of Georgia. Deceased Ugas are interred in a mausoleum near the main entrance at the southwest corner of the stadium. Each tomb has a bronze plaque describing the dog's tenure with an accompanying epitaph.
---
STARKVILLE, MISS.
If you happen to be a Louisiana resident driving around north central Mississippi, it's a good bet you're either irretrievably lost or on your way to watch a Mississippi State football game. In spite of Starkville's remote location – it's located 125 miles northeast of Jackson and 23 miles west of Columbus, Miss. – the city boasts a quaint downtown, an improving dining scene and enough watering holes to give any football fan ample options before and after the game.
The range of accommodations in Starkville is limited, but the most noteworthy is Hotel Chester, a 37-room property that is listed on the National Register of Historic Places. It's located downtown so you can sample a variety of restaurants and shops without venturing more than a couple of blocks, and it's about a 20-minute walk from the Mississippi State campus.
Restaurant Tyler is a fine dining standout. Located on East Main Street in downtown Starkville, it adheres to a farm-to-table philosophy by populating its menu with local fare like sweet potatoes from Vardaman, Miss., and house-smoked farm-raised bacon. Chef Jonathan "Ty" Thames is a Mississippi native who cut his culinary teeth mostly in and around Washington, D.C., before returning home to open restaurants in his home state.
The most acclaimed steakhouse in town is The Veranda. For the past decade, it's earned a reputation for serving up quality cuts of Angus steaks as well as terrific salmon and tuna.
Mugshots, which serves an array of gourmet hamburgers on sour dough rolls, is a perennial Mississippi favorite. It opened its first location in Hattiesburg, Miss., and although it's a franchise, it enjoys a rabid following in Starkville. Perhaps the town's best-known eatery, and one that ESPN analyst Lee Corso seems contractually bound to mention whenever talking about a Mississippi State home game, is The Little Dooey. This barbecue destination is a small, cramped converted house, which seems to matter very little when sitting elbow-to-elbow with a stranger and inhaling its signature sauce-soaked pulled pork.
The best advice for anyone attending a Mississippi State game, though, has nothing to do with what to eat or where to stay – it's more about what to prepare for. And though you may be familiar with the tradition of Bulldogs fans ringing cowbells inside Davis Wade Stadium, there's no way to anticipate the decibel level and duration of that cacophonous clanging. Bring earplugs.
---
OXFORD, MISS.
LSU football fans love to bash Ole Miss. But enmity and respect are not mutually exclusive, and so when it comes to recognizing the most fantastic tailgating tableau in the nation, Tiger fans give respect where it is due. The Grove, on the University of Mississippi's Oxford campus, is the undisputed champion of the pregame festival.
The leafy 10-acre center of campus may be the most valuable real estate in the Magnolia State during home game Saturdays – it's certainly the most coveted. The crowds are so thick, the locals say, that The Grove swells to the second-largest city in Mississippi on game days. With majestic oak, elm and magnolia trees providing all the necessary shade to make an afternoon in the Deep South tolerable, this ritualistic picnic plays out with both precision and frivolity.
If there is a home game on Saturday, people are allowed to start setting up in The Grove on Friday night at 9 p.m. When the horn blows, fans race out among the trees to stake out space with their tents and folding tables in an exercise that resembles the Oklahoma Land Rush of 1889.
The number of people and tents, however, are not what distinguish The Grove from other tailgating grounds around the country – it's what's under those tents and on those people that account for that inimitable Ole Miss style. Women wear cocktail dresses, long strands of pearls and designer sunglasses. The apparel alone makes a statement: This is an event. The tents are decked out with chandeliers and satellite TVs while the tables are set with candelabras, flower arrangements, white linen tablecloths and fine silverware. There's also the unorthodox culinary collision of the high: pâté and brie and the low: chicken fingers and onion dip. It's all part of the party in The Grove.
The Historic Oxford Courthouse Square, which exudes Southern charm, is the best place to experience Oxford outside of The Grove. For a small city, its collection of shops, restaurants, art galleries and live music venues is as impressive as any in the country. Some of the local landmarks are Square Books, which has available every book in print by William Faulkner; Neilson's Department Store, the South's oldest department store; and City Grocery, a fine dining establishment helmed by New Orleans native and James Beard Award-winning chef John Currence.
The City Grocery Bar, located above the restaurant, draws a whiskey-loving crowd with a literary bent. If you're craving fried fish, drive 10 minutes south of town to Taylor Grocery in Taylor, Miss., and be prepared to wait for some of the best catfish served anywhere in Mississippi.
---
TUSCALOOSA, ALA.
College football may be an autumn sport, but in Alabama it is part of the year-round conversation. This fanatical devotion to a single pastime is apparent in Tuscaloosa's premier tourist attraction – the Paul W. Bryant Museum, located on the University of Alabama campus. Even the most ardent Crimson Tide-hater will appreciate both the quantity and quality of the exhibits within the museum, which houses the history of Alabama football with special emphasis on legendary coach Paul "Bear" Bryant.
Open daily for a nominal entrance fee, the museum features items such as a Waterford Crystal houndstooth hat, which commemorates Bryant's signature headwear and the Daniel Moore painting used to create a U.S. postage stamp to celebrate Bryant's coaching legacy. One of the more intriguing exhibits is a recreation of Bryant's old office, including his actual furniture, to give visitors a glimpse of what it would be like to be in the presence of coaching greatness.
For a taste of college life, head to The Strip, a row of bars and shops along University Drive, just off the University of Alabama campus. The Houndstooth, once voted by Sports Illustrated as the No. 1 sports bar in America, has a huge outdoor patio that makes it perfect for people watching. And on game days, Big Bad Wolves sets up shop on the porch of The Houndstooth and proffers its famous barbecue nachos. If you're a devotee of dive bars, duck into Gallete's, a dingy and smoky favorite that typically stays packed from Thursday night to Sunday morning on the weekends of home games. A vodka and rum-based punch called the Yellowhammer is its signature drink and the best known cocktail in town.
Dreamland Bar-B-Que opened its first location in Tuscaloosa in 1958, the same year that Bear Bryant started coaching at Alabama. It may be hard for some Alabamians to discern which event was more significant. When Alabama governors make those publicity-seeking bets with other governors on the outcome of a college football game, it's the ribs from Dreamland that are wagered. The game plan for first-timers is simple: You will order the ribs, you will get an embarrassing amount of sauce on your face and fingers, you will sponge it up with white bread and you will leave satisfied. For a more scenic, and less messy, dining experience, visit the Cypress Inn on the banks of Black Warrior River. The cypress-constructed restaurant, located on four acres of gardens, offers a gorgeous panorama and lots of Southern favorites like catfish and fried green tomatoes.
On game day, there is only one place to go before kickoff: the Quad, in the heart of Alabama's campus. In the early days of the Crimson Tide program, the Quad was actually the first on-campus site for home games. A century later, it serves as the tailgating hub on campus. At every home game, there are 10 different family activities set in the Quad, everything from moonwalks to obstacle courses and a mechanical bull.
---
ATLANTA – SITE OF THE SEC CHAMPIONSHIP GAME
With a dynamic economy and a thriving corporate culture, Atlanta is the most cosmopolitan city in the Deep South. Yet amid all the trendy bistros and boutique hotels, it is still, at its core, a Southern city with all the charm and tradition that goes with it. It is also a city best defined by its many distinct neighborhoods. If you're only in town for a couple of days, it's best to pick one or two and go exploring.
Little Five Points is Atlanta's bohemian neighborhood, prized for its independent theater offerings, live music and artistic community. Junkman's Daughter is a 10,000 square-foot megastore filled with wacky items that you never knew existed but can't seem to leave without. One of the best burgers in Atlanta is served at The Vortex Bar & Grill, a neighborhood joint known for its fun, heavily tattooed staff and its large laughing skull entrance.
Buckhead is often called the Beverly Hills of the East, and while you may not be browsing for mansions, you can still take advantage of the world-class shopping and dining for which it is known. Phipps Plaza and Lennox Square offer an array of upscale stores. To hang with the beautiful people, take the glass elevator up 125 feet to the top of the W Atlanta-Buckhead Hotel. Whiskey Blue is a swanky bar with two outdoor terraces that offer spectacular views of Buckhead and Lenox Square on one side and Midtown on the other.

Midtown is home to Piedmont Park, a 189-acre urban park that features walking paths, picnic areas, playgrounds, ponds and a dog park. Park Tavern Sushi Bar & Brewery, located in Piedmont Park, brews its own handcrafted beers and serves half price sushi every night from 10 to midnight, which you can sample from the patio with views of the park and Atlanta's massive skyline.
And if poking around new neighborhoods isn't your preference, there are still Atlanta's main attractions to be seen. They include: the Georgia Aquarium, the biggest aquarium in the world; Six Flags Over Georgia; World of Coca Cola; tours of CNN's world headquarters; and Stone Mountain Park, the world's largest piece of exposed granite and longest running laser show.