A Harmonious Home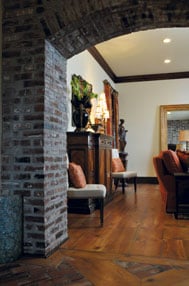 Like an orchestra hitting its crescendo, the third annual Acadiana Symphony Decorators ShowHouse created its own excitement. Located in Vintage Park in Broussard, the event attracted thousands of visitors who came to see the very latest in building materials and interior and landscape design that were featured in the 5,934-square-foot home.
"It's a win-win situation for all," says builder Bryan McLain, president of McLain Homes in Lafayette. Each year the Decorators ShowHouse
brings together the best talent in the area to showcase the very latest in style, products and design.
"It's a grand show and tell project that raises money for the Acadiana Symphony Orchestra, a cultural treasure in our community," adds Sylvia McLain, Bryan's wife and marketing director of the company.
Located in a park-like setting covering 32 acres, with exercise trails and a stocked lake among its many amenities, Vintage Park was an ideal setting for the traditional Louisiana plantation-style home. "Each year, the Decorators ShowHouse features a different style of architecture," Bryan says. "The first one was French country, last year we featured a Spanish-Mediterranean design, and we selected a Louisiana plantation home for the most recent house because it's an architectural style that has great appeal to Louisiana residents."
Bryan and Sylvia admire the work of the late noted Louisiana architect A. Hays Town and incorporated many of his ideas, such as the use of old wide longleaf pine boards and St. Louis brick for flooring.
Part of the home's charm is the feel of an old plantation home combined with the very latest conveniences and materials. Even the carefully planned backyard, with its herb garden and greenhouse, gives a feeling of a bygone era.
"The business community came together in a unified manner to donate materials for the project," Bryan says proudly. Bryan complimented a long list of donors, including Electrolux, the company that has donated all of the appliances for the three Decorators ShowHouses. In addition to McLain Homes, the other five major sponsors of the project were Acadiana Doors, Prime Title, Stine Lumber, Regions Bank and Van Eaton & Romero.
Bryan says the ShowHouse Guide, featuring the list of designers, craftsmen and product and service resources, is becoming a keepsake that is a useful bible of information, including how to contact each person or company.
"The Acadiana Symphony Orchestra is definitely the right recipient of the win-win endeavor," Sylvia says. "We rely on the wonderful team of volunteers from ASO to staff the 15-day event. The ShowHouse is truly an amazing undertaking, and it could not be done without the long list of volunteers."