A Louisiana Life: Linda Johnson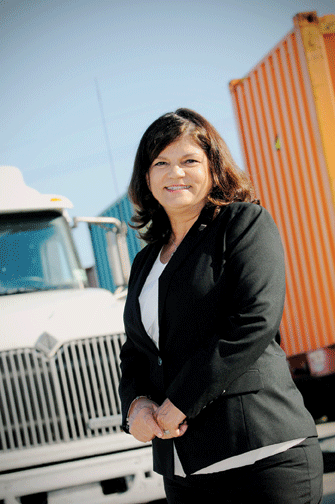 Linda Johnson can point to the exact moment her life changed.
A family acquaintance, Tina Landwher, asked Johnson for help. Landwher's son was sick and couldn't go to nursery school, and Johnson agreed to baby-sit.
When Landwher picked up her son, Johnson mentioned that she would be looking to go back to work when her own son began kindergarten.
Johnson says Landwher called her a few weeks later with a tip: A receptionist position would soon be available at Crowley American Transport.
Johnson applied and started work the same day her son began kindergarten. Fast-forward 25 years – and she is now second in command at Gulf Intermodal Services, or GIS, a trucking company with four locations and a network of 50 trucks.
The story of Johnson's systematic rise from receptionist to upper-level management in a male-dominated industry is one of hard work and persistence. It may not be a stretch to say it's a study in what it means to achieve the American dream.
Johnson immediately began learning the industry when she started working at Crowley as a receptionist.
"The shipping business interested me so much that I was eager to learn everything I could," including a dizzying collection of acronyms, she says. "I read a lot of documents that came across my desk and certainly asked way too many questions. I became fascinated with the import-export business, what is done to commodities before they enter the U.S. and how they clear customs. I'd never been exposed to it before, and it all seemed so Greek to me."
After just a few months as receptionist, Crowley promoted Johnson to the equipment control department and later to intermodal coordinator, responsible for the New Orleans and Memphis, Tenn., divisions.
After 10 years in the business, Johnson was approached by Mark George, founder of Intermodal Cartage in Memphis. George and Johnson had crossed paths over the years and had developed mutual respect for each other.
George had an important question for Johnson: Would she open a branch of Intermodal Cartage in New Orleans? Johnson accepted the challenge, taking her old friend Landwher with her to the new company.
Johnson's task was to open a shipping company and compete with companies that had been doing business in the city for many years.
"I had to prove myself," she says. "At that point, there were no other women in management. We were two ladies trying to hire drivers, and no one wanted to come work for me."
But prove herself she did. Johnson now has an office of seven and has expanded GIS to include locations in Laredo, Texas; Houston; and Mobile, Ala.
Another test came when Hurricane Katrina roared ashore in 2005. The GIS offices and the homes of every employee were flooded. George and Intermodal Cartage rented apartments for the GIS employees and provided four truckloads of necessaries.
Johnson says coming back to New Orleans and rebuilding the business was tough. Although every employee returned, she had to build the business back from scratch. "We had to start all over," she says. "No one wanted to come to the Port of New Orleans."
Things grew slowly, but two or three years after the storm, Johnson says GIS was back at full speed. A humble Johnson is quick to deflect credit away from herself, handing kudos to George and the Memphis corporate office.
"I'm very fortunate to work for a company that was so supportive," she says. "Like everyone in New Orleans, we were determined to make it work – and we did."