A Louisiana Life: Rita Periou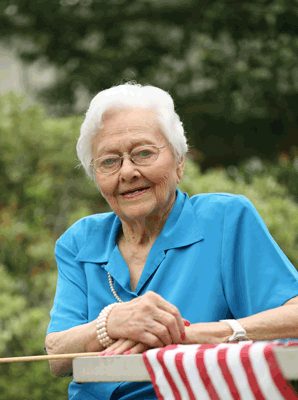 Rita Periou says she could fill a book with memories of World War II.
The Louisiana native worked as a nurse in the Army, eventually ending up on the front lines at the Battle of the Bulge, where she cared for severely wounded soldiers. Periou's participation – even her role in the largest and deadliest battle fought by Americans in World War II – was entirely voluntary.
"I always wanted to be in the Army. I don't know why. I didn't know what it was all about but I wanted to," the New Orleanian says. After she finished nursing school, Periou joined the Army, entering as a second lieutenant in 1943. Before the war was over, Periou was promoted to first lieutenant.
Before she went overseas, Periou went through basic training and did a stint at Camp Polk. There, she worked in a locked ward. "Those were the soldiers who were trying to get out of the service, and they would act like they were crazy," she says. "I was very young, and I was the only little nurse there. I was scared to death. But I was tough."
Tough indeed. On top of her nursing duties, Periou underwent continuing Army training and drills while at Camp Polk, just like any soldier. Periou still has the same spunk and no-baloney attitude that helped her get through the rigorous training in a male-dominated field and then through a war that pushed even the strongest men to the limits of their sanity.


Soon, it was time to ship out. "They said we were going overseas in three months, but I didn't think it was true so I didn't think about it," Periou says. "But one night they said, 'You're leaving tomorrow morning.' I don't remember packing a suitcase or anything like that. I guess I put my clothes in a duffle bag." Periou traveled on the Queen Mary from New York to London. "It was beautiful, enormous. It was one of the highlights of my life," she says.
Periou was first stationed at a London hospital, then at an orthopedic hospital, where her patients were soldiers who had seen battle. "We worked very hard taking care of the soldiers," she says. "Some of them were very sick, very bad off."
One month in, Periou volunteered to head to the front lines. She convinced a fellow nurse and close friend from Louisiana to go with her, and together they headed to the Battle of the Bulge, in Belgium, where American soldiers would suffer some 89,000 casualties by the time the Germans retreated.
"I felt very guilty that I had talked her into coming with me, but she lived," Periou says. "We did good. We stayed friends. I wasn't exactly tickled either, though. I did it voluntarily, but I didn't realize what I was doing, I don't think."
Periou worked in a makeshift hospital just behind the front lines, caring for soldiers who were critically wounded with head, neck, and chest injuries. "It was hard. You had to be tough, to roll with the punches over there," she says. "Whatever they told you to do you had to do it. It was just living and that's all."
Periou tells stories of close calls with gunfire and bombs dropping nearby, of running out of blood and plasma, of eating rations and working long shifts. She remembers moving to one side of the medical tent just before a German plane strafed the side she was standing on moments earlier, killing everyone there. She says the soldiers often cried for their mothers. "I would say, 'I'm your mother, honey, I'm going to take care of you.' He was so out of it he didn't know the difference."
But her memories aren't all so dark. Periou remembers rendezvousing with her brother, who was fighting in Europe, and traveling to Paris and other parts of Europe on her rare days off. She also met and befriended a dentist named Dr. Murray Blum, whose daughter would become television's Judge Judy.
After the war, Periou returned to Louisiana, married and raised a family. "When I came back, I settled down," she says. "I really did."
Decades later, Periou's family took her to a screening of Saving Private Ryan at the National D-Day Museum. The vivid scenes brought back such intense memories that Periou could smell blood and felt sick.
"You had to grow up. I was scared to death the whole time," Periou says. "But I wouldn't have missed it for nothing."