A Master's Art in Context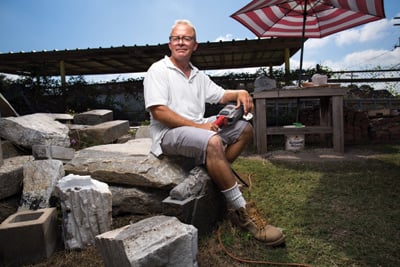 On the heels of the fall film festivals that characteristically add to Oscar contenders, the awards season is officially here. October's New Orleans Film Festival, with its unprecedented seven world premieres, was kicked up a notch when it became an Oscar-qualifying event in the category of documentary shorts for the first time. Academy Award nominations open November 14. Anticipation among those in the conversation for the gold-plated britannium statuettes will build like a crescendo until the 88th annual Academy Awards are telecast February 28, 2016.
The "look" created for some of the feature films lining up for recognition emerged from art directors, prop masters and set designers who selected top artists for their productions, including some of Louisiana's finest scenic sculptors and painters. Rich in talent, our local crews often have more experience than crews found in competing states. These artists are currently at work on movies and new television series that will be debuting in 2016.
"The thing is, we've been in this business for a long time in Louisiana," explains Anthony Henderson, the acclaimed sculptor, printmaker and former university art professor who is considered the state's most accomplished scenic sculptor. Henderson is known for his passion, imagination, technical prowess and impeccable techniques gleaned from decades of experience as an artist who has exhibited throughout the U.S. and abroad.
"We work out of town a lot," he notes. "We have at least 10 talented local union sculptors here. Several of them are able to lead any show. That's not the case in other places that haven't been proliferating for quite as long."
Considered a mentor devoted to training emerging artists in the industry, Henderson is the curator of the first-ever "Louisiana Film Industry Exhibit Featuring Artists from I.A.T.S.E. Local 478," held November 3-28 at the hip New Orleans craft cocktail bar and gallery, Tréo (treonola.com). The exhibit features 22 of Louisiana's top scenic artists (primarily painters and sculptors) that Henderson selected from the International Alliance of Theatrical Stage Employees.
"The idea is to show that good artists are benefitting from the film industry, and also, to showcase what they do as artists on their own," he states. "I'll be exhibiting a stone piece depicting the possibility of spiritual hope."
With dozens of major feature films and television series under his belt to date, Henderson is a multifarious, sought-after talent with a broad range of abilities. He has solidified his name as Lead Sculptor in numerous movies since expanding his career in 2004 to include film industry projects. "He was the first sculptor in Louisiana to join I.A.T.S.E local 478," says sculptor David Whatley, who has worked with Henderson, his mentor, on numerous blockbuster movies in Baton Rouge, Shreveport and New Orleans. "He is truly brilliant."
While public art commissions punctuate Henderson's practice as a sculptor, he balances his portfolio with off-season work as a commissioned marble carver, creating sculpture and finials for private individuals and corporations. He specializes in personal finials for tombstones, and sculptures depicting images pertaining to the life of the deceased.
Some of the more intriguing scenes Henderson has devised for films appear to be made of ancient stone. He can take a mountain of Styrofoam and transform it into an ancient city via chainsaws and rasps. The Lead Sculptor for Maze Runner, the 2014 dystopian science fiction movie, Henderson created an elaborate, intricate maze that consisted of 40, 16-foot plastered blocks stacked in movable formations, plus a 20-foot door resembling concrete and several 7-foot cryogenic tubes holding water for an actor to be placed inside, all created in a field in Jackson, Louisiana.
For the fantasy-comedy This is the End, he was the Lead Sculptor, devising the iconic life-size meteor crater with his crew. As Lead Sculptor for Battle Los Angeles, Henderson sculpted a four-block section of downtown L.A. after it had been blown apart, as well as a half-mile of battle-ravaged freeway. From the faux-bronze monument he created for The Expendables to a battlefield from a Mideast conflict in The Lucky One, Henderson is always in the zone.
His recent projects have included Walt Disney's Finest Hours, a thriller about the Coast Guard's daring 1952 rescue mission starring Chris Pine and Casey Affleck, hitting theatres Jan. 29. Henderson also worked on the highly anticipated slave drama Underground, a big Sony Pictures Television production that's premiering in the spring of 2016 on WGN. Grammy winner Kanye West is producing the soundtrack.
"Working in scenery and film is an education in itself," Henderson modestly observes. "You learn a lot technically, and you work with people who have these visions. You are learning something every day on the job.