A New Orleans Gem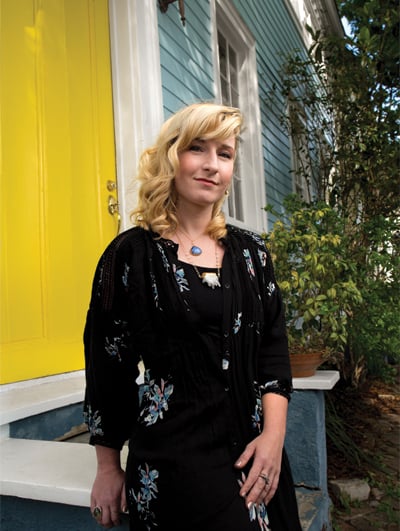 For all of its glittery attractions, New Orleans does nothing better than allow its residents and revelers to simply – or complexly – be themselves. It's the radical well from which all of the city's culture springs. And in this continual celebration of self-expression, one-of-a-kind jewelry made with an artful amalgam of vintage raw materials might be as Big Easy as one can get.
Since January of 2010, Ohio native Jess Leigh Gholston has been creating unique necklaces, earrings and more with Jess Leigh Jewels. Three months before launching her line with 20 stretchy bracelets featuring stones and charms, she was visiting a New Orleans friend for Halloween festivities and fell completely in love with the city. She was living in Jacksonville, Florida, at the time, and after a few more trips, she felt inspired both by the city's wild costume culture and its rich, more austere historical touchstones, to make the move. Just 18 at the time, Gholston says she already knew she wanted to create memorable pieces as individual as everyone she saw walking the streets of her new home.
"I love being able to look someone in the eyes and tell them that it's the only one – ever," she says. "It makes everything about that exchange so very special."
Sourcing antique stones, metals, cameos, tassels and more both locally and as far as New York City, Gholston quickly ingrained herself and her work into the fabric of New Orleans festival culture. Jess Leigh Jewels can be found at Frenchmen Street Arts Market, Mid-City Bayou Boogaloo, Voodoo Music + Arts Experience and specialty cultural events and markets.
Gholston's work is a delicate balance of recognizable forms and colors and a quirky dash of surprise that can be dressed up or down, fine dining or funky. One bracelet is called the "Dainty Jet." It's that piece your never slacking friend found at an estate sale, or even what grandma might wear if she was always on trend. It feels comfortable. Comforting. And yet the maker says she feels the most creative when she's under pressure.
"I make a huge mess," Gholston says. "I really like to gather a few abstract ideas and then crunch them together under a time limit – I love it. Usually, I'll come up with a concept for one item, but then five more will pour out."
In 2010 she had a few connections with local boutiques, so shared her first creations with them and lined up a simple consignment arrangement. For those just starting out, she recommends not spreading one's work too thin. Her advice is to be very choosey. She values having just a few select shops in one city carrying her work. Most of her sales are online, anyway, and those sales have doubled every year.
"You don't want to end up fronting the cost of enough product for 10 stores and not seeing any income from that investment until a specified amount of time," Gholston says.
She is developing a plan to market her jewelry nationally, but is taking her time to get it just right. Gholston takes her branding seriously, and while the current generation of makers seems obsessed with calling their creations "Something & Else," her decision to put her name on her line was not one she took lightly.
"I wanted to make a lasting brand," Gholston says. "There is accountability in using my name. There is responsibility and trust built into that kind of vulnerability in my opinion."
Whether combing through old warehouses, street markets or vintage shops for raw materials or bouncing around her house with treys of jewels in her hand and daydreams in her eyes, New Orleans itself remains this artist's biggest influence. She relishes hearing a marching band before she even leaves her house in the morning and getting dressed up for Mardi Gras and Halloween.
"Costuming is definitely a competition here," she says. "There are constant reminders that this city has not forgotten her inner child, and that speaks directly to me."
Q & A
Which jewelry designer do you really admire right now? I really admire Chan Luu. She has created a lasting brand and also developed a wide spectrum without compromising her personal style.
Are there any unexpected influences in your work? For my next collection, I'm trying to do a little "then and now" inspiration; so dandelions to represent my roots, and then touches of the art from the Baroque period and moths to represent now.
If you could only wear and own three accessories for the rest of your life, what would they be? A large cocktail ring, a choker and a long statement necklace
What's the best piece of advice you've been given? "Listen to your heart." It seems cliché, but it is frightening how hard it is to stick to your guns, especially in design, and then release something out into the world for everyone to see and judge.
What do you do for fun when you aren't working?
I love to be outside. I run, I ride my bike around the city, and visit any of the parks for a picnic or take a canoe down the bayou. Recently, I went out to Manchac Swamp and out to Lake Maurepas. Gorgeous! Lately, I've been focused on seeing my dear friends and really making time for them. It's all too easy to just be "busy." My friends are very important to me.
For more info, jessleighjewels.com

---