A Nod to Mod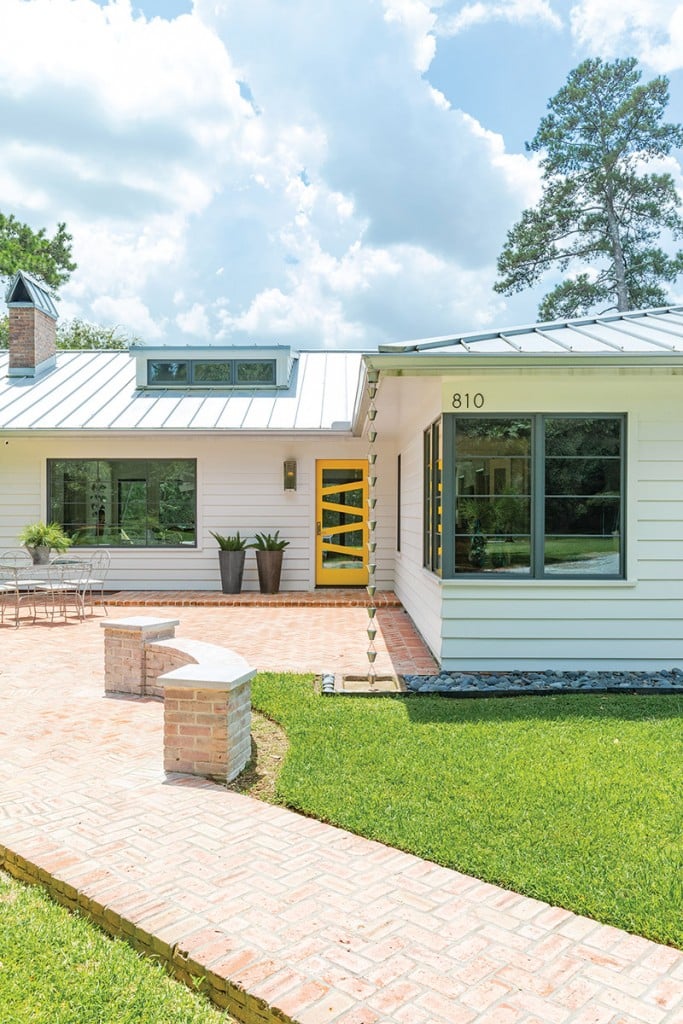 Family has been important to Aimee and Michael Bell's Covington home in more ways than one. For starters, Aimee grew up spending time and making lasting memories at the house, which was built as a weekend get-away by her grandparents, Clifford and Aggie Favrot, in the 1950s as part of an enclave of houses owned by members of the Favrot clan. (The oldest of the houses in the compound dates to 1860 and was purchased in 1919.) Aimee's grandparents' house passed to Aimee's parents and then to Aimee and Michael, who now keep it as their primary residence and the place where they welcome their three grown children, ages 25, 27 and 28.
Michael's career as an architect specializing in residential work and Aimee's role as the office manager of Bell Architecture has proved invaluable to the legacy of the house. After carefully considering a renovation for years, the couple renewed the property with a midcentury modern aesthetic that pays homage to its roots and incorporates contemporary design.
"We say that we designed this for 10 years," says Michael. "We kept pouring over it and pouring over it. Ultimately, it was so much more appealing to me to work with what was here already than trying to build new."
Designed in 1953 by architect and builder Paul Charbonnet, the original five-bedroom, five-bath house featured corner windows, wood paneling and a brick fireplace — all part of the midcentury modern vernacular. It also made use of things that came through Cliff Favrot's building materials business, such as a corrugated metal applied as decorative siding on the perimeter.
Several previous renovations eliminated the corner windows and added a pool. A new metal roof replaced the original damaged by Hurricane Katrina. By the time the Bells decided to go ahead with their renovation, they had developed a wish list that included an enlarged kitchen overlooking the Bogue Falaya River and an outdoor shower.
Though well built, the house lacked insulation and was termite damaged. Working with Premier Custom Homes, the couple took it down to the studs.
"We took out all the old windows and gave it a new skin," says Michael, explaining that new insulated metal clad windows and screens are designed to bring the outdoors in.
The footprint, existing roof structure, and a few elements that convey midcentury modernism (such as the flat, brick fireplace) remain, but a former bedroom was eliminated to make room for the new kitchen and a mudroom and pantry now reside where the kitchen used to be.
Architectural details, designed to look original, enhance the modernist look. V-shaped pipe columns supporting the roof over the patio, for instance, call to mind iconic 1950s structures. The V configuration is also repeated in the design of the front door.
At the same time, French antiques, a Drysdale painting, and furnishings by Mario Villa, all part of Louisiana's decorative heritage, cohabitate inside the modern dwelling. After all, the space is a marriage of many things — including nature, history and family.
"A day does not go by that I don't appreciate that this is a blessing," says Aimee. "I grew up coming over here and I am still amazed by the scenery, the property, the river. It takes my breath away. This place is all about family."
At a Glance
Architect / Michael Bell, Bell Architecture
Interior Design / Aimee and Michael Bell
Square Footage / 3,257
Outstanding Features / *Views of the natural surroundings: kitchen overlooks river, all doors and windows replaced. / *Redesign was conceived to accommodate the way the couple lives and gathers with family and friends. / *Midcentury brick fireplace and retro inspired design of patio roof.
---