A river runs through it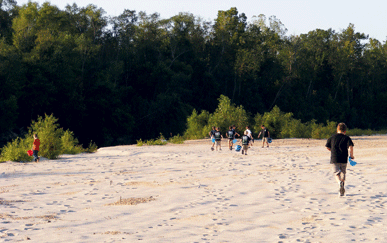 Looking back, I must have believed life would always be like my first weekend at the river.
It was July 1990, approximately six weeks after my future husband and I met on a Florida beach. In honor of my first visit to his family's Washington Parish farm, Harvey threw a big party on the sandbar. He met my flight from Atlanta about dusk, and then we headed north over Lake Pontchartrain into the steamy Louisiana night. Finally, we turned off onto a gravel road that took us across a pasture and through thick woods. We emerged onto a broad sweep of moonlit beach in a bend of the Bogue Chitto River.
The Bogue Chitto originates in McComb, Miss., cuts across the toe of Louisiana's boot and flows into the Pearl River near Picayune, Miss. It is also the farm's western boundary. The river is too shallow and the surrounding land too flood-prone to encourage any real development, so most of the shoreline remains forested and wild. The waterway is good for tubing and canoeing but blessedly unappealing to the personal watercraft set. It's a peaceful place.
But not that night. Under a massive, leaning oak, a few dozen people were talking and laughing inside a glowing circle of tiki torches. A sound system powered by a portable generator was cranking music through Peavey speakers. Lights strung from the trees illuminated the path to a rustic outhouse made from roofing tin and small tree trunks. There was a table loaded with food. Deer sausage sizzled on the grill. Families were camping in tents, four-wheeling in the shallows, shooting fireworks in the sand. At the water's edge, some plumber with a guitar was playing and singing his heart out.
It was a blowout for the ages –– but, in retrospect, much more. It was my Louisiana coming-out party. My introduction to some of the friends who would become like family. The moment, I think, I subconsciously signed on for this ride.
Harvey and I married two years later, and, for a while, life really did resemble that first barefoot weekend. With no children to cramp our style, we continued –– not to put too fine a point on it –– to raise hell with our friends beside the Bogue Chitto. We barbecued under the leaning oak. We jitterbugged in the sand. When the Louisiana summer became intolerable, we planted lawn chairs in the rocky river bottom and swapped stories while the cool current swirled around us. Under harvest moons, we stood by bonfires on the beach telling jokes or singing David Allan Coe songs.
I can see us like it was yesterday. Kay* was the avid fisherman among us. Jerry*, her husband, was always showing up at beer-thirty on a weekday, telling Harvey, "Let's ride down to the river." Andrea* was famous for orchestrating mass tubing trips. A flotilla of 10 or 20 of us would put in upriver and spend all afternoon drifting lazily back down to the farm's beach. We had Jimmy Buffett on an ice chest stereo and smokes and snacks in Ziploc bags. We were tubing professionals.
I had yet to understand what the Greek philosopher Heraclitus meant when he said, "You cannot step into the same river twice, for fresh waters are ever flowing in upon you."
Like the river itself, life was changing all the while. Sometimes it was just the tiniest shift to the left or right, the same way the current imperceptibly but relentlessly chisels away at one bank while steadily building up the other. Time passed. We got busy, took on families and responsibilities. We grew less enchanted with heat and sand and mosquitoes and hangovers. We became, in a word, older. Our trips to the sandbar grew fewer and farther between. The beach began growing up in briers. Groves of wild river birches started taking over.
Other changes came upon us with the force of a flood, and when the waters rushed away, they nearly sucked the ground from beneath our feet. I can still picture the tears of joy glistening on Kay's face in the setting sun the afternoon she and Jerry came to tell us their good news. Six months into the pregnancy, she found a lump. We buried her next to a country church not long after the baby's first birthday.
In the years ahead we gathered less at the river but seemed to congregate frequently in maternity wards and at commencement ceremonies and bridal showers. Couples divorced. Children became teenagers and scared us all to death. Harvey and I were blessed with a beautiful baby boy.
Harvey's mother died unexpectedly while I was pregnant. Two years later, death snatched a beloved nephew at the age of 21. We struggled to keep our third-generation dairy farm afloat in tough times and finally ended up in the hay business. Our second beautiful son was born on a fine spring day. The plumber with the guitar became successful recording artist Big Daddy "O," but he lost his daughter, one of the children camping at the river that first weekend, to a lurking heart defect in her early 20s.
One dazzling February morning last year, I got the news that my lovely friend Andrea, she of a thousand giddy float trips, had been senselessly murdered. I remember holding the phone and looking out my kitchen window, trying to reconcile the terrible words I was hearing with the endless blue sky I was seeing. We were still reeling from that shock when Jerry flew away five months later, just days after stopping by one last time to say, "Let's ride down to the river."
This spring, a 10-year flood pushed the Bogue Chitto far over its banks. Afterward, we discovered that the raging current had dumped yards of fresh white sand onto our beach and smoothed the steep drop-offs along the shore. A beach that had been shrinking for years is now half again the size it was, and the place hasn't looked this beautiful in forever. The river takes, and the river gives back.
This summer, we will return to the Bogue Chitto with our 5- and 8-year-old sons. Occasionally, we'll feel a wave of melancholy, like when we notice the old leaning oak –– snapped off in Katrina –– looking so abandoned and forlorn. We will think of dear friends and good times gone by and sense that some part of us still lingers beside the place the Choctaws called the "Big Creek."
Most likely, however, the boys will keep us too busy for all that. They'll have us searching for flat skipping rocks or fossils or wild turkey tracks or RC Cola bottles. They'll drag us to the tip of our property to peer far upriver at what is probably the washed-up stump of an uprooted tree but that they are convinced is a shipwreck. The Bogue Chitto is barely navigable by aluminum fishing boat –– much less pirate schooner –– but I'll keep that information to myself.
Perhaps my 8-year-old will announce, as he once did, that he intends to come back here and get a good, close-up look at that shipwreck when he turns 17 –– the age, apparently, at which he assumes all of life's mysteries will be revealed.
I'll smile, knowing he believes life will always be just like it is this afternoon at the river.
*Names have been changed to protect the privacy of the families.