A Sampling of Louisiana Holiday Fun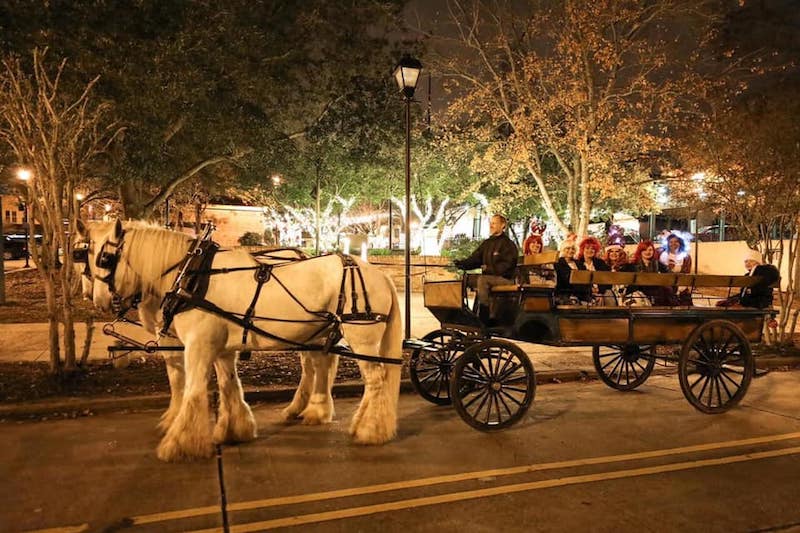 Looking for unusual holiday fun this season? Here are a few events happening throughout Louisiana to make your season bright.
Make gingerbread
Executive Pastry Chef Brett Gauthier of Red Fish Grill of New Orleans will host Gingerbread Workshops on Saturday, Dec. 14, with seatings at 9 a.m. and noon. The $45 kit includes a gingerbread house, decorations, chef's hat, crayons, jingle bells and a child's apron. Tickets are $15 per person and Santa and his elf will make a guest appearance. Reservations are made through Eventbrite.
Watch a parade
The 69th annual Cortana Kiwanis Christmas Parade rolls at 5:30 p.m. Saturday, Dec. 14, in downtown Baton Rouge. Typically, the parade includes about 80 entries, a mix of marching bands, celebrities, dance troupes, non-profit organizations and local businesses in seasonal themes. But arrive early for the Battle of the Bands, which begins at 4 p.m. and includes marching bands from the Baton Rouge region.
Take a Sleigh Ride
The Queen City Christmas Festival in New Iberia will include photos with Santa, train rides, hot chocolate, reindeer and a Kidzone activity area for children from 5-9 p.m. Saturday, Dec. 14. The highlight will be a Southern Sleigh Ride, excursions in a horse-drawn carriage or tractor wagon at Bouligny Plaza.
Write to Santa
Rip Van Winkle Gardens outside New Iberia offers its second annual Frosted Christmas at the Gardens on Sunday, Dec. 15, where ages 4-12 will decorate cookies, write to Santa, enjoy ice cream, play games and more. There will be two sessions — 11 a.m. to 12:30 p.m. and 2:30 p.m. to 4 p.m. — inside the newly renovated Bayless Center. The cost is $28 per child who is participating in the activities, to be paid in advance through Eventbrite. For each participating child, three nonparticipants are admitted free. For more information, call Stacey at (337) 201-1952 or email thefrostedapron@gmail.com; Nick Delcambre at (337) 577-1361 or email nick.ripvanwinkle@gmail.com.
Make a Joyful Noise
Get in the holiday spirit when the Holy Ghost Gospel Choir presents "Make a Joyful Noise" from 6 p.m. to 8 p.m. Tuesday, Dec. 17, under the decorated oak trees of Courthouse Square in downtown Opelousas. The event marks the 100-year Centennial Celebration of Holy Ghost Church and the City of Opelousas' 300-year celebration which takes place in 2020.
Welcome Winter
Mark the winter solstice with a bonfire, s'mores and stargazing when the sun sets over the Black Bayou Lake National Wildlife Refuge outside Monroe. The fun begins at 6 p.m. Saturday, Dec. 21, at 480 Richland Place Drive in Monroe, marking the shortest day of the year and the official start to winter. But don't worry, from here on the days only get longer.