A tapestry of art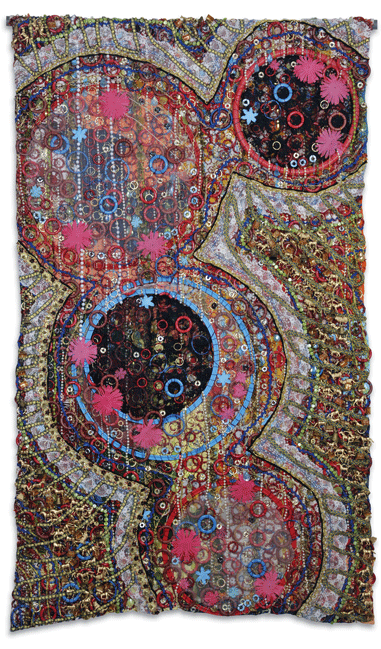 In a 1996 exhibit of Louisiana art that traveled to London, British art critic Edward Lucie-Smith got at the very heart of New Orleans and South Louisiana art: "Some links to the immediate environment are obvious: For example, artists often make use of imagery which reflects the annual festival of Mardi Gras. Other hallmarks are subtler. … New Orleans artists offer themselves a certain liberty to reject the fads which often sweep the New York art world. They are under less intensive pressure from both critics and their peers to conform to whatever the latest orthodoxy may happen to be."
Lucie-Smith's description of Louisiana art couldn't have been more evident than at Prospect.1, the international art biennial that took place in New Orleans in 2008. The citywide art show featured critically acclaimed contemporary and avant-garde artists from the U.S., Europe, Africa and South America. Yet, in many respects, the real standouts in Prospect.1 were Louisiana artists with their artistic vocabularies seasoned by the culture of South Louisiana.
One of those Louisiana artists was Shawne Major of Opelousas. Her large, intensely colorful, rhythmic and visually sensual tapestries shown at the Contemporary Arts Center in New Orleans turned heads and demanded attention. Viewed from afar, they are radiant with visual power and curious patterns. Up close, it's like viewing molecules of matter: You see incongruous items –– such as kitschy pieces of bright fabric, plastic toys, doll clothes, plastic swords, military buttons, watch parts, Asian money, fake furs from Israel, small electrical circuit boards and other little fetish-like objects she gleans from modern society, finds at garage sales, gets from friends and family or buys on eBay –– sewn together, seemingly at random. When you see the composition as a whole, you realize her abstract art is not the world of landscapes, still lifes or the visual reality we know so well. It is pure imagination shaped by every reality.
"They are about what I'm thinking about at the time," she says. "I try to use things that relate to people's lives. That brings their energy into my work. Some people ask me if I work out the design before I start. I don't. I'm responding to what's there, to the colors, to the shapes. It's not lit up for me. Sometimes I see the path. I never know what it will look like, but I know what I want it to feel like. The rhythms in the work might be reflective of things in my life. Originally, I was a painter and used objects in my work. I gave up the painting because I felt objects have more weight."
In an April 2009 video interview for her show at Irvine Contemporary in Washington, D.C., Major described her thoughts: "I was thinking about how people perceive their realities and how as a young kid you might have a blank slate and eventually you form these screens that you see reality through that have to do with religion or cultural associations or family experiences. I felt you can never see a reality that another person sees because of your own screens."
Major's multimedia, sculpted tapestries –– or as she calls them, "physical paintings"–– are not simply raw emotion but intellectual and emotional responses to inner thoughts, the world around us today and the disposable consumerism of modern society. They reflect her memories, experiences, changing moods and reactions to the flashing images of the evening television news that interweaves wars and destruction with trivialities. The composition Animal Faith (2007), for example, is made up of plastic netting, fabrics of various colors, lace, doll hair, wooden and plastic rings, ribbon, buttons, chain, beads, buttons, eyeglasses, costume jewelry and other equally quirky items. Animal Faith, she says, is about pressures caused by fear, irrational or not. The 9-foot-by-14-foot tapestry War Channel (2008) is another example of Major's reaction to world events. "I was thinking about how the rest of the world was looking at the United States," she says. "It was partly a commentary on the news where we see such horrendous things happening mixed in with so many light things that it becomes like wallpaper." She also is interested in the "symbolic values of colors and shapes that have real world significance and how they affect us."
An essay in the catalog for the April show in Washington describes her work this way: "The works also project a sensuality, materiality, and fetishism of objects that separate Shawne Major's approach from other artists who work in fabric or hand-sewn structures. Major isn't interested in gender arguments: her compositions are about the human condition at our historical moment, about art making as still connected to ritual, fetish, the handmade object, and the struggle with chaos, about answering the volumes of discarded consumerism objects with a personal levee against the flow."
Where painters use pigments and brushes and sculptors use clay, wood or metal, Major's palette is composed of "discarded consumerism objects" that have personal meaning to her or to other people. She used a different analogy in the video interview for the April show. "I choose objects like a writer chooses vocabulary," she said. "When the piece is done, it reads as a novel and you can read deeper and deeper. It's multilayered … to tell a story."
Sewing objects together came naturally because she has sewn and collected "stuff" since she was a little girl. "My aunts showed me," she says. "Sewing seems more important and personal, and it's an important method of connection." Major grew up in New Iberia with her mother and four siblings. She now resides in the farm country near Opelousas with her two children, Ruby and Arlo; her husband, Sanjay; two dogs; and a mix of farm animals. She studied art at what is now the University of Louisiana at Lafayette and later at Rutgers in New Jersey. Major's earliest inspiration was Robert Rauschenberg (1925-2008), the Texas-born pop artist who in the 1950s and '60s became an icon in American art by incorporating in his paintings newspapers, cardboard and found objects and images. "Because of him," Major says, "I can make anything I want."
After a few years in Brooklyn and New Jersey, where she met her husband, Major and her family returned to Louisiana for a visit. The turning point came after the Twin Towers tragedy in 2001. Major and her husband wanted to get out of the city, perhaps to somewhere in Upstate New York. During a 2003 visit to Louisiana, however, they decided to stay. Her father's old house in the country was available, and it came complete with 4 acres of land and a large horse barn that would make a great studio. "Here it's beautiful, and I know more people here, and I get to hear more music," she says, mulling over the reasons why they swapped the intensity of Brooklyn for life in rural South Louisiana. Roots are hard to move.
Major is currently working on a new series of small tapestries that she calls "pelts" because they look like small animal skins nailed to barn wall. They are about desire, she says. "I was thinking about fetish objects, about sexual desire, money desire and anything else we're dying to have."
Screens, filters and the little objects that fill our lives and perceptions of the world are all part of how Major  describes her art. In the end, however, she gives us magnificent moments to search our own imaginations.
Major is represented by Heriard-Cimino Gallery in New Orleans and Irvine Contemporary in Washington, D.C.