A Walk On The Wild Side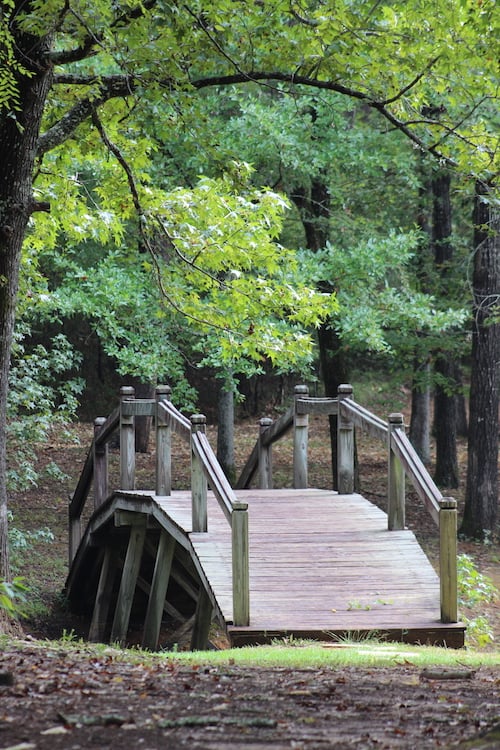 This time of year, the cool weather beckons for us to get outdoors. The trees are turning, the crisp air makes our cheeks turn rosy and the sunny weather – hopefully – adds a welcomed layer of warmth, unlike the brutal heat of summer. Then there's that massive turkey dinner looming ahead of us this week, followed by a month of holiday treats, so a walk in the woods may be just what the doctor ordered. Literally.
One of the finest parks in Louisiana exists a few miles above Ruston, offering plenty of ways to get back to nature and refresh. And, if you're a bike lover, Lincoln Parish Park has been rated by many as having one of the best mountain bike trails in America with its 10-mile challenging course.
Overall, Lincoln Parish Park contains trails crisscrossing throughout the park for hikers, casual walkers and bicyclists, whether through woods, by streams or along the 1.25-mile stretch around a scenic lake. The Tree Identification Trail teaches visitors about the area's indigenous trees, thanks to the North Central Louisiana Master Gardeners, and a woodsy trail takes visitors besides a man-made waterfall.
In addition, the park features covered pavilions, picnic tables and benches for those wanting to picnic or enjoy family and friends; it's a perfect spot for family reunion fun. Near to the lake is Legacy Park, a fabulous playground for children, and pets are welcomed if on leashes. Kayaks and canoes are allowed on the lake and lake fishing is permitted from non-motorized boats as well as from piers.
For the traveler, Lincoln Parish Park contains an RV park that faces the lake. Each spot with full hookups for water, sewage and electricity costs $25 per night and primitive camping with access to electricity and campfires is $17 per night. Free Wifi is also available in the park. For camping reservations, contact the park at (318) 251-5156.
For more information on Lincoln Parish Park, visit rustonlincoln.com. To learn about special activities such as bike races and the condition of trails, visit the park's Facebook page at facebook.com/Lincoln-Parish-Park.
On a final note, Lincoln Parish Park may be a great outing this time of year, but do visit in the summer when the lake is open for swimming.