Above the Clouds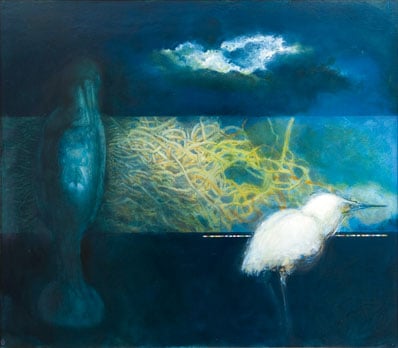 Gaither Pope is a poet –– not with words but with impressions, the stroke of a brush, the lasting imagery of a strain of music or clouds drifting above the landscape. His images of Louisiana are not the realism of the Victorian painters who remain so popular among art collectors even today. Yet his paintings of South Louisiana's watery prairies and dark swamps, though less literal and more intuitive, are as much devoted to light as the works of the 19th-century luminist painters.
Pope, who resides in Baton Rouge and teaches drawing and painting at Nicholls State University in Thibodaux, is a native of Jackson, Miss., who came to Louisiana to study art. He sealed his permanent residency in Louisiana, however, by marrying a Louisiana woman. With degrees in art from Tougaloo College in Jackson and Louisiana State University, where he studied under legendary teachers and artists Robert Warrens, Michael Crespo and others, the 55-year-old Pope found his artistic voice in South Louisiana. "There's quite a bit of drama in the Louisiana landscape, more than people understand," he says. "When I first got to Baton Rouge in the mid-1990s, I was fearful. I was so unfamiliar with the landscape. There are some similarities with Jackson, but it's different. My early paintings in South Louisiana were very green. The light here, the way it filters through the trees, gives it a quality that I have developed a strong affinity for. That light finds its way into my paintings."
A writer once said Pope's "work alludes to a physical environment in addition to a theoretical one." At times, Pope's imagery may be only suggestive, such as in Raku, with the painting of a piano on top and, below, a small airplane flying through dark clouds. In the painting Teleporting, a thin multi-colored line cuts across a roiling cloudscape. In Poet and Fan Dancer, a crow or raven sits atop a violin while an egret dances off in the distance.
Although he doesn't intend for it to be narrative or even obvious, the artist is in a way telling a story about all of those sounds, sights and experiences that drift in and out of our lives. In Raku, for instance, the piano represents stories Pope heard about Fats Domino's famous piano being washed away by Hurricane Katrina's floodwaters. Fats lives in New Orleans' now-well-known Lower Ninth Ward. "It stuck in my head, and I liked the form," Pope says. As in many of his paintings, the lower portion of the canvas is filled with dark clouds over a partially visible landscape below.
Successful landscapes generally include dramatic cloud formations, but we usually see them from the ground looking up or off in the distance.
Pope's perspective is from above the clouds, looking down through them to the land. This unusual view is even more evident in the painting Teleporting, where, as Pope says, "you're not really in flight but being carried across the landscape." This above-the-clouds idea came to him when he flew from New Orleans to Chicago. As he looked down from the window, the clouds and passing landscape struck him. "I looked out and said, 'I've never painted like that.'"
In Beat Poetry Night, Pope divided the canvas into three separate visual sections. In the bottom portion, we see a black bird, which Pope describes as a contemplative "beat poet," and the dancing egret is Louisiana. The painting in the center, he says, is a more traditional landscape, while the top section is an interplay among the sections. Theme Park Closed is another in this series. The bottom imagery is from aerial photographs. Pope invented the rocky island above, with its strong Asian influences. "It occurs to me," he explains, "that the first landscapes I saw were in the Mississippi Museum of Art's collection of American art. I like the luminist painters, and my paintings have a spiritual quality of light like they [the luminists] did –– not spiritual in the religious sense. I think you can see that in my paintings. The island has the look of a theme park. It evolved as I painted."
Pope loves to play with space by dividing the canvas into sections. Each section may or may not include imagery that relates to the others. These divided canvases are like pages in a book or magazine and date back to his days working as a printer in Mississippi. Yet unlike the progressive storyline in a book or magazine article, Pope says he never tries to tell stories. Images in his paintings, such as the birds and piano, are recognizable, but they are not set into a narrative. These images often come from things that he has seen or places that he's been and stored away in his memory. "The Louisiana landscape informs me," he says. "We always get more visual information than we use. When you drive down St. Charles Avenue in New Orleans, you see so much in the landscape, like the old live oak trees that form a cave or tunnel along the avenue. Those things filter through. You make decisions while you're painting because you can't be totally intuitive. You're editing paintings all the time. I try to make a painting poetic, not in similes but in the way poet Allen Ginsberg taught me –– 'First thought, best thought.'"
At times, Pope does small preliminary drawings or takes photographs as field notes for later use in the studio, but he does not paint directly from those studies or photographs. They are starting points for whatever rises in his imagination as he paints. When he doesn't do preliminary drawings, he goes directly to the painting surface, usually a wood panel, and paints in shapes, lines and zones. The painting evolves slowly as he adds imagery. "I don't know what they will be," he says. Pope often works on as many as 12 paintings at a time. "Things that happen in one painting," he says, "may move into another."
Pope pulls out a small black book filled with drawings he made during a recent field trip with Nicholls students and faculty to Port Fourchon on the South Louisiana coast. It has little sketches of birds, reeds, shells, beach scenes and sections of the mid-19th-century Fort Livingston across the pass from Grand Isle. "We were there in October when it was overcast and cold," he recalls. "I was on an island, looking inland. The light was diffused and dramatic. The water was greener than usual. It's beautiful." These visual elements, he says, may eventually end up in paintings. In fact, one painting has already been influenced by this trip. Called Fourchon (Shifting), it is a split-canvas landscape with a dramatic seascape above a dark, brooding lower section. It seems almost metaphoric of the fact that rising sea levels are washing Port Fourchon and Grand Isle away. "It's moving in the wrong direction," he says of the slowly disappearing coastline.
In a way, Pope's work –– especially when the viewer is "being carried across the landscape" –– calls to mind what famed magic-realist painter Andrew Wyeth once said about his own paintings: "I don't want to be an artist strong in the picture. I am an instrument. . . . I wish I could be nothing, just float over the woods and fields, which is what I'm after in my painting." In Pope's paintings, viewers float above the clouds and across the landscape of Pope's imagination.