Abstract Narrative
The Helis Foundation John Scott Center in New Orleans celebrates life's work of the acclaimed artist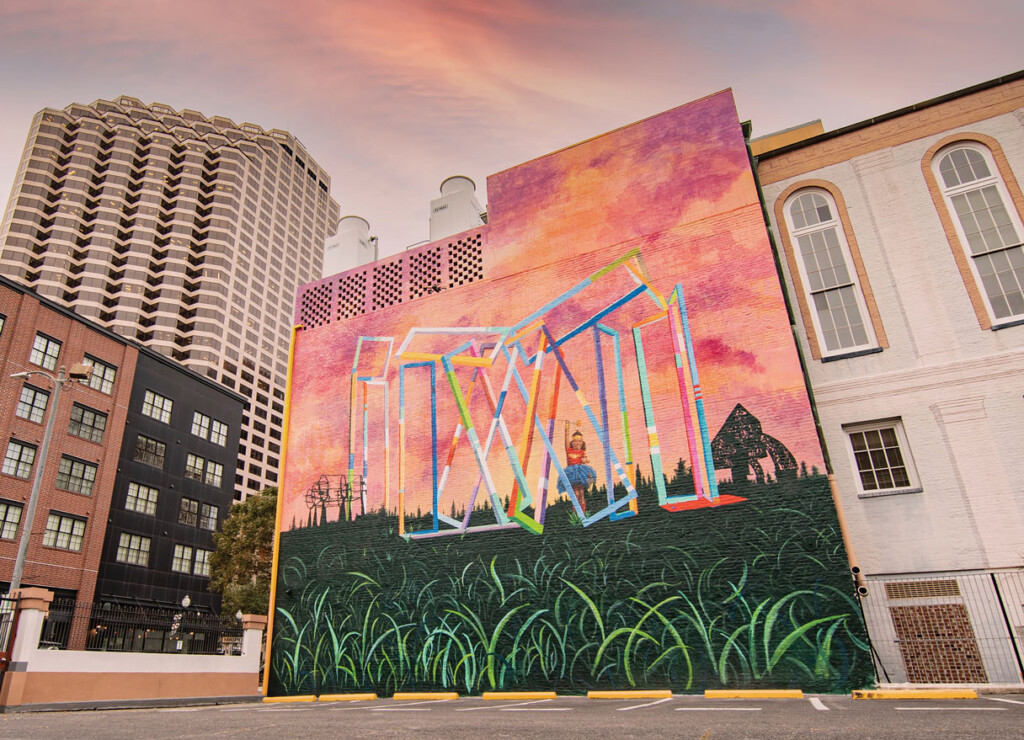 Commemorative statues are everywhere in Louisiana. We have them for soldiers, explorers, musicians, sports figures, politicians and saintly people. Now, New Orleans has a new monument that celebrates the work of the nationally acclaimed New Orleans artist John Scott whose lifetime of art gained him a following only dreamt of by most artists.
This tribute to Scott, who died in Houston in 2007 after two double lung transplants and a long struggle with pulmonary fibrosis, is not a statue or plaque, but the Helis Foundation John Scott Center that occupies the entire first floor of the Louisiana Endowment for the Humanities', or LEH's, mid-19th century building at 938 Lafayette St. in New Orleans.
"The Endowment," says LEH executive director and president Miranda Restovic, "committed to John Scott as an artist nearly 20 years ago when we began amassing a permanent collection of his works. I have come to believe that the art, the man, and his philosophy embody all that the LEH has stood for since our founding more than 50 years ago."
Financed by a $2.6 million campaign and major support from the Helis Foundation, the Center contains 51 artworks documenting Scott's spiritual and artistic journey and connection to a place, a people, a religion and rhythms rising from the streets of New Orleans. His bright polychromatic metal sculptures and black-and-white prints represent physical and spiritual bridges between life, the imagination, creativity and mythology. The LEH owns most of the 51 objects on display. Others are on loan from the Scott Family Trust, the Arthur Roger Gallery in New Orleans and Xavier University. On the outside wall of the LEH building, Scott's son Ayo painted a four-story mural commemorating his father's public art located at various points around the city.
"It's not a museum and it's not an art gallery," says the Center's director Asante Salaam. "It's a hub, a gathering space with art as a starting place, an entry point to have a conversation, roundtable discussions, workshops about art, culture, social change, about our human potential, about how to make our world brighter and better for the people in the future. He addressed those concerns through his art and teachings. We're tying it to the LEH's commitment to education, using those ideas of art and culture, and social change."
Salaam is planning traveling exhibits in partnerships with other institutions around the state. The shows, she says, will include the work of other professional and upcoming artists "with parallel ideas about critical issues we face in our life and in our society." The staff is also working with educators to make his work more accessible to children.
Scott's art and worldview are nothing new to Salaam. She attended his sculpture classes at Xavier University. But an even deeper connection, Scott and her father Kalamu ya Salaam, a New Orleans writer and cultural events organizer, were close friends. She wants to bring that intimacy into the Center.
Walking through the Center, one understands that Scott was indeed a New Orleans original, who portrayed the human spirit in brightly colored metal rods, suspended on high-tensioned cables in a silent dance between myth and fable, between the rhythms of the street and currents of air. He created abstract monuments to a shared past. His art is not a single story but one that is universal. Aside from the narrative, one can simply enjoy Scott's work for its complex and graceful beauty.
During his long career as an artist and teacher at Xavier University in New Orleans, Scott gained national acclaim. In 1992, he received the John D. and Catherine T. MacArthur Foundation's prestigious "Genius Grant," and in 2005, the New Orleans Museum of Art recognized his contribution to American art in a major retrospective, "Circle Dance: The Art of John T. Scott."
Scott drew heavily upon the city's rich African-Caribbean culture and musical heritage in creating kinetic sculptures exploring themes from West African mythology or rhythms inspired by the dances of enslaved people in the early 19th-century in the city's famed Congo Square. Others capture the symbolism of his Catholic upbringing, such as in his 1970 steel sculpture titled "Urban Crucifixion" made of welded gun barrels.
"I think my sculpture is a lot like the blues and jazz," he said in a 2002 public radio interview with New Orleans artist Jacqueline Bishop. "If one looks at the blues, the blues is a narrative. It's a story. Jazz just elevates the blues leaving the storyline out and just taking the structure. I think my work can be taken on many levels. It is narrative in nature but the narrative is very abstract. There are other times when there's nothing more than the rhythm, the color and the structure."
Scott often described New Orleans as "the only city that I've been in that if you listen the sidewalks will speak to you."
For more information, visit leh.org
Exhibits
Cajun
Envisioning the South: The Roger Houston Ogden Collection
Features artwork from largest collection of Southern art, through Aug. 20. Paul and Lulu Hilliard University Art Museum, Lafayette. hilliardmuseum.org
Central
Environmental Impact
Traveling exhibit focused on environmental issues, March 4 through June 18. Alexandria Museum of Art. themuseum.org
Plantation
Wild Bees
Photographs by Paula Sharp and Ross Eatman, through April 30. Louisiana Art & Science Museum, Baton Rouge. lasm.org
NOLA
Katherine Choy: Radical Potter in 1950s New Orleans
Works by this nationally acclaimed artist, through April 16. New Orleans Museum of Art. noma.org
North
Bloom!
Seventh annual show featuring worldwide floral art, March 24 through May 7. R. W. Norton Art Gallery, Shreveport, rwnaf.org