Adventurous Classics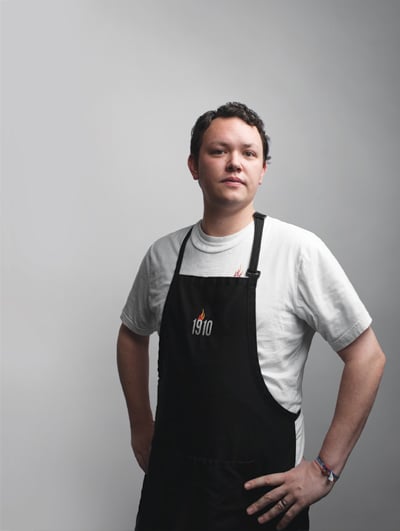 Chef/owner of Lake Charles' 1910 restaurant, Andrew Green, is a native of the area who is finally back in his hometown after bouncing around to Houston (as a child) and New Orleans (as a young adult). Over the course of his culinary career, he trained at some of New Orleans' most prestigious restaurants, including Herbsaint, August and Bayona. He quickly worked his way up from dishwasher to assistant manager in the Crescent City before moving back home. Now, at the helm of 1910, he serves a combination of classic American and Cajun food, using French cooking techniques with sauces and proteins. "We try to use as many local ingredients as possible," he says, adding that much of it comes from Inglewood Farms, which has the largest certified organic soil farm in the state. "Fried gumbo balls are one of our specialties," he says. "We call them gumbo croquettes served with filé aioli and potato salad puree … One of biggest challenges has been balancing what will impress guests and what will be too weird or out of their comfort zone… our menu is a blend of common items that people have heard of and also some semi-new and adventurous items like pork cheeks."
---
1910
949 Ryan St., Lake Charles; (337) 602-6278, 1910.la
---
Sauteed Scallops with Kale and Charred Tomatoes
8 fresh U-8 dry packed scallops
¹⁄³ julienned red onion
1 tablespoon butter
2 cups stemmed kale
4 sliced cherry tomatoes
salt and pepper to taste
vegetable oil for sautéing
buerre blanc
2 cloves chopped garlic
½ shallot
1 sprig thyme
1 cup dry white wine
1 cup cream
¼ pound of butter
1. Pat scallops dry with paper towel and add salt and pepper. Cook for four minutes on each side in a heavy-bottom sauté pan. Remove from pan.
2. Saute red onions in another pan with one tablespoon of butter.
3. Once butter separates, add kale and cook over medium heat for about five minutes. Char sliced cherry tomatoes in hot skillet for about 30 seconds. Remove from heat.
4. buerre blanc: Saute garlic, shallots, and thyme until aromatic and just barely turning color, add wine and reduce au sec (until dry); add cream and reduce by half. Remove from heat and slowly melt in butter.
5. Plate kale with beurre blanc sauce. Add scallops and cherry tomatoes.
---