Alligator Man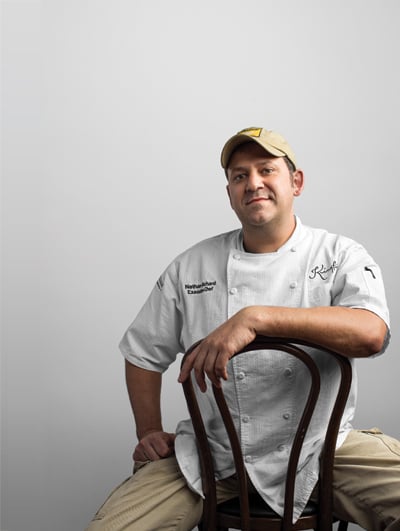 Cajun chef Nathan Richard advises people to "run in a zig-zag motion" if they ever get chased by a gator. He cooks them "nose to tail" during wild alligator season, when a special menu is served at Kingfish in New Orleans, the hip haven named for flamboyant former governor Huey.
It's Richard's first post as executive chef. He grew up in Thibodaux hunting gators and ducks, fishing and foraging. He signs his emails "Peace, Love and Boudin Grease." It should be "Fifty Shades of Boudin" for his bold and voluptuous variations.
"The higher you hang the raw chicken from the tree, the bigger the gator. The big ones can jump higher," he explains. Chef Richard's charcuterie skills were refined in Europe, then honed under Donald Link, followed by John Folse at Restaurant R'evolution.
One of his specialties includes alligator "ham" – made from alligator tenderloin brined in brown sugar, peppers and garlic and smoked for eight hours. "Most people just use the tail," Richard quips. His gator creations range from Wellington to lemongrass satay. "Cattail pollen can be used for flour, so I created cattail pasta with alligator. I always say, whatever lives together goes together."
---
Kingfish Kitchen & Cocktails
337 Chartres St., New Orleans
(504) 598-5005
kingfishneworleans.com
---
Alligator Bolognese with Cattail Pollen Pasta
3 pounds ground alligator meat
3 cups yellow onions, diced
1 cup celery, medium diced
1 cup green bell peppers, diced
½ cup poblano peppers, seeded & medium diced
¼ cup jalapeño peppers, seeded & medium diced
1 cup grated carrots
6 large garlic cloves, finely chopped
4 tablespoons olive oil
1 bottle Pinot Noir
2 cups Creole tomatoes, peeled, seeded and diced
1 tablespoon tomato paste
1 tablespoon chopped
fresh oregano
½ tablespoon red pepper flakes
1 cup heavy cream
3 tablespoons chopped fresh parsley
Kosher salt and freshly ground pepper to taste
6 fresh torn basil leaves as garnish.
freshly grated Parmigiano- Reggiano cheese as garnish
1. In a 5-quart cast iron Dutch oven or a heavy-bottom saucepan, warm 2 tablespoons of olive oil and evenly brown alligator meat over medium heat. Set aside.
2. Add the rest of the olive oil and saute onions, celery, bell pepper, carrots, poblano pepper and jalapeño pepper until onions are translucent. Add garlic and continuously stir until golden.
3. Deglaze the pot with Pinot Noir and add ground alligator; decrease heat to a low simmer and reduce by half. Add tomato paste, diced Creole tomatoes, oregano and red pepper flakes. Simmer for at least 3 hours (5 tops), and stir frequently to prevent sticking to bottom of the pot. If too thick, add more water or wine.
4. Season with salt and pepper to taste. Stir in heavy cream and gently warm for another 10 minutes.
5. Toss the mixture with hot prepared pasta (cattail pollen pasta is optional; use the pasta of your choice). Garnish with parsley, basil and freshly grated cheese to taste.
makes 4-6 servings