"Amazing Grapes" auctions fine wine to preserve history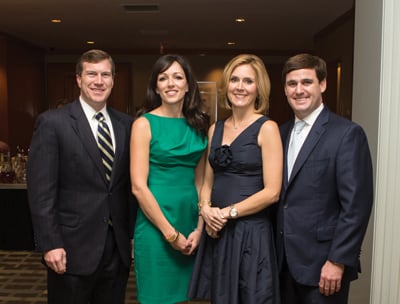 New Orleans would be lost without its history. Holt Kolb and Cara Ogg organized a spectacular night on March 1 to raise money for Hermann-Grima+Gallier Historic Houses. Hermann-Grima and Gallier are two geographically separate house museums, accredited by the American Association of Museums as one institution. They are dedicated to illustrating life in the "Golden Age" of New Orleans and also offer "educational, entertainment and interactive programming" related to preservation in New Orleans. Funds raised will benefit both the programming and the preservation of the houses.
The "Amazing Grapes Fine Wine and Entertaining Auction" was an elegant evening featuring a seated three-course dinner with wine pairings catered by Trinchero Family Estates. There was also a silent auction and an exciting live auction where guests won an original Hunt Slonem oil painting, vacation packages, Elizabeth Locke gold earrings and, of course, bottles of wine. The main event was preceded by a patron party with passed hors d'oeuvres and champagne, and a patron auction board.
The fundraiser isn't the only way to support Hermann-Grima+Gallier Historic Houses and preservation in New Orleans – anyone can become a member of the museums.
---
Event at a Glance
What: "Amazing Grapes Fine Wine and Entertaining Auction," benefiting Hermann-Grima+Gallier Historic Houses
When: Friday, March 1
Where: Westin Canal Place