Arkansas Adventure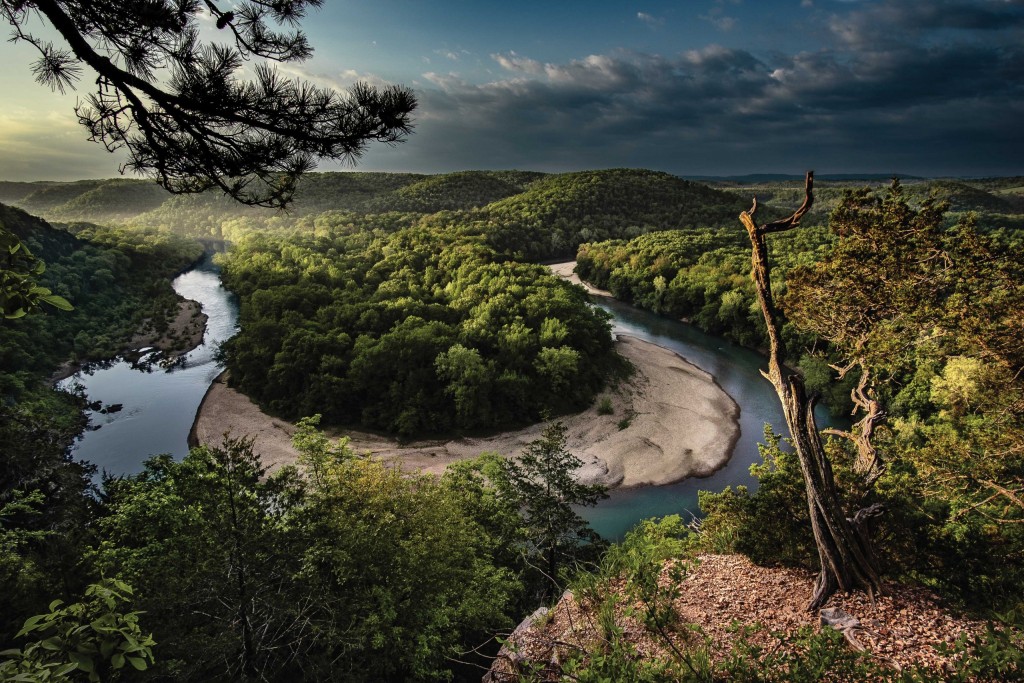 It's a long drive from the Louisiana border to the Arkansas highlands, whether visiting the Ouachita Mountains near Hot Springs or the Ozarks blending into Missouri. If you're headed to higher ground this spring, or just need a road trip to clear your mind, spend those long hours along Scenic Byway 7, Arkansas's first state-designated scenic byway that begins around El Dorado, north of Ruston, and ends at the Missouri line east of Eureka Springs.
The 290-mile road trip takes visitors from the West Gulf Coastal Plain in the south, through central Arkansas hills and the Ouachita Mountains to the west and ends in the mid-Ozarks along the Buffalo National River. Visitors will enjoy four geographical regions of the Natural State, plus view numerous historic sites, state parks and other great outdoors attractions and plenty of spots to pause for Southern cuisine and a slice of Arkansas possum pie.
Eat
The Byway begins at the Louisiana border, just south of the former oil town of El Dorado. Stop for coffee at the Olde Towne Store within El Dorado's historic downtown square, once voted as "America's Best Downtown" for its restoration efforts. In addition to baked goods, the store sells healthy items for the long trek north.
Northwest of Little Rock, Route 7 winds into the Ozark National Forest, bursting with natural life this time of year. This long stretch of road provides some of the most scenic views in Arkansas, including the "Grand Canyon of the Ozarks" south of Jasper. The best place to view this vista is while enjoying a meal at the Cliff House Inn and Restaurant with its dining room perched on the mountaintop. Be sure to end your meal with their signature "Company's Comin' Pie."
Take the Waters
Over the years, millions have visited historic Hot Springs to enjoy its mineral-laced waters bubbling from deep in the earth and arriving for our healthy use at a steaming 98 degrees (cooled down first, of course). Visitors have long enjoyed these waters along Bathhouse Row, now a National Historic Landmark District, and can still do so today at places such as Quapaw Baths & Spa. The town lies inside Hot Springs National Park, the oldest park in the National Park System — 40 years older than Yellowstone! Whether taking the waters, hiking the 26 miles of park trails or getting out on nearby Lake Hamilton, there's something for everyone.
Stay
Another first for the state is Petit Jean State Park, named for young Adrienne Dumont who fell in love with a French nobleman named Chavet. Dumont disguised herself as a boy and followed her love to America, landing in the Ouachita Mountains northwest of what is now Little Rock. Because of her size, Dumont was nicknamed "Petit Jean" by the ship's crew, but no one guessed her gender until she became ill and died. She asked to be buried on the mountaintop and her grave overlooks quite a vista. The park named for this small French woman became Arkansas's first state park.
Relax at the park's Mather Lodge and enjoy another breathtaking view of the mountains, along with a slice of possum pie and the ongoing visitations of hummingbirds. The park contains numerous hiking trails — including one to a dramatic waterfall — water sports on a lake, ranger events and more.
Get Outside
Here's another first — the Buffalo National River is America's first to be designated as such. And with good reason. There is so much to enjoy along this scenic north Arkansas waterway — kayaking, canoeing, fishing, hiking, camping and so much more — through some of the most beautiful terrain in the nation. To determine how you would like to enjoy the river, along with places to stay, dine and shop, visit buffaloriver.com.