Arnaudville: Going acoustic at Tom's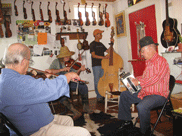 Bayou Fuselier meets Bayou Teche at Arnaudville. It has done so at that location for centuries.
That's not all the meeting that goes on in the town, which is split between St. Landry and St. Martin parishes. There is a burgeoning arts community. Back in November 2005 when much of the state was still digging out from hurricanes Katrina and Rita, the folks in Arnaudville had already decided to reshape their town as an arts community. With the opening of the Town Market Center that month, connoisseurs of life's fine things began to flock there looking for art either to create or to buy. And it wasn't just nearby residents who trekked to the town. As we admired a lap quilt she had created, a woman we assumed was a native artist gave us her card. She had moved to Arnaudville from Germany. Well, Bayou Teche is sort of like the Rhine –– but without Switzerland to the south.
Art begets elements of an art industry, including galleries; suppliers; and, in the case of Tom Pierce, a fix- it shop. From there, on Sunday afternoons, flow the sounds of one of the greatest art forms of all, fiddle music.
Love –– of a woman –– brought Pierce from his native state of Maine to Louisiana. Love –– of music –– keeps him in Arnaudville where he operates Tom's Fiddle & Bow. One room in his converted cottage on Fuselier Street is filled with various violin parts. That room also doubles as the kitchen. Another room is used for lessons. But it is the front room, really more of a porch, that has legendary status. On Sunday afternoons from 1 to 3, various fiddlers and string musicians from the area gather there for a little bluegrass, a little Cajun and a little crossover. The music is part of an ongoing event with a name that is bigger than the room: the "JAMbalaya Acoustic Music Jam."
Arnaudville has the expected small-town amenities, including a supermarket, a school and even a bit of a main street, but as evidence that the town is country at heart, one of the musicians, a guy wearing overalls, arrived at Tom's by horse. He tied his gray mare to the side of the building. (OK, maybe it wasn't a mare. I didn't check.)
Heavy rains the days before had caused Bayou Fuselier, whose path runs along the back of Tom's, to swell, pushing water onto the bank, not dangerously close but poetically close to the music.
Small towns are invariably described as being "sleepy" but not Arnaudville on a Sunday, where the acoustic sounds from Tom's echoed along a stretch of the bayou. The musicians, young and old, picked and sang the songs of the region where there is still a French dialect and "Jolie Blonde" is still queen.
Anyone worried that Cajun music, or its derivatives, is a dying music form needs only to drift down the Teche where the afternoon before, I heard a Cajun jam session at the Coffee Break coffee shop in Breaux Bridge and that morning, listened to zydeco at Café Des Amis and heard a Cajun band the night before at Mulate's, the landmark restaurant and dance hall that is arguably at the epicenter of the music. With so much picking going on, Pierce might have a lot of fixing to do.
Visitors came in and out and found spots to sit among the few porch chairs. At some times the musicians outnumbered the audience, but the music continued. There was a culture to be preserved.
Nothing sleepy about that.