Aron Belka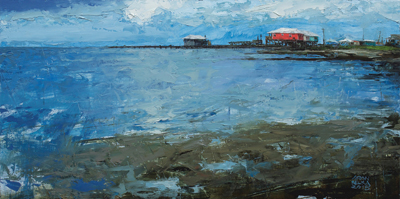 Aron Belka arrived in New Orleans in 2004 and, like many other artists before him, was seduced by the south Louisiana landscape. His large and painterly images of the fishing villages of Louisiana's coastal wetlands capture the drama and resilience of a people struggling to survive the devastating hurricanes and oil spills that threaten a centuries-old way of life.
Although numerous painters and photographers responded to the horrors left in the wakes of hurricanes Katrina, Rita and Isaac, Belka is among the few who sought to understand the lasting human toll those storms have taken on the state's coastal communities and their people. His remarkable "Working the Wetlands" series blends the introspective nature of abstract painting with the visual connections and passion of realism. His large paintings are like a veil that separates illusion from reality. Belka's spontaneous and gestural brushstrokes create abstract spaces that frame identifiable places and weathered faces of commercial fishing men and women. His finished paintings appear much like the chaotic destruction that littered the landscape after the storms fractured so many lives. What he found also profoundly affected his painting style.
South Louisiana was a strange new world for Belka and his wife, Lina Moses, when they moved to New Orleans from Albany, New York. Living in the Deep South, especially Louisiana, was never their plan, but then, that's how life goes. The Salt Lake City native graduated from Utah State University in 1998 with a bachelor's degree in fine arts. He and Lina married, moved to Portland, Oregon, then to Albany in 2001 where Lina got a job working in public health. Three years later, they were off to New Orleans and graduate school at Tulane University.
"We were excited to be in New Orleans for the one-year program and then move back to the Northeast," Belka says with a smile. "Katrina hit and Lina decided to stay at Tulane to get a doctorate in public health. Our plan was then to move to Boston or London after she finished the program. Things changed again. We are still here. The girls (their two daughters) got older and Lina got a faculty position at Tulane."

New Orleans is now home. "I love New Orleans, the people and the culture," Belka says. "New Orleans has a lot to offer, but it is still a small city. I am a New Orleanian." His only hang-up with the city and south Louisiana is the infernal summer heat, which is why the family travels north or west each summer. That is, until last summer, when they stayed in the city to complete his aforementioned "Wetlands" series for a show later that year at in New Orleans. "Now I know why we leave every summer."
Belka's series was his effort to understand an existential threat to a culture he barely knew. "When we first moved here I had never been south of Virginia and therefore had no experience with hurricanes or had ever seen a swamp," he says. "Katrina was a sobering introduction that spurred my curiosity about the impacts these storms leave in their wake and the resilient response to rebuild and remain. When Hurricane Isaac came through in 2012, I visited Plaquemines Parish the next day and created a small series of paintings based on what I witnessed. That trip subsequently triggered more interest in exploring the surrounding areas and inhabitants of southern Louisiana. The whole hurricane phenomena has put me in touch with what's outside New Orleans – the small villages, the devastation, and the beauty that is so fragile."
He spent the next year exploring the coastal parishes, visiting small communities such as Delacroix, Venice, Grand Isle, Cocodrie and Delcambre to see how these storms and the 2010 BP oil spill had affected the region's fishing culture and people. "In the beginning," he explains, "I was exploring my environment and surroundings in search of ideas. After nine months exploring the area, I eventually realized that I needed to talk to people and get their stories. For example, I really wanted to get on a working shrimp boat, so a friend of mine who is originally from Lydia in Iberia Parish and has a large Cajun family put me in contact with shrimpers in Delcambre."
A shrimper named Jesse invited Belka aboard his boat for Delcambre's 2015 blessing of the fleet. The trip resulted in a number of paintings, including portraits of several members of the Captain Toby crew. He recalls one crewmember named T-Rod. "I liked his face," he explains. "He was a life-long shrimper and his father built shrimp boats. He was a mountain of a guy but a nice and gentle kind of individual. He is now a welder." Belka says foreign seafood farmers, which are flooding national markets with cheaper-priced shrimp and fish, are forcing many locals like T-Rod off the boats and into other trades.
During his travels, Belka has gotten to know people who have fished the coastal waters for generations. "I feel like I'm starting to understand the resilient nature of these people and their desire to hold on to what they have," he explains. "These areas have a unique beauty, and the people that live there have built their livelihoods around those unique resources. I found these tight knit communities to be welcoming and sincere. They're proud of their heritage without being pretentious. It's a side of humanity that you don't always observe in urban areas."
The varied ethnic backgrounds he encountered also appealed to him. His paintings include large portraits of Vietnamese women in the markets of eastern New Orleans, descendants of Yugoslavian settlers in St. Bernard and Plaquemines Parishes, Cajuns along the south-central coast, and others who work the fish and shrimp boats and commercial seafood markets. Their faces express the strength of people who have seen troubles and survived. He took hundreds of photographs of these people at work for later use back in the studio. He didn't pose or interact with them as they went about their day in the markets or on the shrimp boats. "I wanted to be like a fly on the wall and capture snapshots to capture moments," he says, looking across the room at his large portraits of shrimpers and Vietnamese women staring out from the wall. "I searched out images of a community and natural world working the wetlands to survive."
To capture that emotional response to the fractured landscape, Belka changed his style of painting. Before coming to Louisiana, his paintings were abstracted geometric patterns found in the landscape as seen in aerial and satellite photographs. Later, a friend suggested he combine his abstract style with representational imagery. He did so and his paintings began showing up in major exhibitions, including the 2015 Louisiana Contemporary exhibition at the Ogden Museum of Southern Art in New Orleans. That same year, LeMieux Galleries gave him a one-artist show for his Wetlands series; the prestigious Joan Mitchell Foundation awarded him a five-month residency at its center in New Orleans; and he received the grand finale award at the 6th national Bombay Sapphire Artisan Series, a national competition that included ten finalists from galleries across the nation.
Although Belka has completed Wetlands and is considering other subject matter for future work, he will continue to explore the region and paint that fragile world. "The people I met were so incredibly helpful," he says. "I really did enjoy my time driving from Delacroix to Cocodrie. I want to go back and do more paintings. I gained a lot of respect for south Louisiana and its people while researching this series. "