Around Louisiana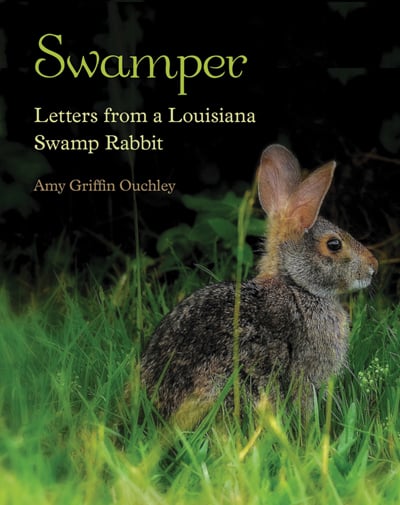 North
Letters from Swamper
Swamper, Letters from a Louisiana Swamp Rabbit, is an enchanting book for older children that will teach them all about the ecological life cycles of the swamp through the auspices of letters written to the reader by a likeable swamp lepus named Swamper. Swamper's letters chronicle his life and natural habitat in the swamp in a very personal, anecdotal way that also packs a huge educational punch. It all begins when the author, Amy Griffin Ouchley, a naturalist and environmental educator, tells the story of one day leading a nature hike in the bottomland hardwood swamp she lives near in Northeast Louisiana. Suddenly, a small brown rabbit darts out from the underbush. She knew it was a swamp rabbit because of the cinnamon-colored fur that ringed it eyes, and she and her students wanted to know more about him. Not long after, writes Ouchley, she began to find wet, muddy letters in a hollow stump near her home signed, "Swamper."
The book is a compilation of 12 letters Ouchley has received so far from the literary rabbit. His first letter describes the web of life in the swamp, the interrelations between the plants, mammals, and organisms so well meshed for survival. His world is "peopled" with his swamp co-habitants, e.g., Whisk, the white-footed mouse; Silk the spider; Cheery and Wendy, the Carolina wrens; and eventually Fern, the "rabbit of his dreams" and mother of all his little bunnies, Lichen and Moss. Among the letters and pages are line drawings of rabbits, owls, frogs and various swamp critters, accompanied by gorgeous photographs of the swamp and all its wild little population that flies, hops, crawls and climbs throughout its domain. At the end of each chapter, Ouchley places questions regarding what was discussed in the previous letter as a review.
Ouchley has tapped into pure gold with the creation of this book. As bewitching as a fairy tale, it remains a valuable educational tool perfect for summer reading that might inspire you to take the kids on a nature hike through the swamp. Ouchley has been named Conservation Educator of the Year from the Louisiana Wildlife Federation and regularly conducts field trips and workshops for both children and adults

Watermelon Festival In Farmerville
Just as crape myrtle trees that are full of lavender, white or fuchsia flowers color our days, scarlet plump Creole tomatoes gleam in gardens and stone blue cumulus clouds tower in the afternoon sky, watermelons are also a sign that summer has arrived in Louisiana. It's hard to find something more refreshing on a hot summer day than the deep pink fruit of a juicy watermelon.
Watermelons home-grown in the Bayou State are, by nature, sweet and juicy. Never is this more important than at Farmerville's Watermelon Festival. Competition is keen among Union Parish participants when it comes to picking the best watermelons each year. During the highly educational Interior Quality Competition of the Watermelon Festival, watermelons are not judged for looks or size alone. Following a breakfast for all growers who have brought their rotund fruit for judging, quality watermelons are judged for sugar content at the Union Parish Extension Service. Through the use of a refractometer, an instrument that measures the sugar content or soluble solids from the juice of the fruit, also known as brix, the winning watermelon is selected.
The Farmerville Jaycees, a group volunteers, founded the festival more than 50 years ago. Amid the serious but good-natured competition for best watermelon during the Festival, a host of fun activities abound. Events include a tennis tournament; parade; beauty pageant; bicycle and tricycle races; arm wrestling contest; watermelon eating and seed spitting contests; a best-dressed watermelon competition and a street dance. The festival is held July 25-26.
---
Information
Swamper, Letters from a Louisiana Swamp Rabbit
(225) 578-6666; Watermelon Festival, info@farmerville.org.
---

Central
---
River Running
In the introduction of his book, Running the River, the Secrets of the Sabine, author Wes Ferguson quotes Jack Kerouac who described the Sabine as an "evil, old river." The Spanish, who discovered it centuries before, were of the same mind.
West of Many, the Sabine has been harnessed into the Toledo Bend Reservoir, a lake 185,000 acres strong, largest in the South, 65 miles long and 10 miles wide with a dam that generates massive electrical power. It's also beautiful enough to provide recreational enjoyment. This is not Ferguson's Sabine.
The Sabine is considered Louisiana's "other" river, standing like a watery stepchild in the shadows of the Mississippi and Ouachita rivers. Sharing shorelines with both Texas and Louisiana, it was named "Sabina" (cypress) by the Spanish explorers because it was filled and lined with cypress trees. A native of Kilgore, Texas, and then a reporter for the Longview New Journal, Ferguson set out on a river odyssey with photographer Jacob Croft Botter traveling the murky river filled with water moccasins, alligators and mosquitoes from the Piney Woods of Texas all the way to the Gulf of Mexico. The book is a compilation of their adventures that includes being almost shot as they navigate the twisting, turning river. Ferguson gives Louisiana's other river and the strong and courageous self-proclaimed "river rats" who live off of it their just due by beautifully telling their story. His narrative is a combination of science, lore and history that corresponds to the rich river culture he encounters on his journey. At the river's source in Texas, he and Botter found it to be subtle and beautiful; when they reached the portion that borders Louisiana, the waters turn dark, murky and mysterious.
Ferguson writes: "Now the two of us intended to boat down the rest of the river where it charts the boundary between the states. We knew nothing about traveling the lower Sabine except that along the way the sun would rise in Louisiana and set in Texas, and we would fish, camp on sandbars and explore … at midday the forests parted and we arrived at the boat launch on the Louisiana bank…"
Ferguson's book is an evocative piece of writing and photography that reveals the richness of an unknown culture also shared with our Texas neighbors.

Celebrating Folklife In Natchitoches
This year, the Natchitoches-Northwestern State University (NSU) Folk Festival will commemorate the theme, "Tricentennial Natchitoches: Celebrating Louisiana's Folk Heritage." There in the oldest settlement in Louisiana, for two days in July the rich folklife heritage of the Bayou State will be lifted on high in the summer sun. Joyously replete with delicious food in an area renowned for its meat pies, music, dancing, fascinating craft demonstrations with equally fascinating narrative folklife sessions will be performed as Natchitoches and NSU does Louisiana proud.
There will be numerous opportunities to learn Cajun and line dancing. Also check out live music by Jesus Rhythm; Detention Center Choir; Back Porch Band; Jeffrey Broussard and the Creole Cowboys and more. The Louisiana State Fiddle Championship will be judged while some of the folklife discussion topics include Plantation Life; Rockabilly and Louisiana; Regional Folk Architectural Styles; The Legacy of Clementine Hunter. The festival takes place July 18-19.
---
Information
Running The River, sabineriverbook.com
NSU Folklife Festival, louisianafolklife.nsula.edu
---

Cajun Country
---
Cracklin Trails To You
Admittedly they can be called a heart attack in a bag, a really lovely bag with beautiful grease stains. They share many traits with that other heart attack in a bag, the doughnut. Cracklins, like doughnuts, are best eaten when fresh and warm right out of the fryer. Cubed or in strips, the pork skin, pork meat and fat are seasoned and then fried for at least an hour in hog lard, cooled, then fried again until the cook achieves that signature "pop." Cracklins, or gratons, have been gaining respect by some of the upper-echelon chefs, but at the heart of it all, they remain down-home country food.
Traipsing through Cajun Country the Cracklin Trail winds with crackling pit stops along the way, i.e., grocery stores or eateries known for their perfect crackling preparation. Rabideaux's in Iowa gets high marks for crispy, flavor-exploding crackins that nevertheless provides tender, perfectly seasoned meat within. Don's Specialty Meats in Scott, a facility loaded to the gills with boudin and cracklins, is a meatier version of this porcine delight that is very satisfying to the crackling connoisseur. The Sausage Link is Sulphur offers a lighter version of the graton, fluffy with a delicious seasoning that takes cracklins down just a notch.

Arts and Crabs in Lake Charles
Whenever there was a harvest moon in the night sky, my father used to announce, "The crabs are running fat tonight!" One of my happiest memories was a crabbing trip with my father, mother, brother and next-door neighbor at the crack of dawn on a Saturday morning when I was 5 years old. We found a spot filled with water lilies and struck crab gold. Louisiana loves crabs, and someone wisely decided to turn this affection into a celebration.
A deliciously imaginative and almost brand new festival has wrapped its claws around the hearts of festivalgoers in Lake Charles. The Arts and Crab Fest has, in the four short years since its beginning, sold out every hot August night that it takes place. Sponsored by the Arts Council of SWLA, the CVB, Southwest Beverage Company and FOX Channel 29, the Lake Charles Civic Center Coliseum is transformed into a mecca of exclusive crafts available for purchasing, surrounded by delicious food. Area restaurants and acclaimed chefs prepare dishes that are all crab- themed. Accompanying the dishes in exquisite pairings are craft beers from breweries including Tin Roof Brewing Company; Covington Brewhouse; Bayou Tech Brewing and Parish Brewing.
Chefs have been known to serve mouth watering crab delicacies that include crab cakes, crab gumbo, crab bisque, crab ceviche, crab gazpacho, crab sushi and crab beignets. They know their way around a crab when it comes to creating epicurean interpretations that complement the delicious flavor of crabmeat. People meander among the unique and exclusive arts and crafts, while some craftsmen demonstrate their handiwork, such as glass-blowing, right there on the premises.
Live music plays throughout the three hours of the celebration as each contributing restaurant vies to win the honor of having their dish chosen Best Crab Dish in the fest. This is determined by which chef's jar has received the most tips. The crab dishes change each year, but all are consistently representative of the restaurants' cuisine style and chefs' personality. Although it has the reputation of being irritable, and we give irritable people their name, it's funny that no one ever seems unhappy when eating a crab.
---
Information
Cracklin Trail, cracklintrail.com
Arts & Crabs Fest, artsandhumanitiesswla.org
---

Baton Rouge
---
Feliciana Hummingbird Celebration
There in the very genteel and charming town of St. Francisville, the Feliciana Nature Society holds its annual Hummingbird Celebration each summer. It's a quiet and charming affair that anyone who indulges in the pleasurable habit of hanging a feeder filled with sugar water, plants flowers that draw the little beauties to stop by for a sip, and are mesmerized watching hummingbirds feed will no doubt enjoy very much. Iridescent, infinitesimal and irresistible, hummingbirds are also easily irritated into fights when their own kind gets too close to their little stretch of nectar.
Gardeners throughout the centuries have treasured these little aerodynamic wizards whose blurring wings beat eighty times a second. They can also fly backwards. Strange as it may seem, despite their speed, it is possible to catch a hummingbird to weigh and band. Linda Beall and Nancy Newfield, hummingbird biologists, will give demonstrations during the Hummingbird Celebration as they harmlessly capture the feisty things and allow observers to get up close and personal by holding them in the open palms of their hands. With just a simple touch of the finger, the hummingbird will fly away.
Studies have found that the little hummers, also known as flying jewels because of their bright colors that catch sunlight so beautifully, burn as much as 12,000 calories a day flying and must eat at least half of their weight to survive. They usually weigh less than an ounce and are three inches long . They are drawn to anything that is the color red, hence the usual red color of the feeders and the planting of red tubular flowers just for the birds.
The St. Francisville area is a hummingbird breeding habitat. The Hummingbird Celebration will begin with a wine and cheese reception on Friday, July 26, 2014 on the beautiful grounds of Rosedown Plantation at 6 p.m. Two St. Francisville private homes and gardens belonging to Carlisle Rogillo and Murrell Butler will be opened the following day for the catching and weighing demonstrations. Hummingbird friendly plants will also be available to purchase; sage hummingbird attraction advice will be generously dispensed.

Beautiful Felicitation
Award-winning photographer Kerri McCaffety is already responsible for books that are gems such as Obituary Cocktail: the Great Saloons of New Orleans, and, Etouffee, Mon Amour: the Great Restaurants of New Orleans. Combine her photography with the rich text of the late Lee Malone and you have a little treasure of a book entitled, The Majesty of St. Francisville–Homes of the Felicianas. The Feliciana Parishes are called English Louisiana and McCaffety's photographs capture the subdued and stately beauty of historic homes built by English settlers transplanted from the East Coast to the haunting moss-laden and lush beauty of an area described by Malone as the most verdantly beautiful parishes in Louisiana…the soil was enriched for centuries by fine-grained, fertile loam deposited by transcontinental winds from glacial deposits and river deltas to the banks of the Mississippi. The lovely homes are sugar-white, sans any Spanish or French influence of vivid color, and they gleam in the green gloom of towering trees.
Exterior and interior photographs accompany a brief, yet fascinating history of nearly thirty homes that escaped annihilation from Union Army conflagrations. The rooms are filled with armoires that will take your breath away, satin puckered half tester beds, sweeping spiral staircases and parlors filled with furniture made by master cabinetmaker, Prudent Mallard. This book both reveals and tells the story of homes with names such as Catalpa; Propinquity; Rosale; Afton Villa Gardens–not omitted is the haunted Myrtles Plantation so beautifully photographed you don't even consider the alleged ghosts. There is a charming story about f Live Oak near Baines. A young girl saw a watercolor of Live Oak in a shop on Royal Street in the New Orleans French Quarter during the 1930's. She fell in love with the house, and as she purchased the painting she cherished for years felt that it was destined she would one day own the house and live there. Today, that same young girl who is Sue Turner, owns Live Oak with her husband, Bert.
---
Information
Audubon Bird Fest, audubonbirdfest.com, (800) 488-6502
The Majesty of St. Francisville – Homes of the Felicianas, (800) 843-1724
---

photograph by Jared Howerton
New Orleans
---
Bull Run
With a nod to one of my favorite authors, Ernest Hemingway, San Fermin in Nueva Orleans (the Running of the Bulls), and as a homage to Encierro of Pamplona (Pamplona's running of the bulls), will be held in New Orleans July 10-13. Replete with the Marques de Caceres Wine Dinner featuring those incomparable Spanish wines; La Fiesta de Pantalones (a gathering of Pamplonese dress attendees accompanied by cocktails and food); El Pobre de Mi (Poor Me) – a tapas brunch followed by performances of Ernest Hemingway-themed skits, dramatic readings and contests, the revered running of the bulls will take place on July 12 – no actual bull will gallop throughout Nueva Orleans, but 400 Rollerbulls that are played by skaters from New Orleans' all-female flat-track derby team, the Big Easy Rollergirls will do their best to gore participants. Joining the more than 14,000 runners are skaters selected from other roller derby leagues across the nation.

Inundated with Truth
To put it succinctly, Flood of Lies, the St. Rita's Nursing Home Tragedy, is one of the best books I have ever read.
Written in first-person by attorney James C. Cobb Jr., it begins as the trial of Sal and Mabel Mangano, owners of doomed St. Rita's Nursing Home in St. Bernard Parish where 35 bedridden patients died, allegedly to their negligence, is ending. Cobb, who has defended the elderly Manganos, who share an international reputation as the demons of Katrina, walks to the Magnolia Café in St. Francisville to knock back his signature Margarita as he ruminates over the events of the last years since he agreed to defend them. The jury has just received the case for final deliberation. Three hours later, Cobb is summoned from the café because a verdict has been reached. Considering the short deliberation time it a poor omen, he returns to the courthouse. The chapter ends just as the judge asks if a verdict has been reached. The book then spills into ensuing chapters that are a page-turning, impossible- to-put-down thriller that begins August 29, 2005, when Katrina devastated the New Orleans area. Cobb boldly recounts his own personal life thrown into turmoil because of Katrina; his merciless assessment of his past behavior as a lawyer who finds escape in dry martinis; his uncompromising investigation and exacting steps taken to defend the Manganos; his scathing disdain of the State Attorney General's Office that should never have brought the case to trial. He also questions why family members left their relatives to weather the storm without taking them away themselves – one woman who would evacuate on a route past St. Rita's told a staff member that, as they had two Labradors, there wouldn't be any room for her mother in their car.
Simply put, the Manganos had supposedly abandoned the elderly and infirm inhabitants of their nursing home in St. Bernard Parish strapped in their beds to drown in the floodwaters of Katrina. Some of the media, fueled by the sensationalistic press conferences of then State Attorney General Charles Foti, became feeding-frenzy piranhas.
Flood of Lies tells the harrowing true story of the Mangano family's heroism and dedication; they risked their own lives to save the nursing home residents, but were instead targeted as criminals by the State of Louisiana. Cobb's account of the trial, more engrossing a thriller than anything found in John Grisham's novels, is a revelatory anthem dedicated to the vindicating quality of truth. With brilliant and colorful defense witnesses like Dr. Brobson Lutz and Professor Ivor van Heerden, it's also a fascinating education on how a brilliant attorney navigates a legal obstacle course to defend two people in whom he fervently believes; comes to love and attains his own self-redemption in the process. Told with unflinching honesty, humor, righteous anger, wit as cool and dry as one of Cobb's beloved martinis, and with a healthy dose of Louisiana flavor, it can stand with some of the finest legal stories ever written. It could likewise serve as a 101 course on the anatomy of a complete miscarriage of justice.
---
Information
San Fermin in Nueva Orleans, nolabulls.com
Flood of Lies, (800) 843-1724
---