Around Louisiana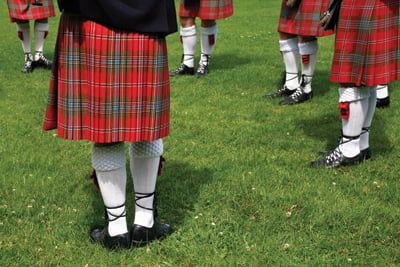 North
MEN IN KILTS IN MINDEN
There's a rich Scottish heritage in North Louisiana, a region that's home to descendants of Caledonia whose forebears left that high, cool Northland to brave settling in steamy Louisiana While the names Tassin, Broussard and Boudreaux might be common in southeast and central Louisiana, you won't be surprised to find many families with the surnames Montgomery, Cameron, Kyle or Cochrane residing in the northern tier of the state. And, with the true heartiness of a highlander, Lousiana Scots proudly showcase and celebrate their rich heritage by staging the Annual Scottish Tartan Festival. Sponsored by the Scottish Society of the Louisiana Hielands, a nonprofit group intent on fostering awareness of the beautiful Scottish culture in the Ark-La-Tex region, the festival is fittingly held at Scotland Farms in Minden. Dr. Alan Cameron and his wife Sharon own this rolling farmland that proudly breeds herds of longhaired and longhorn Highland Cattle.
The festival first undergoes a "kirking" at the Minden Presbyterian Church. Then it's on to Scotland Farms for a day of Highland celebration filled with bagpipes and drums, clan tents and Highland beef burgers. The festival is a spectacular sight to behold – men in kilts; ladies in laced bodices and plaid gowns; puffy shirts; tam o' shanters; balmoral headwear; and kilt hose from which might peak a semi-concealed Sgian Dubh (Sgin Dhu), the traditional Scottish knife. The wearing of the plaids is a dazzling color fest of scarlet, yellow, blue, green and black in rich jeweled tones of ruby, topaz, sapphire, emerald and jet.
Men are encouraged to participate in the Bonniest Knee Contest, judged by a blindfolded lady with discriminating hands. The Highland Games are represented with two of its events – the Caber toss (a long, tapered pole) and the Sheath Tossing (a burlap sack filled with 16 pounds of straw). Living history demonstrations are given along with stellar performances of cattle herding rendered by black and white Border Collies springing through the fragrant grass. A dog show competition, hayride with storytelling for the children and traditional Scottish sword and Irish dancing makes the celebration complete. The Scottish Tartan Festival should not be missed, if for any other reason, it's a hoot, man!

GLADIATOR GAMES IN SHREVEPORT
Garnering a huge thumbs-up of approval from the imperial North Louisiana publico, the Northwest Louisiana Battle of the Gumbo Gladiators Cook-Off will hold its third annual celebration this year. The Festival Plaza in downtown Shreveport, temporarily transformed into a coliseum-like corridor where the sound of clanging spoons echoes throughout the tents (accompanied by the savory scent of simmering gumbo assailing the nasus), will be the site of the noble clash.
This Battle of the Gumbo Gladiators was the brainchild of the Volunteers for Youth Justice group (VYJ), a nonprofit organization that needed an innovative fundraiser for their organization. The purpose of the VYJ involves training volunteers to facilitate advocacy and intervention for youths in possible danger of neglect and abuse. Not forgotten are the youngsters who wind up in the juvenile justice system. Founded by members of the First Presbyterian Church of Shreveport in 1981, the VJY also strives to rehabilitate first time offenders.
It's a team effort. Cooks, tailgaters, chefs and caterers form gastronomic alliances to create the gumbo that would render one of the teams the title of: Ultimate Seafood Gumbo Gladiator; Ultimate Nonseafood Gumbo Gladiator, or Gumbo Gladiator of the People. Five celebrity judges are given the daunting task to crown the winners, tasting savory gumbos made of okra and tomato; okra and no tomato; shrimp and crab; shrimp and no crab; chicken and seafood; chicken, no seafood; chicken and andouille (but never just andouille). And there's plenty of rice. Past winning teams were The Spicy Crabs, Roux the Day and Gumbooyah. In addition to the bubbling cauldrons filled with this intoxicating Louisiana one-pot wonder, the Gumbo Gladiators Battle is kid-friendly, also offering an arts and crafts village for shopping.

Information, Scottish Tartan Festival, March 28, Scotland Farms, Minden, Hwy. 79 & LA 518.
Gumbo Gladiators Cook-Off, March 21, Festival Plaza, 101 Crockett St., Shreveport
---
Central
12 YEARS – THE TRAIL
My memories of springtime visits to Central Louisiana, specifically Avoyelles and Rapides Parishes, are rich with reminiscences of a sunlight filled landscape vivid with almost Mardi Gras-like colors – verdant green fields, wild goldenrod and purple wisteria entwined on trees. And, always, history – whether it was a family story or a retelling of a Civil War battle before the kitchen fireplace on a cool spring night, there was the enchantment of somehow being able to step back in time. The sense of history in this region of Louisiana is palpable.
Now that the beauty of a Louisiana spring has us in thrall, you might want to drink in the landscape and travel an odyssey back in time yourself. Follow the Solomon Northup Trail that winds its way through parts of Central Louisiana. Northup, a free black kidnapped in New York and sold into slavery in Washington D.C. to New Orleans slave traders, published the book, Twelve Years a Slave in 1853. In 1968, a version edited by Drs. Sue Eakin and Joseph Logsdon was published by LSU Press and included a vivid picture of his time in Louisiana. A movie version of the book was the winner of last year's Academy Award for Best Picture, and the book has likewise been published by Pelican Publishing Company in more recent years.
The trail that chronicles Northup's life here begins at the railroad tracks that run before LSU Alexandria – here, Baptist minister William Prince Ford loaded his human cargo aboard a train bound for his home in Cheneyville. The Northup trail, validated by his own text and substantially researched by Eakin, takes you through the Lamourie Locks and Smith's Bridge that spans Bayou Bouef in Rapides Parish. Included are Ford's Sawmill on Indian Creek; various plantations in Bunkie where he labored, all leading to the Marksville Courthouse where he was once again declared a free man. In total, there are 15 sites on the Northup Trail waiting to be explored in depth. The remarkable history of this man and the times he lived in can be vividly experienced in Central Louisiana by this painstakingly researched trail.

MAKE MERRY IN MERRYVILLE
Each spring the Merryville Historical Society and Museum holds a two-day-long Heritage Festival. This rustic little museum is a treasure trove of memorabilia commemorating the history of the area, with a special section dedicated to Veterans of all races who hailed from their neck of the woods, dating back as far as World War I, complete with photographs and newspaper clippings. The musem's location is a mini mecca of sorts that welcomes campers, cyclists and any visitor in need of a hot shower or rest stop.
It's also a stop on the Southern Tier Bicycle Route, a cycling trail that reaches from the Atlantic to the Pacific, allowing bikers to peddle their way through the Spanish and Mexican cultures of California; the archaic byways of the indigenous pueblo cultures in New Mexico and Arizona; skirt along the footprints of the Conquistadors in Texas, become acquainted with French Louisiana, antebellum Mississippi and Alabama, and coming to rest in a town in Florida that's over 400 years old. That's a bike ride rife with heritage.
Fittingly, this tiny hospitable enclave that offers the weary heritage seeker rest on the way, celebrates history with a festival. Complete with an exotic petting zoo and inflatables that invite children of all ages to cut loose with abandon via all day-passes, live music is performed non-stop; delicious food is offered while a parade passes on the second day and the pageant queen is announced amid the celebrations.

Information, Northup Trail to download a copy of the map, visit twelveyearsaslave.org/content/themes/slave/downloads/map-combo.pdf.
Merryville Historical Society and Museum, 628 North Railroad Ave., Merryville; (337) 825-0101.
---
Cajun Country
BOUDIN FAIS-DO-DO IN SCOTT
Just three Aprils ago, the Louisiana Legislative House designated the tiny town of Scott, west of Lafayette, as the "Boudin Capital of the World." The town was thusly viewed as usurpers to the throne by the former designated boudin capital, Broussard. Not to be outdone, Broussard then declared their town the "Intergalactic Boudin Capital of Positive Infinity," while the town of Jennings called itself the "Boudin Capital of the Universe."
No matter – compare the facts and you can see the House got it right. Scott, a town 8,500 strong in population, boasts five businesses that produce 1.3 million pounds of boudin annually and lies on the hallowed Boudin Trail that runs through southeastern Louisiana. (The group, "Boudin for Peace," travels this trail annually.)
Making boudin is an art form that expresses itself in several interpretations: Red or white (bloodless), the casings are filled with a delicious diversity of different ingredients. With seafood or pork as its base, the savory blend of the filling is a velvety composition of rice, green peppers, onions, herbs and spices that melt on your tongue after that first subtle crunch of the breaking casing. A year after being designated the Boudin Capital of the World, Scott, also calling itself as the spot where the "West begins," held its very first Boudin Festival. Although it was a new gem added to the rich heritage of festivals in Louisiana, thousands immediately flocked to attend.
This year the three-day food fest features arts and craft booth, carnival rides, Cajun two-step dancing and zydeco bands. The Diaper Derby will have infants crawling to the finish line.
Savory Boudin in all its flavorful and varied glory will be cooked and offered for mouth-watering eating enjoyment in the form of smoked or poached links to deep-fried Boudin balls. Try to save some room for the Boudin Eating Contest. Participants must pig out faster than their competition and consume the most Boudin in five minutes. Boudin, babies, dancing and zydeco – a perfect way to spend a spring weekend in the Bayou State.

CAJUN WOODSTOCK IN CHURCH POINT
The Cajun Woodstock held in Church Point each year is a wonderfully philanthropic event geared for family enjoyment. But it was also conceived and put into practice with the solitary goal of gifting St. Jude's Children's Hospital in Memphis with a hefty monetary donation from the proceeds it makes. Since its inception 10 years ago, the Cajun Woodstock has earned over $200,000 to benefit the hospital. The band, J.C. Carriere and Hotstep, wanting to offer family fun and a chance to give back for all the blessings they received, created the event. The Church Point community quickly shared their enthusiastic esprit d'corp and joined in to fight for children with illnesses.
Held the last weekend of April each year, festivalgoers are treated to carnival rides, live music, good food and drinks. In addition to the festivities and entertainment, there is a Poker Run and Round Steak Rice and Gravy Cook-Off. If you haven't been fortunate enough to grow up in a household with a matriarch who prepared this dish, let me explain: Round steak is slowly simmered and smothered with onions in a brown seasoned gravy to fork-cutting tenderness; then the gravy, redolent of black pepper, onions and meat flavor is served over gravy along with the succulent round steak. The onions may caramelize a bit to delicious limpness; it's a dish not to be missed.
In addition to helping St. Jude's, the Cajun Woodstock organizers annually visit the Ronald McDonald House in Memphis, cook gumbo for the residents and bring donated pantry items and toys that they collected back home in Louisiana.

Information, Boudin Festival, laboudinfestival.com
Cajun Woodstock, cajunwoodstock.com
---
Baton Rouge
COWBOYS AND CONVICTS IN ANGOLA
In 1965, a group of inmates and prison personnel joined forces to build a small arena to hold a rodeo, staged primarily just for the fun of the Louisiana State Penitentiary (Angola) denizens. Two years later the rodeo opened to the public; visitors observed all the bull riding, bareback riding and roping sans stands, using apple crates and the hoods of their cars for seating. It was a huge success, and by 1969 it was necessary to build an arena that could seat 4,500. Three years later, Angola adopted the official Professional Rodeo Cowboys Association rules and has since remained the longest-running rodeo in the nation.
Each April the air is filled with the sounds of bulls, cattle, horses and cowboy whoops as the crowds thrill to the western stunts. The Grand Entry is a breathtaking spectacle as the Angola Rough Riders storm the arena riding hell for leather with colors streaming almost looking like something out of a John Ford movie. The events are nonstop, proceeding along with a full gallop of thrills as hooves thunder and dust flies.
The Bust Out area consists of six chutes filled with bulls a-snortin' and a stompin,' with six brave inmate cowpokes astride their backs – the bulls burst through the opened chutes and the last man riding wins the event. The Wild Horse Race is a competition where six wild horses are released simultaneously, dragging short ropes. The objective is for the teams of three men to grab the rope and hold the horse long enough for one of them to mount and cross the finish line. Barrel racing, bareback riding and bull-riding are a few of the events that never fail to please the crowd. Four inmate cowboys participate in Cowboy Poker wherein they are seated at the table in the center of the arena for a leisurely game of cards until a wild bull is released with the express intent to unseat them; the last man seated wins the day. All proceeds go to improving rehabilitation at the prison, and other worthy causes.

LOUISIANA EARTH DAY IN BATON ROUGE
Back in 1970, the first Earth Day was celebrated nationwide to stage events that supported environmental awareness and protection. Each year, Baton Rouge is the site of the Louisiana Earth Day celebration, held at various sites in the North Boulevard enclave that houses the crenellated towers of the Old State Capitol near Galvez Plaza, the Municipal Building and the Old Governor's Mansion. Replete with a Vegan Village and food court to keep you fueled, with live music for entertainment and arts and crafts for esthetic enjoyment, over 400 dedicated volunteers whose goal is to protect the environment of Mother Earth man the celebration. The volunteers come from government; nonprofit groups; educators and entrepreneurs. Also to be enjoyed is the Mayor's Family Bike Ride; a recycling fair; earth walk; wetlands tent; Earth Day Plant Nursery and astronomical demonstrations by the Baton Rouge Astronomical Society. Seminars on recycling and water pollution provide more ecologically enlightened education.
It isn't always necessary to travel to a forest or national park, savoring and learning about the beauty of wildlife can involve just simply strolling through your neighborhood or sitting on your porch. Visit Nature in Your Neighborhood: Louisiana Wildlife Federation on the fair grounds. Get a little personal with the little critters – you might even learn how to make a pinecone bird feeder.

Information, Angola Rodeo, April 18-19, 2015, angolarodeo.com
Louisiana Earth Day, laearthday.org
---
New Orleans
CELEBRATING SICILY IN INDEPENDENCE
Lying to the North of New Orleans in Tangipahoa Parish, the town of Independence is a thriving community rich with Sicilian culture and flavor. Back in the 1880s, migrating Sicilians traveled the Great Northern Railroad, a stretch of tracks that reached from New Orleans to Jackson, Mississippi, searching for the ideal spot to settle. The route skirted the south and western shores of Lake Pontchartrain and then headed due north toward Jackson. When they reached Tangipahoa Parish, the bounty of the farm fields, bursting with unending rows of bright red, juicy strawberry plants, the Sicilian people knew they had found home. The now predominant Sicilian settlers rechristened the town where they settled originally named "Sam," Independence a few years later. Eventually, the hardworking people were able to buy their own strawberry farms by 1890 and keep their heritage intact; by 1905, Independence was Louisiana's primary exporter of strawberries.
Expanding their enterprises, they invested in factories and even an electrical power plant, and established aid societies to welcome new Sicilians. Joining forces with the local Indian tribes, they formed a strawberry farmer's association, an act that propelled Louisiana to become the leading strawberry producing state in the nation by the 1920s.
The rich Sicilian culture prevails to this day in Independence and each year it is fittingly celebrated with the Annual Independence Sicilian Heritage Festival. The festival will start Friday, March 13, 2015 with a spaghetti cook-off; the following day, after Mayor Michael Ragusa welcomes everyone to the festivities, attendees will be treated to a tableau of Italian flag throwers, dance performances; spaghetti eating contest; meatball throwing contests all accompanied by live performances by Bag of Donuts, Trigger Proof, Na Na Sha, and the Hometown Boys.
The food items in past festas, provided by non-profit groups only, are of a definite spectrum beyond a beer and a dog. Frozen lemonade; fried Oreo cookies; fried eggplant with Seafood Volcano; lasagna, muffaletta; stuffed artichokes and Chicken Alfredo are some of the mouth-watering choices. Arts and craft booths feature fine handiwork of local artisans.

ST. JOSEPH'S DAY IN NEW ORLEANS
I once had a coworker who had been trying for several months to sell her home, to no avail. One day she complained to me about this and I told there was a simple solution to her problem: bury a statue of St. Joseph upside in her front yard.
"But," she protested, "I'm Jewish!"
"So was St. Joseph," I replied.
She buried the statue. Her house sold the same week.
On March 19, residents of the Big Easy follow the tradition of Sicilians, who prayed to St. Joseph, foster father of Jesus, and dreamer extraordinaire, to end a famine hundreds of years ago. They thanked him for his saving intercession by erecting altars laden with food. With statues, flowers, candles and food, each year the altars fill New Orleans churches and private homes as beauteous things to behold.
The altars have three tiers that represent the Holy Trinity. Cakes in the shape of beautiful little lambs, symbolizing that Christ is the Lamb of God, are a requisite. Also required is a bowl of raw fava beans that you must take to ensure your cupboard will never be empty. Also prevalent are cakes baked in the form of bibles and saws, ladders, hammer, all carpentry tools to represent the trade of this most revered saint. Stuffed artichokes, eggplant dishes, pasta with a meatless sauces representative of sawdust, fish, wine and the absolutely delicious fig, sesame seed, and anise Italian cookies lie interspersed among the food. Uneaten portions are then donated to the poor. Note: It has been said if a single woman steals a lemon from an altar she will soon catch a husband.
Information, Sicilian Heritage Festival, March 13-15, 2015
Independence, indysicilianfest.com.