Around Louisiana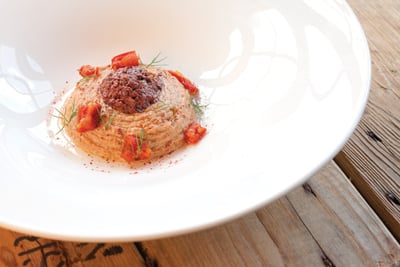 North
Cotton in Monroe
Rising star and culinary master Cory Bahr has graced the Monroe area with a restaurant filled with inspired epicurean dishes. He has managed to marry teeming game and bounty of Louisiana with flavors and textures that enhance and complement each rich offering. It's almost like down- home meets Impressionist at Cotton Restaurant.
As an appetizer, hummus is creatively taken beyond the garbanzo bean spectrum and is made with field peas. Fried pimento cheese beignets are complemented by smoked paprika, buttermilk dressing and pickled green tomatoes. Not to be missed as an evening starter is the smoked trout dip accompanied by flavors of rough mustard, dill and lemon.
Potatoes are fried in the rich decadence of duck fat with a hollandaise sauce made of bacon-horseradish and pig salt. Achingly tender and delicious, duck wrapped in smoked bacon comprise the Muscovy Duck Wraps, accompanied by the heat of jalapeno, the cool smoothness of cream cheese and the sweet burn of honey. Collards come to your table after a slow braise in bacon with pepper vinegar (he who does not splash vinegar on his greens is not a true Southerner).
From there the progression to the main entrees only adds to the unique dining experience. Using only local and regional foodstuffs, the dishes have a purity of flavor that's hard to beat. The Rabbit and Waffle entrée is a slow-cooked and tender rabbit served with a bacon and cheddar waffle, braised greens and silky hunter's sauce. The Venison Schnitzel shows a Germanic influence touched by Louisiana; served with a green slaw made of apple and collard; crushed corn grits, all of which floats in a bacon-bourbon jus. The Slow-Cooked Duck Confit and Breast is almost like Thanksgiving on a plate, accompanied by a sweet potato pave, cherry chutney and red wine syrup. That humble essential, the cheeseburger, rises to new levels on a handmade bun, with arugula, fontina cheese, bourbon-bacon jam and duck fat fries.

POKE SALAD FUN IN BLANCHARD
Pokeweed has a colorful history, literally. Poisonous if eaten without pre-boiling the leaves at least three times before its final cooking, it also yields berries with juices once used for ink. Native Americans painted their horses with its dye. Once purged of all toxins by the trio of parboiling and ready to be eaten, it has the refreshing flavor of asparagus; its root is at once hypnotic, anodyne and anti-inflammatory. Native Americans swore by its medicinal and purgative powers.
For the past 41 years, the town of Blanchard has celebrated this folklore and folk food wonder with the Annual Poke Salad Festival. Embracing the community in an invitation to celebrate, contests are held among businesses for the best storefront decoration. Live music fills the air along with the carnival fragrances of popcorn and hot dogs. A treasure hunt is held along with a town parade, beauty pageant, carnival and Pokey Pet Parade, wherein masters and their poochies don costumes as the four-pawed and bipeds ramble through the street showing their finery. Carousels and Ferris wheels glow like jewels in the night, and the music of children's laughter is carried on the air. Snow cones, candied apples and popcorn bring smiles to the faces of everyone involved in good family fun.

Information,
Cotton Restaurant, 101 North Grand, Monroe, (318) 325-0818;
Poke Salad Festival, May 4-9, Blanchard, (318) 309-2647 or (318) 422-9112
---
Central
All A-Maized in Bunkie
Long before the French settled in Avoyelles Parish via New Orleans, and the immigrant soldiers of Napoleon named the little town they founded Mansura after the Egyptian plains where they fought for the pint sized emperor, first were the Native Americans. The parish is named for the Avoyel Indians (later absorbed by the Tunica tribe) that the European settlers first encountered. At the beginning (circa 300 B.C.) they were mighty hunters availing themselves of the abundant fish and game surrounding them. Gradually the Native Americans began to perfect a system of agronomy with maize as its essential food to accompany their fleshy diet. They cultivated a trinity of crops grown together that became known as the "Three Sisters," consisting of maize, beans and squash. The tall cornstalk served as a stake upon which the pole beans could climb, entwine and yield legumes; the squash planted at its base kept the weeds away.
Driving Bunkie's country roads in Avoyelles Parish mid-to-late summer is to drive amid green canyons of towering corn rustling in the hot wind. To hear the raindrops from a summer shower patter in the leaves is its own special symphony, while sometimes visions of steaming corn on the cob dripping with butter might fill your head.
Since 1987, the town of Bunkie, rich in history and rife with charm and antique shops, celebrates this golden crop with the annual Louisiana Corn Festival. For three days, the friendly little town brims with fun offering a huge Family Carnival Night, delighting children (and parents who of course just go along for the ride); street dances accompanied by dynamic live music; a corn-cooking contest; lizard races; tennis and softball tournaments; talent contest; the Children's Wagon Parade; a citywide parade; Queen's Pageant and a cheerleaders' fun run. Like a well-run trading post, food booths accompanied by arts and crafts venues are open for business. One exceptional corn farmer is honored each year.

Mayfest in Leesville
The month of May, especially May 1, has been celebrated almost atavistically for centuries in various ways by various cultures. It's that mystical stirring of spring that's the culprit. While the Catholic Church designates May as the month to honor the Mother of God, and holds a May crowning at parish churches, the celebration of May Day also has roots in the Pagan festival of Beltane (occurring exactly half a year after Nov. 1, another date that has both Christian and Pagan connotations). Never one to pass up a party, Louisiana is no exception to reveling in this softhearted month.
May in Louisiana is the last mild month before the onslaught of heat hits us like a wall of oven bricks, making it a perfect time for outdoor festivities. In Leesville, the organizers of Mayfest extend a hearty invitation for all to "cart your lawn chairs to the Leesville Courthouse lawn" and celebrate the lovely month of May. Home to Fort Polk United States Army base, Leesville basks in the balmy spring celebration in a hospitable haze. In addition to the food booths and live music, Mayfest holds the Rotary Club's Chalk-A-Block inviting participants to pick a spot and create a masterpiece with colored chalk. The Armadillo Stampede is a 5K Fun Run/Walk while the Lion's Club Pancake Breakfast/Crawfish Boil will whet your appetite for breakfast and lunch, respectively.
The Gospel Stage will musically praise the Lord and Gallery One Ellleven will showcase artists in a group exhibit. The venerable Cain Motor Company on the corner of Lee and 4th Street and Boudreaux's Chevrolet on North and 3rd will both display classic cars, and the businesses on charming Main Street invite your patronage.

Information,
Louisiana Corn Festival, June 11-13, (318) 346-2575;
Mayfest, Leesville Courthouse, May1-2, (800) 349-6287
---
Cajun Country
Summer and Smoke in Ville Platte
I suppose it can be imagined that on any given Sunday once warm weather arrives in Louisiana, the simple act of standing outside might expose you to a heavenly whiff of someone barbecuing somewhere in the neighborhood. Imagine a town that sponsors an outdoor festival brimming with booths hard at work smoking and grilling venison; fish; le cochon; beef; tasso; sausage; chicken; duck and ponce bouree (savory seasoned pork stuffed in a pig's belly and not entrail links, then smoked and sliced on a slab). On the last weekend of June each summer, the town of Ville Platte allows its already prevalent joie de vivre to overflow by holding Le Festival de la Viande Boucanee; simply translated: The Smoked Meat Festival. The sultry June air is pleasantly, but not overpoweringly, intense with the aroma of fresh meat slowly cooking over sweet smoking wood. Is there any item from any food group that does not taste delicious when it's smoked?
Ville Platte is one of the birthplaces of Zydeco music and shares a French Creole and Cajun culture. The French and Cajun settlers, influenced by the Choctaw-Metis tradition of viande boucanee (smoked meat), grafted this delicious tradition into their own culture and mastered its culinary technique. The Metis in Louisiana were people of French and Indian mixed blood; or in some instances, represented a mixture of African and French races from the pre-American French colonization era.
Contributing to the gourmand repertoire of smoked delights are the fine meat markets, businesses and restaurants in the area. In the midst of all this deliciousness, a fierce competition is waged as participants vie in the World Championship Smoked Meat Cook-off. Winning this honor is no small feat; smoke masters abound and the judges are stingy when it comes to giving anyone slack for not measuring up to their high standards.
The scent of smoked food fills the air, and as you stroll, Cajun and zydeco music provide fitting anthems for a party in Ville Platte. And when you need to take a momentary lull in eating, arts and crafts booths provide pleasurable distraction.

Beyond the Gumbo in Lafayette
While gumbos, jambalaya and etouffees righteously deserve their status as iconic Louisiana dishes found in Cajun Country and South Louisiana, Cajun Country sports another culinarydimension of expertise no less enjoyable. From the deep green marshes to the flat prairies, the area is filled with masters of the art of smoking meat.
At Johnson's Boucaniere's in Lafayette, smoked meat is their ideology. Every main offering on their menu is succulently flavored in that almost decadently tasty marriage of slow cooking and slow smoking – pork sausage, garlic sausage, turkey, tasso, chicken, pork, brisket and jerky. Johnson's Boucaniere prepares its meats by first giving them a good rub down with their homemade seasoning and then a slow smoke for 11-13 hours. They also make their own boudin.
The Parrain Special is grilled cheese stuffed with homemade boudin upon which is poured the house made barbecue sauce fittingly named for boudin aficionado Bob Carriker, aka Dr. Boudin.
The Smoked Meat Salad can be enjoyed with either pulled pork, brisket or chicken, with a side of Zapps chips; lettuce tomatoes, onions, cheddar cheese and barbecue ranch dressing complete the dish.
Tender and succulent pulled pork topped with coleslaw and barbecue sauce comprises the Have It Clay's Way sandwich. Smoked Meat Po Boys, with a choice of smoked brisket, chicken or pork slathered in signature barbecue sauce soaks a fresh Evangeline Maid bun.
Resembling an oversized shanty boat moored into dry dock, this down-home eatery is filled with Cajun and zydeco music, great food and a laidback atmosphere. Its roots go back to 1937 when Johnson's Grocery store made its own boudin. The same recipe is used to this day, although this establishment will frankly tell you it took them a little time to find the right sized Dixie Cup used to measure ingredients – due to a lack of previous documentation.

Information,
Le Festival de la Viande Boucanee, June 27-28, Ville Platte;
Johnson's Boucaniere, 1111 St. John St., Lafayette, (337) 269-8878
---
Baton Rouge
A Brotherhood of Peace in St. Francisville
I suppose if any of the four years of the American Civil War could be considered reaching critical mass for the Confederacy, it would have to be the summer of 1863. By June of that year, all of the Mississippi River save Port Hudson and Vicksburg were controlled by the Union; both strongholds were in the thick of a brutally wrought siege. Some of Vicksburg's denizens were refugees living in river caves alongside vermin and mosquitoes. One Admiral David Glasgow Farragut, who had so easily breezed into New Orleans and taken the city the year before, was presently not having as smooth a time conquering the rest of the Mississippi. Ironically, this Union commander, born in Tennessee, was actually raised in Louisiana where he waged fearsome maritime war. When his small flotilla of four warships and three gunboats assailed Port Hudson from the river, only his flagship the USS Hartford and the USS Albatross were able to make it past Confederate fire; the remaining four ships were repelled and turned back. The garrison at Port Hudson held.
Helming the Albatross was Lt. Commander John E. Hart, a practicing Mason. A week prior to his death on June 12, 1863, anchored on Bayou Sara near St. Francisville, he had written a letter to his wife in Schenectady filled with stories of how his boat had escaped the rebel batteries. But his letter was also filled with every day treasures that told of birds singing, a stray puppy and a litter of shipboard kittens. Suffering the Louisiana heat, he longed to see ice once again and craved cool wine and water. His death is recorded as a suicide brought on by the possible delirium of yellow fever. Some of his fellow officers onboard were also Masons and were loathe to commit his body to the muddy Mississippi.
Under a flag of truce, a small delegation traveled to St. Francisville inquiring if there were any Masons there who would give a brother a decent burial. W.W. Leake, a Senior Warden and Confederate solider gave his permission for the service. The service was held at the Grace Episcopal Church and Hart was buried in a Masonic plot in the church cemetery. All fighting ceased as blue and gray joined to pay respect to the dead Union officer.
Each year, the town of St. Francisville pays tribute to this merciful honoring of a fallen enemy by holding "The Day the War Stopped; An Annual Reenactment of a Unique Time in History" for two days. Graveside histories are told at Grace Episcopal Church followed by a historic presentation at the Masonic Lodge. The next day, a concert featuring vintage music is conducted; a performance of vintage dancing follows. Included in the weekend commemoration is a reenactment of Commander Hart's burial and a performance of Civil War Dancers at Oakley Plantation, culminating on Sunday with a tour of Rosedown Plantation.

Good Eating in Gheens
Gheens is a tiny unincorporated strip of land lying near Vacherie. Named for the Gheens family from Louisville, Kentucky who settled there to make a killing in the New Orleans Meat Market, they were originally in the taffy making business and relied on Louisiana's sugarcane crops to sweeten their profits.
Starting a festival back in the seventies, the community christened the event the Gheens Bon Mange festival because so much delicious food was served and the feasting was fine. Proceeds from the festival help finance both the Vacherie-Gheens Community Center and the community itself.

Information,
The Day The War Stopped, June 12-14, St. Francisville, thedaythewarstopped.net;
Vachere-Gheens Community Center. 1783 Louisiana 654, Gheens, LA 985-532-5740
---
New Orleans
Support Your Local Bounty
The purist gastronomes of Eat Local New Orleans have thrown down the gauntlet, or perhaps shall we say, oven mitt, to the Big Easy populace by holding their fifth annual Eat Local Challenge. In a city so rich with culinary deliciousness, foodies who sign up to participate must endure eating their way through some of the best restaurants and food venues to be found. The Poor Things.
This pledge involves 30 days of eating only foods caught, prepared, raised or grown within a 200-or-so-mile radius of the Crescent City. But tasty food is not the sole objective of this venture. Lee Stafford, Founder of East Local New Orleans explains it this way:
"Our goal is to celebrate the many benefits of eating locally, which include cultural preservation, environmental sustainability and economic growth. In New Orleans, we get to showcase the many world-renowned restaurants that are using our rich agricultural and seafood resources in fresh and innovative ways," says Stafford. Encircled by the teeming bounty existing in the Gulf of Mexico, the game that abounds in forests, the rich farmlands from which spring abundant crops and provide fodder for livestock, we couldn't be in a better spot to accomplish this goal.
Providing a series of culinary "crawls," a particular neighborhood venue will be featured each time through a series of restaurant stops replete with food and garden-to-glass cocktails. Routes will wind their way through the restaurants of the French Quarter, Garden District, Bywater with Freret, Oak and Magazine streets thrown into the gumbo for good measure. Partnering with Destination Kitchen Tours, the people so nobly submitting themselves to partaking of great New Orleans food, will not only enjoy food prepared by excellent chefs, but are also treated to a tutorial about the significance of the food and how it is prepared.
The challenge will also offer 30 fascinating classes on pickling, cheese-making, wine making, butchering, etc. It also offers challenge rules of varying degrees ranging from ultra strict (i.e., like the Native Americans before us, one will eat only foods caught, raised or grown within 200 miles to the Ignatius J. Reilly Level Ultra-Lenient that allows you do perform the challenge for only two days a week. Food diaries and blogs are part of the program.
Seafood By Charles in Harahan
I had relatives who lived in Harahan, and driving along the Mississippi River-winding Jefferson Highway to reach their home, we were always greeted by the sight of a small, bright turquoise building above which was a red sign that read "Charlie's Seafood." This charming little hole-in-the-wall began serving delicious seafood and Italian dishes in 1951. Not long ago, Charlie's Seafood came into the hands of new owners, Patti and Shawn Kelley, who rechristened it "Charles Seafood," and the couple did nothing to change the exterior appearance.
Southern Living Magazine recently announced that it serves the finest okra and seafood gumbo to be found on Louisiana's gumbo trail. Keeping with the tradition of the original restaurant, you can still feast on gumbo and fried seafood, but it would be a shame to pass on the charbroiled oysters or house specialty, the Jambalaya Grits filled with andouille, shrimp and roasted peppers.

Information,
New Orleans Eat Local Challenge, May 30-June 28, (504) 451-3396, eatlocalneworleans.com.
Charles Seafood. 8311 Jefferson Highway, Harahan. (504) 405-5263