Around Louisiana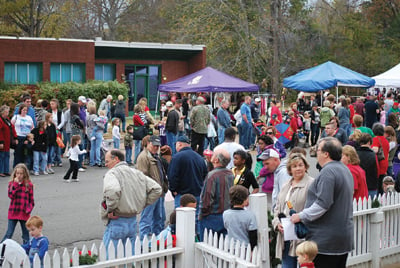 NORTH
CHRISTMAS ON THE SQUARE IN BENTON
Perched in uppermost northwest corner of Louisiana, the charming town of Benton hosts the Christmas on the Square Festival and Parade. This community and family-driven festivity is produced by and for a population a little under 2,000 strong. Benton has not been without drama in the past; in 1999, a destructive F4 tornado roared through portions of the town like a Juggernaut. Benton is the seat of Bossier Parish and was named for Sen. Thomas Hart Benton who was a staunch ally of Old Hickory himself, President Andrew Jackson.
Many state reprehensive and judges have hailed from Benton, but perhaps its most famous native son is Billy Bretherton of Billy the Exterminator fame on A&E.
Benton is the home of the Heritage Village, which has some buildings that date back to the 1840s. These include a six-room dogtrot house, an authentic log cabin, tiny one-room schoolhouse and a blacksmith shop.
There on the grounds of Heritage Village Square, Christmas will be celebrated with a 5K run and health walk; a children's art contest, and picture taking with Santa and Mrs. Claus. This year's theme is, "A Christmas Carnival." Contests include a children's archery competition and BB gun shoot-off.
Equestrian diversion in the form of horseback rides can also be enjoyed to work up an appetite for the delicious food provided by vendors. Bountiful arts and crafts may provide some choices for excellent Christmas gifts. The Christmas Parade fills the street with yuletide fun and cheer. Live music adds to the enjoyment of all, and children can ride the cow train after their faces have been painted. Wildlife will be present for friendly observation and a rock wall provides the opportunity to work off any extra hot dogs or Christmas goodies you have consumed. A classic car show and a tour of the historic Hughes House help you travel back to the past.

RED RIVER AND GARDENS
Shreveport, part of that Fa La La Louisiana, Holiday Trail of Lights, boasts two beautiful and enjoyable Christmas traditions each December. On Saturday nights during the Yuletide season, the night sky over the Red River waterfront ignites with showers and fountains of colorful fireworks. Across the water on the Bossier City side, the Boardwalk, the state's largest center for shopping, entertainment and dining, offers ample opportunity for some fine Christmas shopping and holiday joy.
Christmas in Roseland is another Shreveport wonder to behold at Christmas. Home to the American Rose Society, the Gardens of the American Rose Center blooms sweetly each December. Over 100 acres of exquisite velvety roses perfuming the air are decorated with Chrismas lights and displays. Ride the Roseland express train past giant Christmas cards made by children among the roses and visit the wooden train exhibit.
On the other side of the state, the El Song Gardens at Beidenharn Museum in Monroe fill their already beautiful premises with added Christmas enchantment. Each December the beautifully decorated mansion and grounds are filled with guided tours and exquisite music. Sparking lights, wassail and Santa Claus add to the cheer. But the annual tradition of the poinsettia tree in the conservatory remains a beloved highlight. A "pot tree," constructed of iron, are filled with more than 60 flaming crimson poinsettias to form the shape of a Christmas tree.
Information
Christmas on the Square, Dec.12, Heritage Village Square Benton, bentonchristmasonthesquare.com
Red River and Gardens, visit shreveportbossierfunguide.com, ars.org, bmuseum.org
---
CAJUN COUNTRY
WORDS AND MUSIC
photograph courtesy LSU press
I was fortunate enough to have a mother who liked to read poetry out loud to me on rainy Sunday afternoons or cold winter nights: "The Rime of the Ancient Mariner"; "The Highwayman" and "Annabel Lee" all held me riveted. I was likewise fortunate enough to have a seventh grade English teacher, Ms. Seghers, who one day tapped out the musical rhythm of Edgar Allan Poe's words with her hand, helping me understand why my foot always tapped when my mother read the poems.
Joshua Blegg Caffery, who hails from Irish Bend on Bayou Teche where Hibernian natives once settled and was also the site of an intense Civil War Battle in 1863, has composed an anthology of poems titled In the Creole Twilight: Poems and Songs from Louisiana Folklore. Caffery, a writer and teacher, is also a Grammy-nominated musician. He source of inspiration was Louisiana: its folk music, the strange legends of its folklore, the oral traditions of story telling, and rural French traditions. There is so much rhythm, rhyme and music to his poetry you could probably dance to the words as you read them. Take, for example, a verse from, The Loup Garou:
"To a barbaric beat
It stomped its feet,
Filling its mouth with a fistful of meat.
As I bolted the door,
It howled once more.
I covered my ears and
Crouched on the floor…"
Or Father January's admonition to children:
"You've heard of grouch.
You've heard of a grinch.
You've heard of old ladies who like to pinch.
Father January's worse.
He's just like Santa, in reverse."
Although he has lived at different locations on Bayou Teche most of his life, Caffery penned this book during a year-long fellowship spent in the Thomas Jefferson Building of the Library of Congress in Washington, writing beneath the filtered light of the great dome after fulfilling his research duties for the day.
This magic of this little book is enhanced by the exquisite pen and ink illustrations of artist Claire Caffery. There's a purity, light and darkness to these works, like nursery rhymes Poe might have written, or the Grimm brothers in their darker tales. Featuring feufollets, saints, the Cajun dispersion, maidens imprisoned in towers by jealous fathers, Caffery's work is like a candle glowing in a dark room: He offers admittance to the space between dimensions where thought and idea have corporeal shape yet can be seen with the inner eye alone. This book deserves to be considered a future classic.
FIRE AND WATER IN ARNAUDVILLE
The nativity of Fire and Water (Le Feu et L'Eau) Rural Arts Festival took place after the one-two punch of hurricanes Katrina and Rita 10 years ago. Held for one day on the first Saturday of each December, this is a venue that celebrates the rich artistic and creative expression so abundant in Acadiana. Its original and signature attraction of beautiful fires floating on Bayou Teche in the darkness of a December night looked like George Rodrigue's series of hurricane paintings come to life. This soon grew to include a wider, more diverse set of artistic expression, film, music, food and global cultures.
Amid all the arts and crafts available to purchase, there are demonstrations, along with live music and food. Past seminars have included couscous preparation; praline- and taffy-making; and the creation of other Christmas treats, ornaments and scarves.
Information
In the Creole Twilight, Poems and Songs from Louisiana Folklore. LSU Press, Baton Rouge.
Fire and Water Rural Arts Festical, NuNu Arts Culture Collective and throughout Arnuadville, Dec. 5, 11 a.m.-11 p.m. (337) 453-3307
---
CENTRAL
MARINER'S IN NATCHITOCHES
Oysters Pancetta Florentine | photograph courtesy mariner's restaurant's facebook page
It is my firm belief that at some point during the holiday season, a visit to a fine restaurant is required. Mariner's Restaurant in Natchitoches, the oldest settlement in Louisiana, is my recommendation.
It's reminiscent in quality and type of fare found in New Orleans: You can start your meal with an appetizer of smoky charbroiled oysters brushed with garlic butter and topped with Parmesan cheese on the half-shell. It's also hard to resist the oyster combo plate, half-filled with Oysters Rockefeller, which are richly baked with spinach, Parmesan cheese and a soupcon of Pernod. The other half of your plate is filled with Oysters Bienville: oysters likewise roasted on the half-shell with a smooth and decadent melange of shrimp, breadcrumbs, cheese and cream all blended together.
As you transition to the entrees, the enjoyment doesn't falter. As a possible homage to Pascal's Manale, the New Orleanss-syle barbecue shrimp swim in a flavorful plate of spicy, buttery sauce perfect for dipping in French bread. The Talapia Mornay, a battered and fried fillet, nestles on the plate as a rich helping of shrimp and lump crabmeat in a silken cheese sauce tops it.
If you're trying to tighten your belt buckle a notch, the vegetarian pasta is a lighter choice, full of sautéed seasonal veggies and fresh herbs, tossed with linguine and Portobello mushrooms. White wine, extra virgin olive and Parmesan cheese are sprinkled in to the combination as it's tossed and then crowned with grilled zucchini and asparagus.
CENTER STAGE IN ALEXANDRIA
Karen Burns-Schexnayder owns the Lagniappe Theatre Company with her other half, husband Ross. The Schexnayders met as students at Northwestern State University when they were both earning degrees in Theatre (Karen holds a degree in both theater and psychology with a master's of counseling thrown in for good measure). Karen and Ross, natives of Baton Rouge and Alexandria, respectively, fulfilled a mutual dream when they established the Lagniappe Theatre Company and revived theatre once again in Central Louisiana. Ross, who has previous experience as a newscaster in Ascension and Livingston Parishes, also appeared in theatre productions across the United States. Currently a co-host with Shy Tyler on FM KQID at Cenla Broadcasting, his one-act play, The Trouble With Timing, was a finalist in the 2008 Tennessee Williams /New Orleans Literary Festival contest.
Karen spent time in Nashville working for Capitol Records, singing on demos and as a voice-over artist. Like her spouse, she is now a radio co-host with Hollywood Harrison on FM KRRV.
Throughout the year, the Schexnayers indulge in their first love, play-acting, and stage productions at their company. Their splendid Christmas Spectacular has been compared to the renowned production performed by the Rockettes in New York as each year Central Louisiana denizens flock to the Lagniappe and enjoy the festive pageantry.
Scheduled for early November, the Lagnaippe Theatre Company will stage the pay, The Exonerated, followed by a Christmas Spectacular in December. Next April, Sister Act will liven up the stage planks and footlights as rousing gospel music and dancing fill the theater. Based on the 1992 Whoopi Goldberg film, the tale of a showgirl hiding out in a convent plays out very enjoyably as a musical.
One of the Schnexnayder's mission has been to blend professional actors with local talent as an outreach to the community in all their productions. The Alexandria area has been experiencing a Renaissance of sorts when it comes to the arts scene – Lagniappe Theatre Company, Louisiana-owned and made, has fittingly embraced the Central Louisiana region in mutual affection.
Information
Mariner's Restaurant, Natchitoches, (318) 357-1220, marinersrestaurant.com.
Lagniappe Theatre Company, Coughlin-Saunders Performing Arts Center, Downtown Alexandria, (318)-48-STAGE, lagniappethreatre.com.
---
NEW ORLEANS
MERRY MIRLITONS
The Bywater Neighborhood Association, on the first Saturday of November, holds the Mirliton Festival to not only celebrate this beloved pale green, pear-shape fixture of many New Orleans gardens, but to honor its own unique community. Wedged between Fauborg Marigny and the Industrial Canal atop the Mississippi River, the name Bywater is derived from its location. Mirliton, a member of the gourd family, is also known as chayote. Native to South and Central America, the 18th-century French and Spanish settlers brought them to New Orleans. To date, some home gardens are overtaken by its vines like kidzu on a telephone pole and the mirlitons dangle like Christmas ornaments.
In recent years, Bywater has experienced a charming transformation of rickety shotgun cottages and warehouses where people both live and work ; adding to its quirky appeal is a thriving arts community throughout the area. These same artists incorporate the beloved mirliton into artwork featured at the festival amid vendors who offer mirliton dishes prepared in various ways. Live music keeps feet tapping. Proceeds from the festival benefit the Bywater Neighborhood Association.
CHRISTMAS IN THE DISTRICT
Not so very long ago, the Warehouse District of New Orleans was rightfully considered the Skid Row District of the Big Easy. Filled with flophouses and dilapidated buildings with squatters, it was hard to see the fine bones of the old buildings that lined its corridor. It would seem like the last place to have a Christmas wonderland. Today, through dedication, entrepreneurship and vision, the Warehouse District, filled with art galleries, museums, restaurant and quirky upscale hotels to name a few is now known as the "SoHo of the South." Each December, the once-rundown section glows over the Mississippi River in a transformation filled with Christmas beauty and joy.
Dedicated to celebrating not only the unique culture of New Orleans, but also it's very colorful history, Christmas in the District lies like a crown jewel near the edge of Canal Street with over one million holiday lights. Starting at the New Orleans Morial Convention Center, visitors to Hall B can enjoy indoor ice skating; a ride on the gorgeous bisque-like Kringle Carousel; the life-sized maze and a room filled with Christmas trees decorated by sponsors.
Meander out to Convention Center Boulevard and mingle with strolling carolers, listen to concerts and come alive with that peaceful, yet electric joy that holidays bring. Ever mindful of four-footed family members and any of their human parents who ever wrapped Christmas gifts for their pooch and placed them under the tree (and who also acted as surrogate shoppers for pets who wanted to gift in return), the celebration also includes the Santa Paws parade and Costume Contest – all sponsored to support the SPCA.
Looking insanely festive is the Running of the Santas. Convention Center Boulevard is filled with the merry sight of Santas unleashed stampeding, jogging or walking in their red suits with flying beards.
As you drive down the corridor of Canal Street lined with palm bejeweled from top to botton with white Christmas lights, you might miss the giant Mr. Bingle that once rose on the old Maison Blanche Department Store; Christmas in the District almost makes up for his loss. The lights go on at 5 p.m. on Dec. 1 and the celebration lasts all of December.
Information
Mirliton Festival, Nov. 7, 11 a.m.-7 p.m., Mickey Markey Park, Piety and Royal streets, New Orleans, bywatermirlitonfestival.com;
Ernest N. Morial Convention Center, 900 Convention Center Blvd, New Orleans, (504) 524-0811; info@christmasfest.com
---
BATON ROUGE
HOUSE OF WINE IN SORRENTO
In the tawny light of late autumn and early December, taking a drive to the Cajun Village in Sorrento for out of the way shopping is a lovely way to spend the weekend. Especially if your goal is to taste some home grown Louisiana wine. Casa de Sue Winery, its vineyards of Muscadines blooming in Clinton, also has a charming Tasting Room located in a rustic cottage in the Cajun Village. Bright and cheery with bakers' racks and red checkered tablecloths, you may taste from the wide array of wine offerings gratis and browse among wine-theme gift items and Louisiana art.
Muscadines are naturally sweet grapes reputed to have higher levels of antioxidants found in standard grapes. The muscadines of Casa de Sue are organically grown and harvested to produce wines that come bottled in lovely, usually Louisiana-themed labels. Allons Danse is a light blush of a wine, sweet and perfect for dessert or spritzers. Noble, on the other hand, is bold and red, full-boded and dry. Sweet Magnolia is light and golden, almost as smooth and sweet as cream sherry, great for an aperitif. LaRosa Dry, light with a tinge of sweetness, is perfect for cooking or sipping (or both, simultaneously). Gift sets of various wines are offered.
CHRISTMAS REFLECTIONS IN PORT ALLEN
My family's route of choice to Bordelonville from New Orleans to visit relatives was always Airline Highway. Each journey, as we drove the Airline past West Baton Rouge, I always kept an eye out for the silver water tower emblazoned with the name "Port Allen" on its dome. One surprising summer, my father turned off the highway, and we drove into Port Allen to visit a Marionite convent where a former teacher of my brother resided. In those days, Marionite nuns wore heavily starched fluted coronets over their veils. We all chatted in the parlor, and as I had never been head-level with a nun before, I couldn't resist but run my index finger back and forth across her fluted coronet as if it was an xylophone – to my mother's express horror and Sister Alfred's infinite amusement. And as I experienced parental mercy in the form of no punishment, I always seemed to associate Port Allen with a Be-Kind-To-Children esprit d'corps.
So it isn't surprising that each holiday season this little part of West Baton Rouge transforms itself into a Christmas wonderland for children of all ages. Starting the first week of December and ending on Christmas Eve, the grounds of the West Baton Rouge Conference Center gleams and glistens with a light display that looks like the stars decided to sojourn for a while here on earth to honor the Christ Child. Each year, the host – Trevor the talking, singing reindeer, who has a special affinity for children – entertains and chews the fat with visitors in a most delightful way. Carnival rides add to the festive happiness and holiday decorated rooms unfold like delicious seven-layer cookie bars as you walk through. Tables filled with crafts offer lovely gift possibilities; Santa and his elves are there for photographs. Then, there's the particularly lovely offering of rides through the lights in a wagon drawn by either a horse or mule – it's delightful to snuggle beneath a blanket as the lights pass by and hooves clop rhythmically like reindeer on your roof.
Periodic events held over the three-week celebration include ice-fishing and Snow Patch where Louisianians can enjoy the all-too-rare pleasure of frolicking in the snow.
Information
Reflections of the Season: Dec. 5-24. West Baton Rouge Tourist Information and Conference Center, 2750 North Westport Drive, Port Allen, (225) 344-2920;
Casa de Sue Tasting Room, Cajun Village, Intersection of Hwy. 22 and 70, Sorrento, boniblu@rtconline.com