Around Louisiana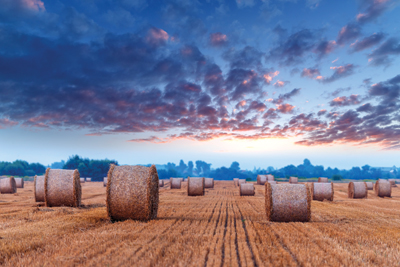 North
AN AGRARIAN STATE
Spending summers and holidays on the farm in Central Louisiana where my mother was born, I remember the good clean scent of the raw earth, the musky smell of livestock and the sweet scent of hay in the barn. Everywhere around me there was life in one form or another: a mulberry tree where chickens roosted at night; a pecan tree upon which a wisteria vine wrapped itself; a pumpkin patch. I didn't know I was in the midst of a state that was almost purely agrarian; I just know all of it was an experience that was both enchanting and grounding at the same time.
Jan. 15-16, in Monroe, the AG Expo 2016 will hold its annual meeting: a gathering of agrarian minds and practitioners who, having taken stock of new finds and developments in the previous year, are ready to share their discoveries. It's all designed to enhance crop and livestock production in the ArkLaTex region that likewise keeps stomachs in America from growling with hunger.
The AG Expo, since the 1980s, has been a popular event that educates people, farmer or non-farmer, of all ages.
This family-oriented event explains the food chain and how deeply agriculture touches all of our lives in countless ways on a daily basis. After all, where would any of us be without the all important work that farmers and ranchers do to contribute? Our lives are dependent on this.
Farmers and ranchers likewise receive assistance by being informed about the latest scientific and technological advances in agriculture, complete with a huge emphasis on how to effectively market commodities while showcasing products and services.
Young people are likewise encouraged to participate in the annual livestock show. Separate categories include weights and showmanship in market swine, steers, lambs and goats.

MONROE MARDI GRAS
Although North Louisiana, with its roots in Protestantism, was somewhat of a latecomer with regard to celebrating Mardi Gras, the Fat Tuesday celebration eventually reached the upper tier of Louisiana to much delight.
On the last Saturday of January, Monroe kicks off the Carnival season with a sizzling Twin City Mardi Gras Cook-Off held at the University of Louisiana at Monroe. That same morning, Pecanland Mall's Center Court hosts the Krewe of Janus Children's Mardi Gras Parade, with adorable, costumed children parading in floats and tossing beads to crowds. As a child who once rode, dressed as a clown, in a float atop a Radio Flyer wagon labeled, "My Funny Valentine," in the Incarnate Word School Mardi Gras Parade in New Orleans, I can state that every child should experience this at least once.
Later that evening, the adult members of the Krewe of Janus will don their finery, climb into brilliantly lit floats and roll through the streets of Monroe in a parade with the theme, Lafitte's Treasures. Baubles, beads and doubloons will be tossed with happy abandon. Marching bands with thundering drumbeats will keep the Mardi Gras momentum flowing. The parade has become wildly popular throughout the years, with recognition and kudos throughout the South. For the past several years, it has been deemed one of the Top 20 tourism celebrations south of the Mason-Dixon Line.

Information, AG Expo 2016, Ike Hamilton Expo Center, 502 Main Street, West Monroe, Jan. 15-16, 2016; Monroe Mardi Gras, Celebrations begin Jan. 30, 2016. (318) 323-0230

---
Cajun Country
cajun country celebrations
While it seems that the heart of Carnival beats the strongest in New Orleans, this heart has arteries that extend throughout Acadiana and pulse with joyous life. From Morgan City to Lake Charles the "living it up before giving it up" pre-Lent mantra resounds with much merriment two weeks before Fat Tuesday actually dawns. In Lafayette Parish, Carencro celebrates with a parade at the end of January, while the city of Lafayette kicks off the season with a fundraising parade of four-legged costumed members of the Krewe des Chiens Parade for Dogs. Similar in vivid color (spilling over with electric blues, hot lava reds, margarita greens and sun-god golds) to the celebration down in Rio de Janiero (sans the skin exposure), the Krewe of Carnivale en Rio fills downtown Lafayette with Latin color and exuberance as it travels along a route that ends at Cajun Field.
Le Festival de Mardi Gras a Lafayette offers an almost-weeklong celebration of the season with carnival rides, live music, vendors providing delicious Cajun food and the spectacle of parades riding through the festival grounds like colorful gypsy wagons. Over in the northern section of this most hospitable city, Clark Field holds a historical event honoring African American heritage that includes a costume contest, food and dancing to live music. The Mardi Show at Clark Field welcomes local and national musicians while some of the most extravagantly costumed revelers participate in a contest to see who's best dressed, open to everyone.
Somewhere amid all of this, neighboring towns such as Eunice and St. Martinville hold Mardi Gras boucheries, while masked riders on horseback pursue old chickens through rural fields for the gumbo pot.

A HORSE OF A DIFFERENT COLOR IN OPELOUSAS
It's an odd bit of history in a state that embraces its oddities and quirkiness with pride. Early in the 19th century, a different breed of racing competitor came to the Bayou State to participate in the Sport of Kings so prevalent here. Ridden by a jockey the same as its equine competitors, this new participant was not as fast but always seems to win by a head. Spotted of hide, long-legged and tall, he was a sight to behold on the racetrack. Like a poker player who leaves a game too quickly after too many wins, he didn't stay long in Louisiana. You see, giraffes need to wander.
Housed at Evangeline Downs in Opelousas, The Spotted Horse Tavern and Dining Parlor, named in honor of that giraffe who wandered into Louisiana horseracing legends, offers a dining menu that is versatile and satisfying. Start your meal with some of the small plates like the wonderful Citrus Pork Belly and Prawns, braised in a citrus glaze and served with Gulf prawns that have been sautéed in citrus rind and coconut sugar. Sweet Vidalia onions that have been succulently simmered in a beef broth are featured in the classic French Onion Soup, perfect for a winter's day topped with croutons and sealed with melted Gruyere cheese.
For an entrée, broiled Atlantic salmon is the center of the Flamed-Licked Salmon, served in perfect beurre blanc sauce with seasonal vegetables. An unusual but delightful menu choice is the Beer Can Chicken for Two. Accompanied by Yukon Gold mashed potatoes and natural jus, a well-seasoned whole chicken that's been baked with an infusion of beer is another perfect cold-weather choice for a hearty meal.

Information, Lafayette Mardi lafayettetravel.com/Mardi-Gras; The Spotted Horse Tavern and Dining Parlor, Evangeline Downs Racetrack, 2235 Cresswell Lane Extension, Opelousas (866) 472-2466.

---
Central
MYSTIC KREWE OF ST. DENIS
In retrospect, it's always seemed like a prophetic sign of Divine Providence that French explorer Pierre le Moyne, Sieur D'Iberville, finally discovered the long elusive mouth of the Mississippi River on Mardi Gras Day (March 3, 1699) and established a camp on her banks. This camp was some 60 miles downriver from the site that would become New Orleans. It was Iberville's first expedition into Louisiana for France, but later that same year would come another Frenchman, joining LeMoyne on his second expedition to Louisiana. This is someone who would play a vital role in its history.
Louis Juchereau de St. Denis, related to Iberville by marriage, commanded a fort on the Mississippi River and Biloxi Bay and later led expeditions westward from o the bay. Native of Canada, his explorations in the Louisiana territory took him to lower Red River land where he eventually reached the villages of the Natchitoches Native Americans. During the winter months that spanned 1713-1714, he established Natchitoches, a trading post that was as far west as the French had gotten thus far. Natchitoches, elder sibling to New Orleans by over four years there on the Cane River, is the oldest settlement in Louisiana. St. Denis' settlement was an open door to Texas for explorers and settlers until Texas was admitted to the Union.
St. Denis' legacy is remembered each year during Carnival. The Mystic Krewe of St. Denis goes full-throttle with Mardi Gras celebrations. Founded in 1977 by five members, the popularity of the krewe expanded rapidly. Presenting breathtaking tableaux and balls, the revelry commences with their 12th Night Party early in January, followed by the Belle of the Ball Party; Queen's Tea (gentlemen verboten); the Queen, King and Captains Party, and finally, the exquisite Ball and Tableau almost equal to the pageantry of 18th-century Versailles.

LUNCH BREAK IN ALEXANDRIA
If you blink you might miss it, and that would be a shame. This intimate, cozy restaurant in a tiny Alexandria strip mall has been serving delicious breakfast and lunches for years with a clientele that keeps coming back for more. Run by some of the most hospitable owners to be found, just consider the décor–menus fastened to tables and vases filled with wax flowers retro kitsch and dig in for some wonderful food.
Start your meal with at least a demitasse cup (or preferably, a larger bowl) of their specialty, the silky Cream of Shrimp Soup, perfectly accompanied by a slab of delicious cornbread. Visually beautiful and equally tasty, the Shrimp and Avocado Salad consists of an alligator pear stuffed with fresh shrimp on a bed of sweet onions, tomatoes and salad. This dish is a full-sized entree. A flaky pastry shell filled with fresh tomatoes and basil, that's crowned by melted cheese comprises the hearty, yet refreshing Tomato and Basil Pie, accompanied by a spinach salad. Also try some of the best red beans and rice and smoked sausage to be found: creamy, spicy and filling. This order also comes with cornbread and salad.
For another great side dish, try the roasted potatoes in crab boil oil to go along with the incomparable stuffed hamburger bursting with crispy bacon and melted cheese; or the stuffed cheeseburger, a repeat of the former with extra cheese.
It's a bit difficult to make a dessert choice: You'll have to decide between the strawberry crepe or the peanut butter pie. Suggestion: Order one of each and share.

Information, Mystic Krewe of St. Denis, mystic-krew-de-saint-denis.com/events; The Cottage Restaurant, 1465 Dorchester, Suite A, Alexandria, (318) 448-4220.

---
New Orleans
HAIL, KING CAKE!
For most people, the post-Christmas season that begins after Twelfth Night is a time to atone for all that holiday feasting and imbibing that causes the dreaded state of increased bodily tonnage. Not so in New Orleans: At the dawn of Epiphany morning each year, bakers produce irresistible bounties of circular, cinnamon-swirled, cream-cheese or marzipan-filled king cakes. (Let us not forget to mention the coating of icing atop the tender pastry, adorned by the sugary crust colored purple, green and gold, all so delicious with a cup of coffee.)
New Orleanians indulge upon king cakes until the solemnity of Lent commences on Ash Wednesday, perpetuated by the custom that anyone who gets the (plastic) baby in their piece of cake is obligated to buy the next one, and, as New Orleanians are people of honor, post-Christmas diets usually don't begin until Lent.
Hoping to help citizens tread the fine line between indulgence and fitness, Ochsner Health System sponsors an annual King Cake Festival. The celebration also benefits babies and tykes at Ochsner Hospital for Children. King cakes from local favorites like Haydel's, Randazzo's, Mr. Ronnie's Famous Hot Donuts, Maurice's French Pastries and Caluda's are there for the taking.
But before these delicacies can be enjoyed, there's the pre-Fest Gladiator Games that includes a fitness challenge, newly sponsored by Smoothie King, and one-mile fun run. Designed to offset king cake calories, the Gladiator Games include a half-mile stroller run and a fitness challenge that features several stations around the deck of the Superdome. Registered winners are duly awarded, and then the festival itself opens at 11 a.m.
This year the festival will feature novel items like Smoothie King's king cake smoothie, and the king cake burger. Food trucks from local bakeries and eateries will be present in the area around Champions Square as live music fills the air.

ABITA SPRINGS CAFÉ
It's often been advised that we should eat like a king at breakfast, a prince at lunch and a pauper at dinner. If you are of that mindset, breakfast at Abita Springs Café might be your personal coronation.
Breakfast platters go beyond simple eggs and protein. The New Abita Star Platter is a grilled sugar-cured ham steak with eggs, in addition to hash brown potatoes, melted cheddar and Monterey Jack cheese topped with sautéed peppers, onions and mushrooms. Boneless chicken that's been hand-battered then fried to its signature golden brown hue lies atop light, homemade waffles. The dish is completed by a mini snowfall of powdered sugar, enriched by mouth-watering maple syrup infused with butter.
Then, there are the Benedicts. Served with hash browns or grits, the Crab Cake Benedict is a buttermilk biscuit that's been grilled holding a layer each of handmade crab cake and poached eggs over which Hollandaise sauce has been ladled. Eggs Acadiana could almost be accused of being an early morning poor boy sandwich: toasted French bread from New Orleans is the foundation for fried catfish, fresh Gulf shrimp that's also fried accompanied by the signature poached eggs and Hollandaise sauce.
Omelets are also innovative; the Blue Crab Omelet is a creation of sautéed mushrooms and onions stuffed with blue crab and topped with Hollandaise.
There's also delightful gourmet coffee options, including cappuccinos; espresso; French press and café au lait. And, the eatery now offers some of the lightest, most delicious buttermilk beignets to be found north of New Orleans. Breakfast is served until 2 p.m.

Information, King Cake Festival, Jan. 31, Champions Square, New Orleans, kingcakefestival.org; Abita Springs Cafe, 22132 Level St., Abita Springs, (985) 400-5025, abitaspringscafe.com.

---
Baton Rouge
THE JEWISH FILM FESTIVAL IN BATON ROUGE
For 10 years, the Baton Rouge Film Festival has featured innovative, heartfelt and enlightening films of high quality that depict Jewish life in various forms and genres. With the desire to bridge cultural gaps caused by misunderstanding, the quality of the films and stories only serve to lessen our perceived differences and garner empathy and understanding. And there is a bonus: Because of the popularity of the festival, attended by all ethnicities and religions, economic development has risen as the cosmopolitan, multiculturalism of the region is made apparent.
This year's lineup includes Deli Man, an in-depth chronicle of the American institution that is the Jewish delicatessen. A mélange of interviews with deli owners around the country, it also features interviews with celebrity customers like Larry King and Jerry Stiller.
Mr. Kaplan tells a story that is deep and meaningful. An aging Jew combines forces with a world-weary ex-cop plotting to kidnap an escaped ex-Nazi and put him on trial for the suffering he inflicted during WWII. Told with deadpan humor, it explores how demons from the past can haunt us yet ultimately lead to redemption.
Above and Beyond is an engrossing true story of the Machal, Jewish and non-Jewish volunteers, who, in 1948, answered a clandestine plea for help in the Arab-Israeli War. Smuggling planes out of America, they trained in what was then Czechoslovakia behind the Iron Curtain and flew for Israel in the successful 1948 War for Independence. Credited with not only turning the war in favor of the Israelis, this band of soldiers rediscovered their religious and cultural pride.

PARRAIN'S IN BATON ROUGE
Parrain is a French word that means "godfather" and was the title that I addressed my own godfather with. He was a kind, wonderful man who had been my father's partner when they were both homicide detectives with the NOPD, back in the day.
Parrain's Restaurant in Baton Rouge, warm and gracious, is well-named, set in a cypress country-like sprawling cabin with an Esso sign on the front porch and cozy interior that invites relaxation. It serves some of the finest food to be found in the Baton Rouge area.
The Blackened Shrimp Remoulade Salad is a treat that combines the sweetness of fresh Gulf shrimp with the tang of a blackened exterior sealing the tender flavor within, topped with the silky, spicy bite of a remoulade sauce. Crispy coleslaw intermingled with crunchy peanuts is another scrumptious salad choice.
An imaginative and delicious dish, the Andouille Encrusted Fresh Fish is a combination of panéed fresh fish in andouille bread crumbs that rest upon sautéed mushrooms, crawfish, Andouille cream with a side of garlic mashed potatoes added for good measure. Panéed fresh fish in a pecan meuniere sauce comprises the Maurepas. Tabasco pepper jelly tops the succulent grilled duck breast, perfectly accompanied by savory dirty rice and green beans. Blue cheese lovers can indulge in the Black and Bleu Tuna, another dish filled with complementary layers of flavor: blackened tuna over linguine in a creamy blue cheese sauce.
If you'd like to enjoy having a mini fried turkey for dinner, or something similar, the delectable whole fried Cornish hen, with the aforementioned dirty rice comes pretty close to recalling fond Thanksgiving memories.

Information, Baton Rouge Jewish Film Festival, Manship Theatre at The Shaw Center for the Arts, 100 Lafayette St., Baton Rouge, brjff.com, Jan. 13-17, 2016; Parrain's Restaurant, 3225 Perkins Road, Baton Rouge, (225) 381-9922.
---