Around Louisiana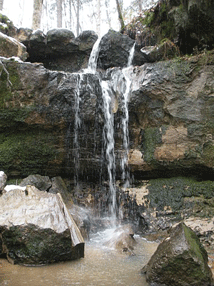 northern
Cause to Celebrate
Catahoula Cascades
Catahoula Parish unfolds like giant earthen goblets of varying sizes, some overflowing with water that has created lakes and rivers –– you can actually find waterfalls in the rugged Sicily Island Hills Wildlife Management Area.
OK, so they're mini waterfalls, with the highest being 17 feet, a Louisiana record for waterfalls but still a dwarf in comparison to Bridal Veil in Yosemite and Victoria Falls in Africa. They are somehow still miraculous to me. Sicily Island Hills is interwoven with nature trails that were completed in 2004. Although the terrain provides rugged hiking, footbridges have been built that span several of the streams you find on your scenic way to St. Mary's Falls.
Hiking, to me, has always meant more than just the wide scope of breathtaking heights and vistas; it's the minutiae along the way that make the experience –– birds and birdsong, the pungently sweet scent of tree bark and leaves, chipmunks scurrying and the beneficent feel of a cooling breeze as you climb.
Just as in the Shenandoah Valley of Virginia, a good dose of Civil War history lies in the nearby flatland of Catahoula Parish. In Harrisonburg, Fort Beauregard is open to reveal the role it played during the Civil War.
Although it is now a family-favorite picnic ground called Fort Hill, Confederate forces once stymied the ascent of federal gunboats on the beautiful old Ouachita but later fell to 4,000 blue-clads.
Part of the colorful history of the parish is the 1800s Jones-Liddell family feud, re-enacted each year at Four Rivers Park in Jonesville –– the feud lasted nearly 20 years and cost the lives of 18 men. Each year, the park comes alive with the sounds of blazing guns and the furious rumble of wagon wheels as some of the descendants of the family feud actually participate in acting out old grudges.
There are the two places on earth where four rivers join together, and one is found in Catahoula Parish –– this watery quartet consists of the rivers Ouachita, Tensas and Little joining the Black River.
History and fascinating natural beauty provide rich fodder for an enjoyable and memorable time.
Worth Watching
Unstrained Mercy
It's 5:15 a.m., and I'm sitting at my computer with wild uncombed hair, rushing to make my print deadline, typing with one finger of my nondominant left hand because I've broken –– of course –– my right elbow in three places, facing the possibility of surgery and of buying a wig so I'm not arrested for vagrancy because I can't comb my hair. Trying hard to keep my mind off that bottle of Vicodin that's awaiting me when I finish my work, I must, in such a predicament, pay tribute to health professionals who see you at a moment's notice in your hour of need.
Lucky for any like-minded klutzes in Bossier City, Velocity Urgent Care Treatment Center recently opened its doors in Airline Plaza.
According to Jane Bokun of the Shreveport Times, Velocity Care was started in Shreveport two years ago by emergency physicians John Soud and Jerel Raney, who, along with colleague John McLean, minister at the Shreveport location. The three docs are seasoned hospital emergency room veterans who can treat anything from broken bones to the common cold.
Their goal was to introduce an alternative to spending endless hours of suffering in an emergency room when you couldn't wait for the regular office hours of your physician. An on-site pharmacy also facilitates the speedy dispensing of most medications, preventing further delays in relief caused by long waits at the pharmacy. When you're ailing and hurting, time doesn't seem to move quickly enough, something that's well-recognized by Velocity Care.
The second location opened in Bossier City because too many patients were driving from Bossier City to Shreveport for treatment.
Velocity Care Urgent Treatment Center, 2151 Airline Drive, Suite 700, Bossier City, (318) 798-3763
central
Fork in the Road
Red River Grill
One evening, I keep promising myself, I'm going to imitate a character in an old sitcom: Dress in my finest, stroll into a fine-dining establishment, and order a five-course meal made only of desserts. In the bite of Janvier, our coldest month of the year, visiting Red River Grill in Marksville might be the ideal way to indulge not only in desserts but also in sumptuous coffee drinks as an accompaniment. I have always loved hot coffee drinks spiked with potables that arrive in stemmed cups rimmed in sugar with a mountain of whipped cream that slowly melts into a sweet froth that tickles your nose and warms your bones. Consider it midwinter medicine.
Red River's desserts and coffee drinks all have an underlying golden quality, like pralines made with butter or jars of homemade toffee, even if some are made of chocolate. The White Chocolate Bread Pudding is swirled with raspberry sauce and bits of white chocolate; the White Chocolate Mousse is served in an almond shell with raspberry sauce, velvet of the highest order. The Bourbon Pecan Pie gets a shot of good ol' Kentucky bourbon that wraps itself around the crunchy filling like a warm woolen shawl. The Crème Brûlée, creamy and firm, is perfect with any coffee drink you may select –– it may take you a while to make up your mind.
Irish Cream Coffee is made with Baileys Irish Cream and good Avoyelles Parish coffee and topped with whipped cream. Then there are the slightly more complex offerings, all of which are there to be slowly sipped and savored.
The Spanish Coffee is a nirvana-like creation of hot coffee, the incandescently wonderful Jamaican Tia Maria coffee liqueur (with its rich undertones of chocolate and vanilla), light rum and whipped cream. Mexican Coffee, warmed with Sauza Gold tequila and coffee liqueur and topped with whipped cream, is a heady but not overpowering mélange of flavors. Finally, Irish Coffee, practically kissed by the softer version of most Irish whiskeys, Tullamore Dew, blends with hot coffee and sweet coffee liqueur, wearing, of course, the perfect crown of whipped cream.
Red River Grill, 313 N. Washington St., Marksville, (318) 253-5252
Cause to Celebrate
Human Harmonizing
Groups such as the Central Louisiana Arts & Healthcare understand very well how the infirm and hospital-bound need the therapy of music. Founded in 2003 and led by Judy Ginsburgh, this nonprofit group is on a mission to bring spiritual cheer in the form of a song to people struggling with illness.
The organization has been joined by some talented artists, including John DeChiaro, who has performed at the Vatican and Carnegie Hall.
"Music has an ability to heal people," said DeChiaro in an article by Jeff Matthews of the Alexandria Town Talk.
"When someone is struggling with an illness, music can lift them out of where they are. … That's why I do it: because I know you can get through to them; I know you can touch them."
DeChiaro and dancer Cassandra Davis have performed for audiences of all sizes –– even just one person lying in a bed or in a waiting room. Both performers report strong positive reactions, even from those unable to communicate their enjoyment in a traditional way.
"We're so lucky to have such talented people who share their talents with people in hospitals," stated Ginsburgh in the Town Talk. Their credo: "Doctors heal your mind and body; the arts heal your soul."
Not to be confused with the Arts Council of Central Louisiana, the group also works in concert with Hope House, Friendship House and the American Red Cross.

cajun
Profile
Plight of the Pelicans
Jean Beaston of Youngsville was so upset about the deleterious effects of the BP oil disaster last April upon pelicans and various shore birds that rescuing them became her primary goal. According to the Acadiana Gazette, Beaston found a call for volunteers through the Clear-Water organization and immediately offered
her services.
"I was beside myself," Beaston told the Gazette, "upset with the news media's reporting the plight of the pelicans and other shore birds as the third or fourth thing they were talking about."
Ten days after filling out an application to volunteer, Beaston said she began handling 200 birds a day. Working in concert to save the imperiled fowl were the Tri-State Bird Rescue and Rehabilitation; California's International Bird Rescue Center; and the Louisiana State Animal Response Team, or LSART. Beaston worked alongside these groups as part of LSART at Fort Jackson in Buras. Volunteers on the scene slept in trailers.
"We referred to the work as a MASH unit," Beaston told the Gazette. Each trailer had 12 bunk beds.
"Not only did we have our drama in the warehouse, but we also had helicopters flying over our building all day," Beaston stated, referring to the ongoing sandbagging work of the levees.
When Beaston arrived to begin her avian aid, 600 oil-coated pelicans were already in rehab. Other birds suffering from the oil disaster included Frigate birds, brown and white pelicans, American oystercatchers, loons and black skimmers; suffering from shock and dehydration, the birds needed to be stabilized before they could be cleaned.
Some birds were more severely affected, their wings glued to their bodies with oil; in those cases, it took four people to wash one bird in a mixture of a chemical combined with canola oil and 300 gallons of water. Each bath took at least 45 minutes. The combined efforts of each organization saved more than 2,000 birds, but they also witnessed the deaths of 5,000.
Beaston spent four months performing humane work to help ease the suffering of these innocent creatures. She is now offering to educate schoolchildren about her experiences as a bird rescuer. Beaston frequently worked 20-hour shifts comforting the poor critters.
Contact Jean Beaston at (337) 356-1965.

Fork in the Road
Old Nick's
Nick's on 2nd on Second Street in Opelousas has a colorful past. Originally a server of potables, it opened in 1937 under the auspices of co-founders Nick Ferro and Blackie Guillory. Ladies were decidedly not welcome. This all-male establishment was a gathering place for local gents to play dominoes and bourée while illegal imbibing during the Prohibition era was discreetly conducted on the upper floor. A buzzer sounded by a loyal downstairs employee usually alerted the folks upstairs to cease and desist all sipping.
Still located in the same building with the same bar that arrived via horse and wagon, Nick's on 2nd has evolved into a fine eatery serving delicious edibles in an atmosphere that encourages everybody to pass a good time.
You may want to start off your meal with the Grilled Tuna Steak Salad, with the recommendation that you choose Nick's homemade house dressing, a delightful creamy concoction made with garlic and peppercorns. They really serve a delicious onion mum –– lightly fried so that you can still taste all the sweetness of the "flowering" onion.
Blue Point Crab Fingers are deep-fried and have a kind of fried seafood boil flavor that gives you the best of both worlds.
Pasta servings are imaginative and just plain wonderful, such as Oysters in a Nest: Well-rounded oysters that have been deep-fried rest in a web of fettuccini over which has been ladled a rich cream sauce.
Really wonderfully decadent is the Eggplant Pirogue. One of the sheer delights on earth is battered, deep-fried eggplant, and Nick's goes the distance by filling this generous veggie boat with shrimp au gratin sauce. After it's topped with cheese, it spends a few minutes under the broiler and turns into a bubbly feast. The crawfish étouffée comes alone over rice or poured over Nick's Special, a fried catfish fillet and rice.
Ladies are now welcome.
Nick's on 2nd, 123 S. Second St., Eunice, (337) 457-4921.
baton rouge/plantation country

Profile
Luminous
For years, I've wandered into country churches, River Road churches, cathedrals and chapels and found inexplicable peace from the subtleties within –– the symbols, the glow of champagne-colored light and the way the stained-glass windows reflect on your hands as if you were holding a bouquet of flowers. Equally beautiful to me are plain white oblong structures set on cinder blocks wherein simple white walls dance with the shadows of branches and leaves.
Photographer A.J. Meek, a retired LSU School of Arts professor who brought the study of photography to the Baton Rouge campus in 1977, was inspired to embark on his own personal odyssey to capture South Louisiana churches and synagogues. The result is an exquisite pictorial book, Sacred Light: Holy Places in Louisiana. Filled with 88 photographs, the book is divided into three sections. The first captures altars and sanctuaries; the second depicts statuary of Madonnas, angels, saints and deities, sometimes ablaze in the reflected jewel tones of stained glass and shot in angles that are reminiscent of something you might be riveted upon in quiet meditation. Like the personification of redemption, the final section reveals the glory of light in these sacred enclaves. The restoration of churches after Katrina also has a special place in Meek's book.
Meek received a spiritual nudge in the ribs to begin this work after reading words written by theologian Frederick Buechner about capturing the beauty and wonder of a walk on a beach.
"From the time I read these words, I realized that I had a sacred purpose in life –– a ministry –– through the medium of photography," said Meek, according to Maggie Robert of Tiger Weekly. "My images could bring a little bit of light, inspiration and sometimes humor into a torn and battered world."
Meek, who resembles a somewhat-transcendental version of St. Nick, clearly shows himself to be a master who respects light and, through his medium, became its servant.
Sacred Light is available in bookstores or through the University of Mississippi Press.
Fork in the Road
Gallivanting at Galatoire's
My all-time favorite New Orleans restaurant, Galatoire's in the French Quarter, gallivanted up the old Airline and opened a divine branch of a bistro in Baton Rouge. With transom windows over wide doors and the signature bentwood chairs that remind you of Toulouse-Lautrec, Galatoire's Bistro in Baton Rouge looks like something straight out of the Big Easy, and so does the sumptuous –– and scrumptious –– menu. For appetizers in cold weather, it's natural for me to gravitate to the Duck Crêpe. This flavorful crêpe is made with tender roasted duck and homemade boursin cheese. A port-cherry reduction is added before the crêpe is topped with pistachios. These layers of textures –– crunch, sweetness, creaminess –– complement the succulent duck meat in a way that is hard to beat. As wonderfully Louisiana as a cup of chicory coffee, the Crabmeat Maison brims with jumbo lump crabmeat in a creamy salad spiked with lemon, capers, green onions and the spicy tang of Creole mustard. The Shrimp Rémoulade is what I consider New Orleans on a plate –– plump poached shrimp in spicy coral-colored rémoulade resting comfortably in the cooling crispiness of iceberg lettuce. The Fried Eggplant is an unusual serving that nevertheless is perfect –– these nightshade spears are fried in a crust of Italian bread crumbs (the only way eggplant should be fried) and served with béarnaise sauce and powdered sugar that cuts the signature eggplant bitterness.
An entrée that should not be missed is Shrimp and Grits. Roasted garlic has been added to the grits, which are topped with sautéed Bayou State shrimp, all delectably flavored with tasso broth. The Grilled Salmon is a somewhat light but highly satisfying dish served with French green lentils and horseradish cream sauce that adds the perfect buzz of flavor, just like a good cocktail before dinner.
Galatoire's Bistro, 17451 Perkins Road, Baton Rouge, (225) 753-4864.
greater new orleans
Cause to Celebrate
A Tale of Two Ales
Abita Brewery in Covington will celebrate its 25th birthday this year, and we must toast the folks at the brewery for a quarter-century of providing us with sheer sipping pleasure. After tasting its repertoire of black Turbodog, Amber, Christmas Ale and Fall Fest –– which also made me branch out to the additional delights of Guinness, Corsendonk and Chimay ales –– I was never able to drink a Miller Lite again. Quaffing an Abita brew has become part of our tradition, almost to the point of café au lait or jambalaya. As Mardi Gras finally nears its March 8 date, beer will flow in the Crescent City like the Mississippi River heading to the Gulf.
The brewery has created two specialty brown ales that I find delicious, Andygator and Abbey Ale. The latter is a throwback to the medieval "liquid bread" tradition of ale-making at monasteries to sustain a livelihood; indeed, for every bottle of this ale (beautifully decorated with an image of St. Joseph's Abbey in Covington) that's sold, Abita donates 25 cents to their priory. Abbey Ale is like drinking a double cream sherry with an ecru-colored head; malty, it slips across the palate, tasting like toffee and caramel with the flavor of cherry and spices mingling subtly in the background.
Andygator is deceptively smooth and, like Abbey Ale, sweet but not cloying. This high-alcohol-content brew reminds me of nectar sodas, lattes and honey syrup –– a brown brew with just a perfect soupçon of bitterness that sustains a deep, foamy head. Delicious in a bottle, it is exquisite on tap.
Although served cold, these two brews are perfect mid-winter ales.
Late one February Friday night before Fat Tuesday, when I was not yet ready to retire and settling down to watch Cat on a Hot Tin Roof with a cold Abita Bock (released in time for Mardi Gras), I saluted Burl Ives with a frosted glass each time, as Big Daddy, he cried, "Mendacity!" I found myself having as much fun as I would on a parade route –– maybe even a little more.
Fork in the Road
Cochon
Cochon restaurant on Tchoupitoulas has quickly ascended the food chain of notable Big Easy eateries; for the cold midwinter months when the wind comes slicing from the Mississippi, this is the perfect place to visit for hearty, imaginative and delicious food. I recommend beginning your meal with the Mushroom Salad, replete with fried jerky and lemon. From that point, it's open season for your taste buds –– entrées such as the wonderful Louisiana Cochon, a mélange of turnips, cracklings, crispy pork and cabbage, emerge from the wood-burning oven. Also popping from the oven are ham hock crusted with mustard and served with stewed shell peas and greens and delectable smoked beef brisket served with the kick of horseradish potato salad.
If you would like to sample small plates of unusual and delicious flavors, order the deviled crab with butter crackers –– crab and scallions swimming in a succulent broth perfectly accompanied by crisp slabs of huge
buttery crackers.
There's a definite German undercurrent to this hearty fare. Like a metaphor for the arrival of the Germans on the River Road, Cochon's style dips liberally into a background of true and traditional Cajun gastronomy with the use of rabbit, pork, seafood and boudin.
The boucherie at Cochon yields perfect fried boudin with pickled peppers. Pork ribs grilled in spices are accompanied by pickled watermelon.
For dessert, don't end your meal lightly –– the Caramelized Apple Brioche served with Rum Raisin Ice Cream or the Pumpkin and Pecan Pie with its sauce of Steen's Cane Syrup complement nearly every item on the menu.
Cochon, 930 Tchoupitoulas, New Orleans, (504) 588-2123