Around Louisiana: Baton Rouge/Plantation Country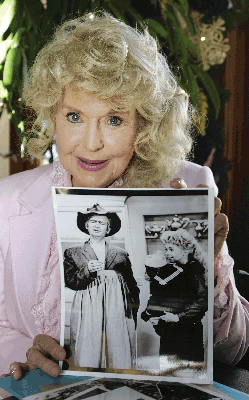 Profile
Dash's Beloved
She was the sweet young daughter of Jed Clampett on the uproariously funny series The Beverly Hillbillies, whose plaintive blonde beauty and sweet ways with critters stole the heart of Hollywood leading man and movie star Dash Riprock. Throughout the many years my family laughed at this series, even through a '90s reunion show that featured the famous episode of the "billi-ARD" room and pot passers (cue sticks), I never knew Donna Douglas, aka Elly May, hailed from the Bayou State. About two years ago, I read a snippet in the Times-Picayune about a man who said he sat next to her on a plane bound for Louisiana from Los Angeles as she told him she was returning home to Louisiana, the "best place on earth."
After her role as Elly May ended, Douglas enjoyed a successful career as a real estate agent in California. Like her co-star Buddy Ebsen, she was an accomplished gospel singer. She appeared in one of the best Twilight Zone entries, Rod Serling's "Eye of the Beholder," filmed with the faces of doctors and nurses in a hospital in shadow as they tend to a desperate woman whose own face is bandaged after surgery that was performed to cure her hideous "ugliness" and make her look like other people. The bandages are removed, and before you see her face, the doctor cries, "No change!" to the dismay of all; when the woman's face is revealed, the viewer sees the absolute loveliness of Donna Douglas surrounded by a medical staff whose visages resemble pigs, those who are considered the beautiful people on that particular planet.
Douglas grew up in Pride, in the Baton Rouge area, and like Elly May, she was a tomboy who loved critters. She won the Miss Baton Rouge beauty contest and in 1957 was named Miss New Orleans. After The Beverly Hillbillies ended, she turned down a role in a nighttime soap opera because family values meant a lot to her and she didn't want to do anything she described as garbage. Douglas makes frequent public appearances, sometimes dressed as Elly May. Seen in reruns, the saga of the Clampetts in Tinseltown still has the power to make me laugh.
Fork in the Road
Tasting the State
The Denham Springs Antiques and Arts District is perfect for Christmas shopping with establishments such as DeLou Glass Designs, filled with artfully crafted stained-glass works and mosaics, and BrushFire, a place where you can paint your own pottery, take art classes and or learn pottery-making. Nestled in the heart of the district is Taste of Louisiana Café, ready to sate that huge appetite you've built from too much shopping or too many artistic endeavors.
Appetizers include the wicked Swamp Fries – fries with a good dousing of the eatery's popular roast beef gravy with shredded cheese thrown in for a delightful twist. The eggplant medallions, breaded and fried, come with savory marinara sauce. Cooling homemade ranch dressing is a perfect dip for the fried pickles.
In my opinion, the epicurean quality of a good roast beef poor boy is measured by its sloppiness, and Taste of Louisiana makes a fine mess of things with its home-cooked roast beef and gravy poor boy that soaks French bread with gravy and makes a lovely slather of accompanying lettuce, tomato and mayo. You'll either need a fork or a pack of napkins for this one. And I have to give one huge salute to a place that offers a choice of fries or okra as a side dish. If you want to behave and eat light, the Orchard Chicken Salad is complete with a fresh bed of lettuce and shredded apple and homemade chicken salad topped with dried cranberries and walnuts. All salad dressings are made in- house.
Taste of Louisiana Café, 105 N. Range Ave., Denham Springs, (225) 664-4181