Around Louisiana: Cajun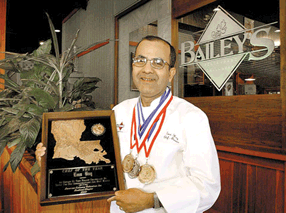 PROFILE
EPICURIAN ENGINEER
When Ema Haq migrated to the Bayou State from his Bangladesh homeland in 1983, he was a 19-year-old youth bent on becoming an engineer. His dream was to work on oil rigs, and he graduated from the University of Louisiana at Lafayette with a degree in mechanical engineering. At the time, he was clueless when it came to cooking.
"I didn't even know how to cook rice," he admits.
He financed his own schooling by working in Louisiana's thriving food industry, wearing many aprons as a busboy, dishwasher, waiter, bartender and finally cook, honing his skills in the latter by simple observation and the occasional question.
Now, nearly 30 years after his arrival, the would-be engineer has emerged as one of Louisiana's top chefs, a recipient of more than 30 cooking medals and a Best in Show Award from Louisiana Gold Culinary Classic. Haq is now the owner of Bailey's Seafood and Grill in Lafayette, and in 2007, he was bestowed with the most prestigious award possible from the Louisiana Restaurant Association when he was named Restaurateur of the Year.
I've always believed good cooking was a combination of common sense and a healthy dose of imagination, and Haq himself credits his engineering skills with imparting the correct combination of ingredients in his award-winning fare, but he also gives creativity a large part of the credit.
"I like to cook whatever you give me," he says. "Creating different sauces is what I enjoy most."
But he hasn't forgotten his love of the oil rigs and the life he once hoped to embrace working in the middle of the Gulf. Haq regularly caters meals to the rig workers.
Memories of his first Thanksgiving fueled another fine Lafayette tradition. Haq had no idea what the holiday meant, only that he didn't have to work in a cafeteria that day. A buddy invited him home for Thanksgiving dinner, and the warm generosity of that family took hold in Haq. When his own restaurant first opened, Haq began the holiday tradition of serving meals to the less fortunate, treating them like primo customers. Assisted by his family, this annual tradition now serves at least 700 people. If someone can't make it to the restaurant, Haq picks him or her up, or performs home delivery.
FORK IN THE ROAD
BAILEY'S IN LAFAYETTE
Bailey's Seafood and Grill produces some of the finest dining fare in Lafayette – or the whole of Louisiana for that matter.
Those in the know suggest that you go to Bailey's with a few people you're close to and order several appetizers that you can all share. The Crawfish Cakes Lafayette are a creation of creamy crawfish cakes spiced by a velvety remoulade sauce. Shrimp Wellington, Gulf shrimp sautéed with mushrooms wrapped in a puff pastry so light it nearly levitates, rests in a cream sauce that's been made from fire-roasted red peppers. Asian Crawfish Spring Rolls, filled with crawfish tails that have simmered with the earthiness of root veggies, are fried and then christened with a sauce made of lobster beurre blanc and a sprinkling of hoisin.
For entrees, Bailey's Crab Cakes are filled with Louisiana blue point jumbo lump crabmeat in a béchamel sauce that's been pan-sautéed and placed on a bed of angel-hair pasta with a rich helping of asparagus hollandaise. Honey Roasted Sea Bass baked in olive oil is crowned with lump crabmeat that's been sautéed in a reduced cream sauce flavored with white wine and portabella mushrooms; spears of green asparagus accompany the dish. The Tandoori Rack of Lamb, winner of a gold medal and best-in-show award, is a tender, succulent divinity of baby New Zealand rack of lamb. After its initial pan-searing, the lamb is roasted in the oven and comes to your table with a topping of mango chutney demi-glace and a side of potatoes.
---
Bailey's Seafood and Grill
5520 Johnson Street
Lafayette, LA
(337) 988-6464