Around Louisiana: Cajun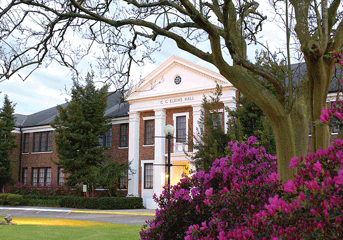 HALLOWEEN STORIES
SCHOOL SPIRITS IN THIBODAUX
Thibodaux seems to undulate alongside beautiful, meandering Bayou Lafourche, its banks draped in lowering greenery that wafts in the wind. Not far from the bayou, the campus of Nicholls State University rises as an esteemed institution of higher learning with a strong proclivity to preserve and celebrate Louisiana culture – and did I mention it's haunted?
So haunted in fact, that it offers a summer noncredit course in paranormal investigations done right. A few years ago, Cally Hebert of Bayou Spirits began an annual investigation of the university after numerous reports of unexplainable experiences began reaching her computer inbox. The investigations became part of the non-credit adult curriculum at NSU. Hebert, who was involved in paranormal investigations for many years, had previously sent out a massive email to NSU staff requesting reports of ghostly phenomena. She received too many not to take notice. One report described the encounter a janitor had with a young girl in a miniskirt with waist-length hair and a book bag who materialized after only the sound of her footsteps could first be heard in a locked librarian's office. He watched as she walked through a wall and vanished.
The Bollinger Student Union and Polk Hall are also known to kick up their spectral heels regularly. Making regular appearances in the Student Union are a Confederate soldier, a golden-haired calico-clad child wearing a bonnet atop her curls, and the ghost of a former janitor who worked there. According to Point of Vue Houma magazine, Hebert and two janitors witnessed a doorknob moving as though someone were trying to open the door when no one else was present except the three of them. Several staff members have encountered a man in a red shirt running through the storage area of the Student Union very early in the morning and disappearing. After personally interviewing all the people who responded with claims, making careful documentation of their stories and holding her first investigation, Hebert decided Nicholls was the ideal place to hold a class in paranormal investigation. Each year, her group of students uncovers new evidence in the hallowed haunted halls of Nicholls. To teach proper ghost hunting, the university proved to be a happy haunting ground.
One of the most compelling pieces of evidence was caught by one of her students in the library. The five-second video caught an amorphous, shadowy form cross the room from left to right and disappear in the exact location the janitor saw the apparition of the long-haired, miniskirt-clad young lady. Abundant electronic voice phenomena have been caught, raspy voices responding to questions and the sound of feminine laughter and humming. Students claim to have felt something brushing their hair.
The auditorium and Talbot Hall are also believed to be haunted.
It has been said that Nicholls University is built over the site of a former Civil War hospital. The town was occupied by Union forces in October 1862, but only after Confederate General Alfred Mouton burned the bridges, depot and everything they could not carry with them before retreating. Twenty-two years following the end of the Civil War, the landscape of the town was bloodied by the Thibodaux massacre on Nov. 22, 1887. A sugarcane workers' strike culminated in one of the bloodiest labor disputes in the United States. The Knights of Labor organized the strike for better pay for 10,000 workers, one-tenth of whom were white during the critical sugarcane harvest time. The planters, alarmed at both the impertinence of the workers and the fear of losing their crops, prevailed upon then Governor Stephen Douglas McEnery (ironically, Francis T. Nicholls would follow him into office and help bring an end to Reconstruction in Louisiana) who dispatched paramilitary troops to Thibodaux. It is believed hundreds of black sugarcane workers were killed, and paranormal activity in the area has also been reported.
Nicholls State University, 906 East 1st St., Thibodaux, (877) 642-4655