Around Louisiana: Cajun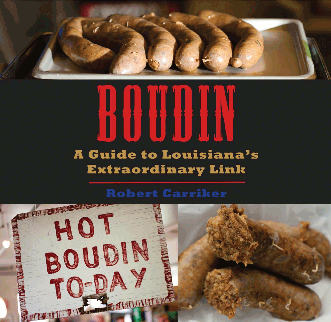 PROFILE
DR. BOUDIN
Reading the narrative voice with which Robert Carriker tells the story of "Louisiana's legendary link," boudin, in his new book, Boudin: A Guide to Louisiana's Extraordinary Link, you can immediately recognize that you are in the hands of a real Renaissance man, bayou-style. Astute enough to recognize, revere and incisively describe the psychology and tradition behind the love of the link with a soupçon of humor and almost scholarly expression, Carriker's book held me captive audience. Consider his words:
"But to say boudin is just pork, rice and seasonings is like saying ice cream is only cream, eggs, sugar and flavorings – when you break into a pint of homemade ice cream, the ingredients form an arrangement so well-balanced and cohesive that they create a unified whole with palate-pleasing properties not achievable by a summation of its parts alone. So it is with boudin…"
I rest my case.
This little book is a delightful explanation and exploration of boudin, as well as a history lesson and a general guide. Carriker deftly explains the different types of boudin: wet or dry, chunky or mashed, more rice or more meat, red (blood) or white (no blood). Like a good casing, the first chapters encapsulate a rich definition of this wonderful facet of Louisiana cuisine, how entwined it is in the familial and cultural workings of Acadiana, a story underscored by the subtle undertone of the author's apparent adulation of The Link.
Carriker then takes you on an odyssey of sorts through the 28 primo boudin palaces from Baton Rouge throughout Acadiana, with one lone spot located in the Cenla town of Marksville. The adventure of finding an out-of-the-way boudin market with a reputation for delicious links is told with somewhat wry humor. He breaks down each location by describing its product and praising its quality and includes some wonderful quotations from proprietors that add even more flavor to the story: Babineaux's in Breaux Bridge, Bourque's in Port Barre, NuNu's in Milton, Richard's in Abbeville, Juneau's in Marksville and Kirk's U-Needa-Butcher in Lafayette.
The book is beautifully photographed by award-winning photographer Denny Culbert with mouth-watering pictures and plenty of Acadiana flavor; my favorite picture remains one of a dog balancing two boudin links on his head, looking like one contented camper.
Carriker (aka Dr. Boudin) is a historian and also heads the Department of History, Geography and Philosophy at the University of Louisiana at Lafayette. A champion of Louisiana culture, Carriker has also been affiliated with the River Road African American Museum, the Lafayette Historic Preservation Commission and the Committee for the Council on the Development of French in Louisiana, among others. He is also the director of ULL's History on the Move program, a summer school activity that combines the classroom with hands-on travel experience, geared to enhance comparative cultural heritage and history nationwide. In addition, Carriker founded Lafayette's Boudin Cook-Off, a festival held each October, which was named to the Top 10 list of best food festivals in America by Gourmet Magazine Live.
When it comes to making this link one for the ages, Dr. Boudin prevails.
Published by UL Press, Lafayette, (337) 482-1163, ulpress.org.
Visit boudinlink.com.