Around Louisiana: Cajun Country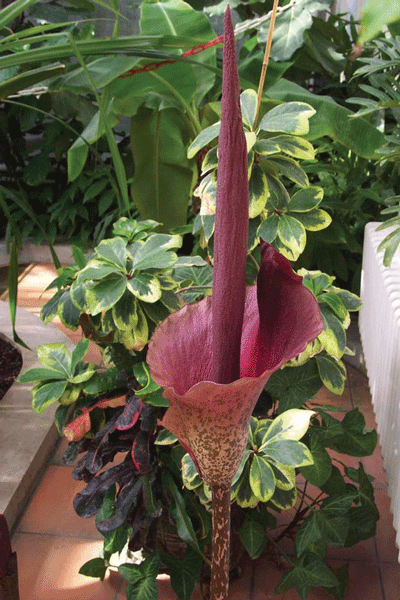 QUIRKY PLACES
Window watcher
With its history of hurricanes, American Indians, pirates, the Civil War and Reconstruction –– not to mention the chronicle of sheer human drama –– Acadiana seems filled with unseen voices forever whispering their stories into your ears. Possessed of a misty aura as cobwebby and gray as Spanish moss waving spectrally in autumn breezes, these stories lead your mind into visions of dark glades of oak trees at the banks of green water, and you stand there listening without hearing anything, caught in a spell you don't want broken.

Near the blood-red bluffs of Vermilion Parish in Abbeville, the gracious Caldwell House, Queen Anne in architectural style but renovated to reflect Mediterranean Revival, opened its doors as a bed-and-breakfast amid glorious gardens three years ago under new owners Mark and Darlene Frederick. The home was built by Vernon Lee Caldwell, a bigwig in the local brick-making business, more than a century ago, and his wife was waked in the front parlor after she died.
Twenty years ago, the house was inhabited by the Gaspard family, who made sweeping renovations that also swept out spiritual forces that had lain dormant. House renovations are known to disturb the routine of resident ghosts, and the Caldwell House ghosts were no exception. A closet on the ground floor beneath the staircase was reputed to be the site where a little girl was locked as punishment. Each night the Gaspard family closed the closet door and awakened every morning to find it wide open. The sympathetic family began leaving toys for the little girl in the closet to play with. The sound of children laughing and running up and down the stairs when no children were in the house was another frequent occurrence.
The fact that they had a broken stove in the 5,500-square-foot mansion did not stop the family from routinely smelling brownies cooking in the kitchen. Pool balls were heard skittering across the billiard table upstairs when the room was empty.
When Mae Mayeux took over as manager of the bed-and-breakfast, she made her peace with the ghosts and has not experienced anything during her time there. The home is open for weddings, receptions and other special occasions, but many newly married men who spend their wedding nights in the house often confide to Mayeux that they are afraid of seeing a ghost.
When the Gaspards decided to leave, they snapped a picture of the empty house as they were moving out. Later published in the Abbeville Meridional newspaper, the picture shows a female revenant standing in the window watching their departure.
Visit thecaldwell.com, or call (337) 281-0807

LOUISIANA-GROWN
Do do that voodoo
The voodoo lily belongs in a witch's garden –– exotic and fascinating, this tuber can grow in a flowerpot devoid of soil or water. A strange, large maroon bell-like flower will unfurl after it has soaked up sunlight from its windowsill perch. If you want to play a Halloween prank on someone, give him or her this plant with no explanation. A few days after blooming, the enormous flower will fill the room with a pronounced stink that can have owners racing outside with it into the garden to rid the house of its miasma. When the flower, which looks like it could be in a bridal bouquet for the Corpse Bride, withers away, plant the tuber in a well-drained pot with potting soil and either leave it outdoors away from frost or return it to the windowsill. The old tuber will be replaced by a new one, the root system will develop, the foliage will grow, and soon another bizarre bloom will unfurl its bloody maroon head. They seem oddly at home in Louisiana gardens, though they don't like the light of noon.
PROFILE
The ghouls next door
According to iberianet.com, husband and wife Clint and Jennifer Myers endured eight years of hell in a New Iberia house on Weeks Street, finally moving last year.
Jennifer, who grew up in a nearby home on Weeks Street, remembered their home's previous resident as being an old lady who she described as "mean and picky."
The first week of their habitation, their 5-year-old daughter told them a woman had been standing over her bed. Both Jennifer and Clint began hearing voices asking them, "What are you doing?" and saying, "Hey," but initially the Myers did not believe their daughter actually saw a woman. Even when Jennifer experienced shower curtains sliding on the rod on their own, disgusting smells and flickering lights, she still didn't believe her child when she said she saw her sister "walk through a lady." Belief –– and resolution of the problem –– came through the male head of the household: Clint was watching television when he heard a woman say, "Hey." An elderly woman was standing in the middle of his bed, and he couldn't see her legs. Terrified, Clint described her as "a dead body with eyes open … just looking at me."

The family moved out the next day and eventually settled in a house next door. Louisiana Spirits Paranormal Investigations, also known as LaSpirits, was called in as the family was moving out and recorded electronic voice phenomena of disembodied voices. They returned after the family was gone, and there was less activity.
"When the Myers moved out, I think the spirit's mission was complete," stated Jennifer Broussard, LaSpirits director.
For a summary of the case, visit laspirits.com