Around Louisiana: Central Louisiana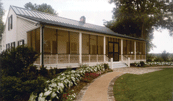 QUIRKY PLACES
Cotton up to ghosts
Concordia Parish, across the Mississippi from antebellum Natchez, was believed to have first been visited by Hernando de Soto in 1542, and it is now the home of Frogmore, a working cotton plantation owned by Lynette and George "Buddy" Tanner. Filled with 18 restored antebellum structures, this compound, lovely in its sheer simplicity, rises above 1,800 acres of fluffy cotton fields that resemble earthbound clouds. Tour guides, two of whom are the Tanners, clothed in period costume, guide you through the fascinating ventures of a working cotton plantation, rich with its history, slave culture and explanations of cotton and cottonseed products. Intertwined with the tour is the history of Natchez planters. Visitors can pick cotton amid this almost prim-looking spot that has won the Louisiana Tourism Award and rests comfortably on the National Historic Register. It is an ancient area, long peopled by American Indians.
Bustling industry aside, Frogmore Plantation is, in a word, haunted. The Frogmore Mound, an American Indian burial site that rests in an area that was a thriving village from 700 to 1200 A.D., is nearby. The subsequent years that brought white settlers to Frogmore would be filled with tragedy. Sometime between 1815 and 1820, Daniel Morris settled there and married Sarah Cochran Dayton, the widow of Ebenezer. She gave birth to Daniel Jr. and died two months later. In the 1950s, a man named Jack Ellard lived in the plantation house at Frogmore and repeatedly saw an unknown woman and child crouching under the house whenever he came home. It was also his habit to turn out all the lights whenever his family went out, but the lights were always burning whenever they returned home.
Mac Jefferson, who was born on Frogmore, has witnessed a long line of residents who tried very hard to remain living there and found it impossible to do so. In the 1940s, Jefferson knew Boyd Sojourner, the plantation and gin manager at the time. Sojourner saw a transparent figure coming through the door while he was in bed. His wife saw the spirit of a man traverse the main hall after exiting the bedroom. She watched as it entered the main parlor.
The sharecropper cabins are not immune to ghostly presences. Jefferson's nephew was in a cabin when the entire house made a loud popping noise. Suddenly a man appeared out of nowhere. Jefferson said he didn't sleep much that night. He also didn't sleep much the night he saw a headless ghost emerge from the bayou and walk around the property bold as you please or the night after his grandfather told him about the time a ghost gave his horse tobacco. He likewise lay awake after his wife, Emma, felt someone unseen comb her long hair as she lay in bed.
Current co-owner Lynette Tanner reports unexplained experiences of her own. One night she and her husband heard footsteps on the staircase. Checking their children, the couple found them sound asleep in their beds. Their daughter awakened a little later and saw a maid wearing a red apron standing in her doorway. When the child screamed for her mother, the maid disappeared.
Frogmore Plantation, 11054 Highway 84, Frogmore, (318) 757-2453.
PROFILE
Batchelor's resident artist
The town of Batchelor lies on Highway 1 almost halfway between New Roads and Marksville, not too far from Simmesport, where the Atchafalaya River snakes along in its treacherous current and the nearest grocery store is the Piggly Wiggly. Filled with tract houses and manicured lawns, Batchelor, at first glance, seems an unlikely residence for world-famous artist Hunt Slonem. Slonem, who rents a Manhattan studio composed of 87 rooms and 40,000 square feet for $300,000 a year, is the creator of vivid exotic paintings that have sold for as much as $70,000 apiece. You would think this an unlikely second home for him –– until you caught sight of Lakeside, the pretty-in-pink 1832 Batchelor plantation home where he resides.
While some homes beckon to you, Lakeside seems to spread her arms wide open for a compelling embrace, and you have no choice but to run to her. The plantation had a similar effect on Slonem. Although he already owned the 19th-century Cordt mansion in Kingston, N.Y., and also purchased the Albania plantation in Jeanerette, Slonem bought Lakeside without a moment's hesitation. And without a moment's hesitation, he will announce that the purchase was predicted to him by the spirit of Xacha Obrenevitch, a beautiful Roaring '20s spiritualist who was on intimate terms with sloe-eyed Rudolph Valentino.
According to the New York Times, Slonem stated that Valentino himself has communicated with him during meditation. The silent-movie icon's demand that Slonem paint him performing the tango resulted in a best-selling series of artwork. Slonem freely admits that he consults psychics frequently. The purchase of his first house was predicted by a friend who channels the spirit of Valentino. Slonem is in constant touch with Abe Lincoln via a Swedish medium and once told New Orleans Times-Picayune art critic Doug MacCash that he has an affinity with Mary Todd Lincoln, due to their mutual love of séances, mediums and shopping. He even owns one of her shawls.
His father was a submarine captain in the Navy, and the artist spent much of his childhood in Hawaii. Subsequently, his paintings are filled with exotic birds, flowers and lush colors that have a life of their own, but Slonem, a 1973 graduate of Tulane University, also credits the architecture of New Orleans as a big influence on his work –– and lifestyle. He was fascinated by 19th-century plantation life in Louisiana and claimed that he once dreamed of a plantation when he was a little boy asleep one night. Years later, when he first saw Albania, he recognized it as the antebellum home in his childhood dream.
Slonem believes that his three plantation homes chose him, describing the experience as being similar to falling in love. He wears his love for Albania and Lakeside plantations on his sleeve.
"My favorite moments on the planet are spent on the balconies," he declares.
He has been lovingly restoring beautiful Lakeside since he purchased it in 2005, filling it with elegant, graceful antiques and a perfect symmetry of glowing color. The rooms express a feeling of openness, a comforting quality that makes you feel curiously free and anchored at the same time. It seems to be a house that is alive.
Not only was his purchase of Lakeside predicted by a lady who crossed over, but the house itself also remains decidedly spirited. One morning when Slonem went for a swim, he looked up into the trees and saw disembodied faces staring back at him. One of his many psychic friends advised him these were the spirits of slaves who had died because of an epidemic. Another frequent visitor from the spirit world at Lakeside is a lady in a lovely blue hoopskirt who drifts through the rooms like sachet on a breeze. Decidedly unafraid, Slonem is convinced that in old houses, all the families who have dwelled within years before spiritually adopt you, always whispering their opinions to you when they come to visit with you from the other side.