Around Louisiana: Greater New Orleans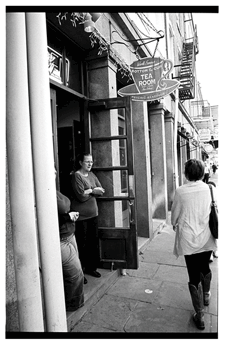 HALLOWEEN STORIES
TEA LEAVES AND SYMPATHY
When I was in my very early 20s, I fairly haunted The Bottom of the Cup tearoom in the 300 block of Chartres Street wanting my fortune told. When some time had elapsed since my last visit, my brother teased me that the readers were going to write me letters reminding me to return. I simply loved the mystery of it all, and the small French Quarter shop always felt like it had been a home filled with love. I didn't learn until many years later the tearoom was believed to be part of what had been the home of Julie, one of New Orleans' most famous ghosts. According to the already familiar story, Julie, the exquisite "octaroon" mistress who pined for a forbidden marriage with her white and wealthy French lover who truly adored her, died senselessly there in the home they shared. Julie hounded him to break the present-day code that forbade miscegenation and marry her. One bitterly cold night in December he told he would marry her if she walked naked all night long on the rooftop, never believing she would think he was serious. He found her lifeless naked body on the rooftop hours later and died six months later of a broken heart. It's practically an urban legend that on the coldest night in December to this day sightings of a beautiful girl walking on the rooftop of this building have been reported. Supposedly somewhere in the annals of police records there are numerous 911 calls reporting a woman about to jump from the roof; police climbing to the roof never find the woman.
But it seems Julie has been making her presence known in more active, frequent ways besides roof-walking. According to Alan Brown, author of Ghosts Along the Mississippi River, recently published by University Press of Mississippi, Julie is a most interactive ghost, not a residual image stuck in a repeat tragedy. Employees and patrons at The Bottom of the Cup have had the pleasure of her company. Julie taps on walls and tabletops; fleeting glances of her long sashaying skirts have been caught followed by female laughter and the scent of her perfume. Psychic readers have seen her image in the patio's goldfish pond and witnessed an ornamental tree shaking of its seemingly own accord, while its crystal ornaments lay flung across the floor. A carpenter working alone at night in the attic found his tools hidden beneath the insulation.
Julie's equally tragic lover has also been spotted through the windows, sitting at a chessboard in solitary isolation.
The Bottom of the Cup Tea Room, 327 Chartres St., New Orleans, (504) 524-1997.

PROFILE
UPDATE FROM EMELINA
It seems that, in addition to being a generous fitness guru, Emelina Edwards, author of Forever Fit and Fabulous: A Guide to Health and Vigor-Even at 70 and Beyond, can also add modesty to her attributes. The statement that appeared in last edition's profile of her that read she "can squat with a 100-pound barbell on her back for 10 repetitions (after a warm-up of 90 reps)" has been clarified by Edwards. It should read she "can squat with a 100-pound barbell on her back for 10 repetitions after a warm-up with 90-95 pounds." To do the former, she states good-naturedly, "I would be Superwoman!"