Around Louisiana: Greater New Orleans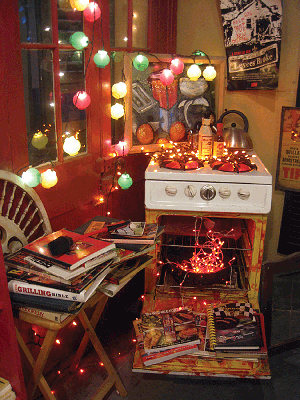 Fork in the Road
Kitchen Witchery in New Orleans
There was a rather charming fad during the 1970s when shops sold "kitchen witches," oddly appealing crones with floral babushkas and full skirts sitting on a broom stick. It was said that hanging one in your kitchen brought you luck. At the time, our kitchen was rather small, but one wall was covered by a pegboard painted bright- yellow from which we hung curved teapots, cast-iron skillets, ladles, spoons and the kitchen witch in a yellow skirt. The rest of the room was yellow with touches of red and orange – it was a cheery little place where I learned to cook cheese soufflés, Yorkshire puddings and scampi, but without a doubt, it was my mother's realm. Born in Avoyelles Parish, she hailed from a female familial line that never produced a bad cook and seldom needed a cookbook. So pronounced was her talent that one Christmas my brother and I showered her with a new skillet, a hand mixer and other cookery items – I didn't realize what we had done until I saw her sitting on the floor near the Christmas tree deep in pots and pans and laughing her head off. (At least I did have the good grace to include a bottle of perfume as a gift.) Even my dog Earl knew her genius. One afternoon, he ran to the oven, pounced on it and then pounced on my mother, back and forth repeatedly, barking, as if to say, "Cook, woman, cook!"
On Toulouse Street in the French Quarter, in an old house from 1830, Kitchen Witch Cookbooks is like an old curiosity shop for cookery that just might bring you epicurean luck. It offers rare, vintage and out-of-print cookbooks; there is also a full line of Cajun, Creole and just-plain-Louisiana cookbooks available. You can't help but think that if Gillian Holroyd had opened a bookshop, it might be like this one. Additionally, the store sells its own spice blends and vanilla, an essential for Christmas baking and cooking. It's worth a visit for that person on your Christmas list who might just be waiting for that long-lost cookbook or the recipe for the perfect pumpkin pie, Louisiana-style.
Kitchen Witch Cookbooks, 631 Toulouse St., New Orleans, (504) 528-8382

Cause to Celebrate
1850s Christmas
I have been visiting the French Quarter since childhood frequently, and there are some places there that affect me like an evil miasma; some do not. The 1850 House in the Lower Pontalba Building was always a place where I felt consumed by lightness and air; it was a good house, sitting there on Jackson Square. Jackson Square during Christmastime is a thing of beauty with sparkling lights, the sound of steamboats from the river and the holiness of St. Louis Cathedral reigning at its center, flanked by the Pontalba Buildings.
Clothed in its traditional Creole decoration – bowls of fruit and garlands – the house rises in tiers filled with half-tester beds, oval-framed portraits, a rocking chair by the kitchen hearth, marble-topped tables, armoires, Sevres china and Old Paris porcelain. It simply glows softly like a glass of champagne on New Year's Eve. There is an imprint of happiness in this house, like Christmas morning.
It was once rented by wealthy widows and merchants. In 1856, William Hewes, president of both a bank and the New Orleans, Opelousas & Great Western Railroad, lived there with his family.
The 1850 House, 523 St. Ann St., New Orleans, (504) 568-6968