Around Louisiana: Northern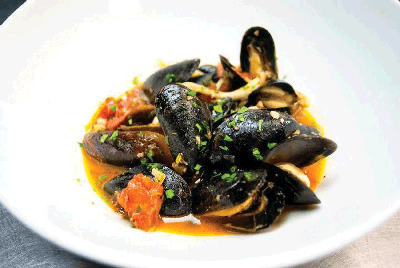 Fork in the Road
Sage Dining in Monroe
Visit Restaurant Sage during the holiday season, and you're likely to be treated to the glow of a roaring heath – a sagacious prelude to the repast that awaits you. The upscale eatery recently acquired a new chef, Christopher McKnight. Begin your meal with an appetizer of wood-grilled oysters, widely acclaimed by patrons – with good cause. Grilled to the perfect balance of smokiness sans dryness, these little bivalves get a perfect addition of flavorful lemon with Parmesan cheese accompanied by grilled Cartozzo's bread, perfect to catch any juices. You might feel you're in a more multidimensional mood instead and choose the Tuna Tower – Gulf tuna in a sweet Thai chile sauce, accompanied by Gulf shrimp, pineapple, sesame seeds, scallion, avocado and cherry tomato. The apricot-and-spinach salad seems inspired by Louisiana, created with an egg sunny side up, goat cheese and a healthy dose of New Roads pecans in a Steen's syrup vinaigrette. By now, you're probably awaiting the entrees in sweet anticipation that won't be disappointed.
The sweet, tender flesh of redfish is grilled with no embellishment, served with blue crab risotto; wild mushrooms; and that wonderful hybrid vegetable, broccolini. Pan-roasted sea bass, with just the right amount of crisp, is surrounded by a citrus-flavored grilled bok choy, blanched cauliflower and imperial blue crab meat. The shrimp and grits dish is a wonder – fresh Gulf shrimp, flavors of the holy trinity (sautéed green pepper, onion and celery) and Poche's andouille rest on a delicious, creamy bed of sweet corn grits flavored with bacon. New Roads pecans, choucroute, golden raisins and a raspberry demi-glace power the cured and seared duck breast, served alongside sweet potato gnocchi.
Restaurant Sage, 1301 N. 19th St., Monroe, (318) 410-9400
Fork in the Road
For Sweets' Sake
When it comes to holiday gifts for those closest to me, it seems I either give a good book or a good dish of eats. And if you'd rather enjoy friends and family instead of slaving away in the kitchen, Julie Anne's Bakery in Shreveport won't let you down for your Thanksgiving or Christmas dessert. This combination bakery and café offers holiday gift trays. Some are filled with a medley of cookies Santa would love: butter pecan, chocolate chip, sand tarts and raisin. Another tray features Christmas trees, Santas, Christmas stars, snowmen and wreaths. And then there is heaven on a tray, brownies adorned with holly leaves.
Although I prefer pumpkin and pecan pies for Thanksgiving, to me there's almost no better way to celebrate the birth of Baby Jesus than by having a sumptuous cake for Christmas dessert. The bakery is famous for its cakes, especially the light richness of the Italian Crème cake with its cream cheese frosting; the perfect-for-Christmas red velvet cake; the brown sugar-praline gâteau; and the Raspberry Cream Cheese Delight. The Caramel Chocolate Pecan Pie is a huge Christmas goodie, perfect for that after-feast cup of coffee. You might want to think ahead to Epiphany while you're at it – the bakery makes and ships some of the finest King Cakes in the region.
If you need to stop for a quick lunch while Christmas shopping, Julie Anne's is the perfect spot. Try the Turkey Walnut Wrap: Generous portions of thinly shaved turkey, baby spinach, tomatoes, mozzarella and a plethora of chopped walnuts are wrapped together in a flour tortilla like a Christmas bundle, soaking up Julie Anne's homemade honey-mustard dressing. Sip a raspberry lemonade as you dine.
Julie Anne's Bakery and Café, 825 Kings Highway, Shreveport, (318) 424-4995